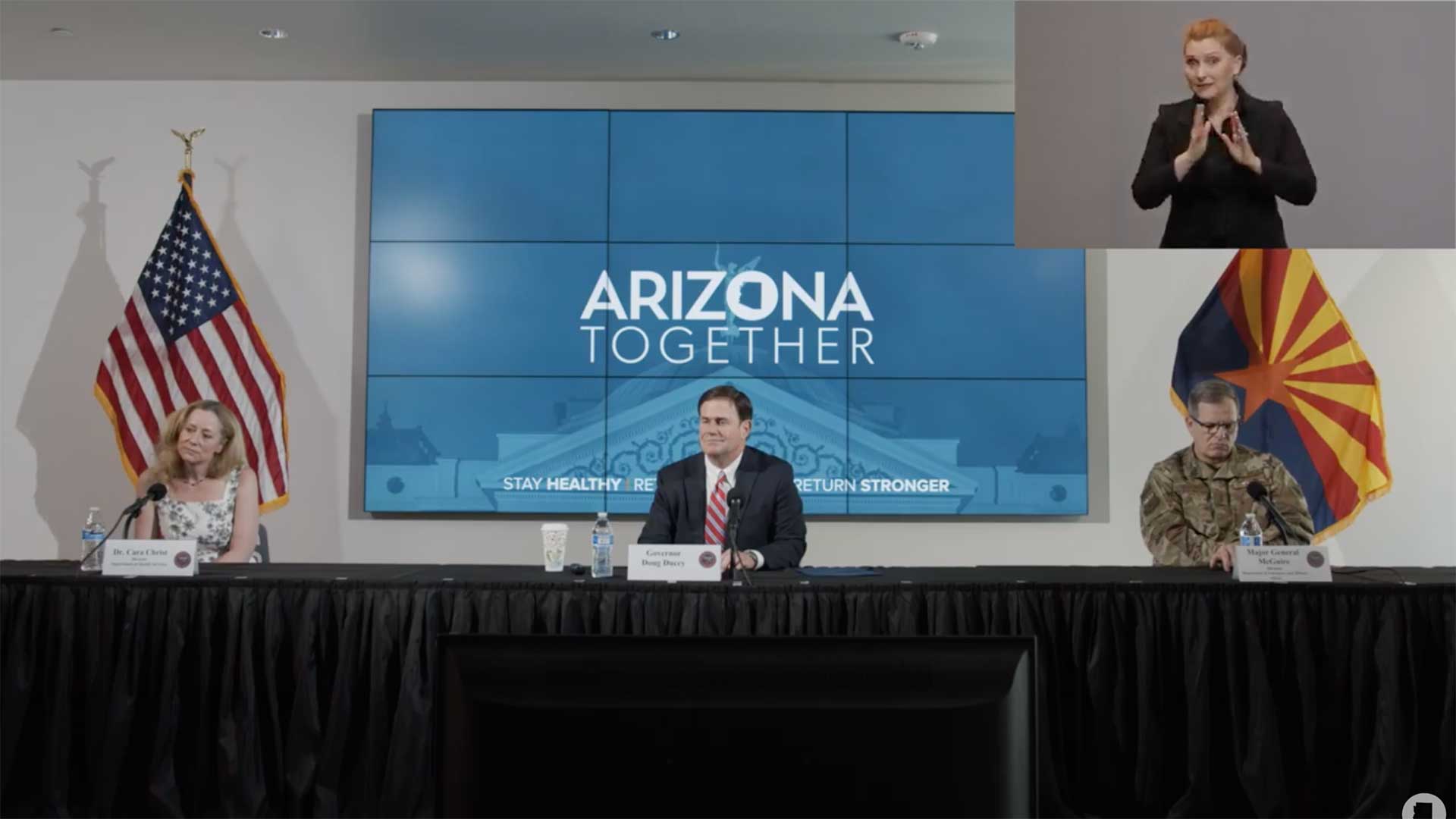 Arizona Health Director Cara Christ, Gov. Doug Ducey and Director of the Department of Emergency and Military Affairs Maj. Gen. Michael McGuire at a May 28 update on the state's response to the COVID-19 pandemic.
Office of the Arizona Governor/YouTube
School will be back in session come August, according to Gov. Doug Ducey.
In a Thursday press conference, Ducey said he has been meeting with school leaders and superintendents around the state to discuss what school will look like this fall. He said State Superintendent Kathy Hoffman will be releasing guidance June 1 for schools, and an accompanying executive order will support schools being flexible in resuming in-person instruction.
Additionally, Ducey said the state is issuing guidance today on resuming youth sports, summer schools, and camps.
The governor said the state is possibly seeing the start of a downward trend in COVID-19 cases, but it's still too early to tell. He said the state is prepared for a spike in cases, as hospital beds, ICU beds and ventilators remain in good supply.
Ducey announced the reopening of schools even as the state sees an uptick in metrics used to track the progression of the disease, including the portion of tests that are positive and the portion of emergency room visits that are for COVID-19 symptoms.
The state's "testing blitz" will continue, focused on people who are symptomatic or have been exposed, Ducey said.
Arizona Health Director Cara Christ said the state is in the process of testing all residents and staff in Medicare certified skilled nursing facilities, and working on ramping up testing at all of the state's long term care facilities and conducting antibody testing for prison staff.
Before the briefing, Ducey pushed back on media questions about videos from old town Scottsdale on Memorial Day that showed hundreds of people partying in the nightclub district. He said the focus should instead be on the millions of Arizonans responding to calls for social distancing.
The governor said Arizona continues to be in phase 1 of reopening, which recommends limiting social gatherings to 10 people or less. "When we get to phase 2, that number expands to 50," Ducey said. "We're not in phase 2 yet, we're very close, we're headed in the right direction."
Ducey also announced the appointment of Michael Wiseheart as new director of the state Department of Economic Security, replacing Tom Betlach.
State health officials reported 501 additional COVID-19 cases with 26 additional deaths as of Thursday, increasing Arizona's totals to 17,763 cases with 857 deaths.
Associated Press contributed to this report.
Arizona COVID-19 cumulative counts, Dec. 14
Cases: 420,248 | Deaths: 7,358
The state reported 11,806 more cases and 1 deaths on this day. Choose a

layer and click on county for more.
Credit: Nick O'Gara/AZPM. Sources:
ADHS
, county health departments, Census 2018 Quick Facts. *Test numbers and rates utilize total test numbers (diagnostic and serology). Cumulative totals are based daily numbers posted by the state. Daily changes don't necessarily reflect the previous 24 hours.