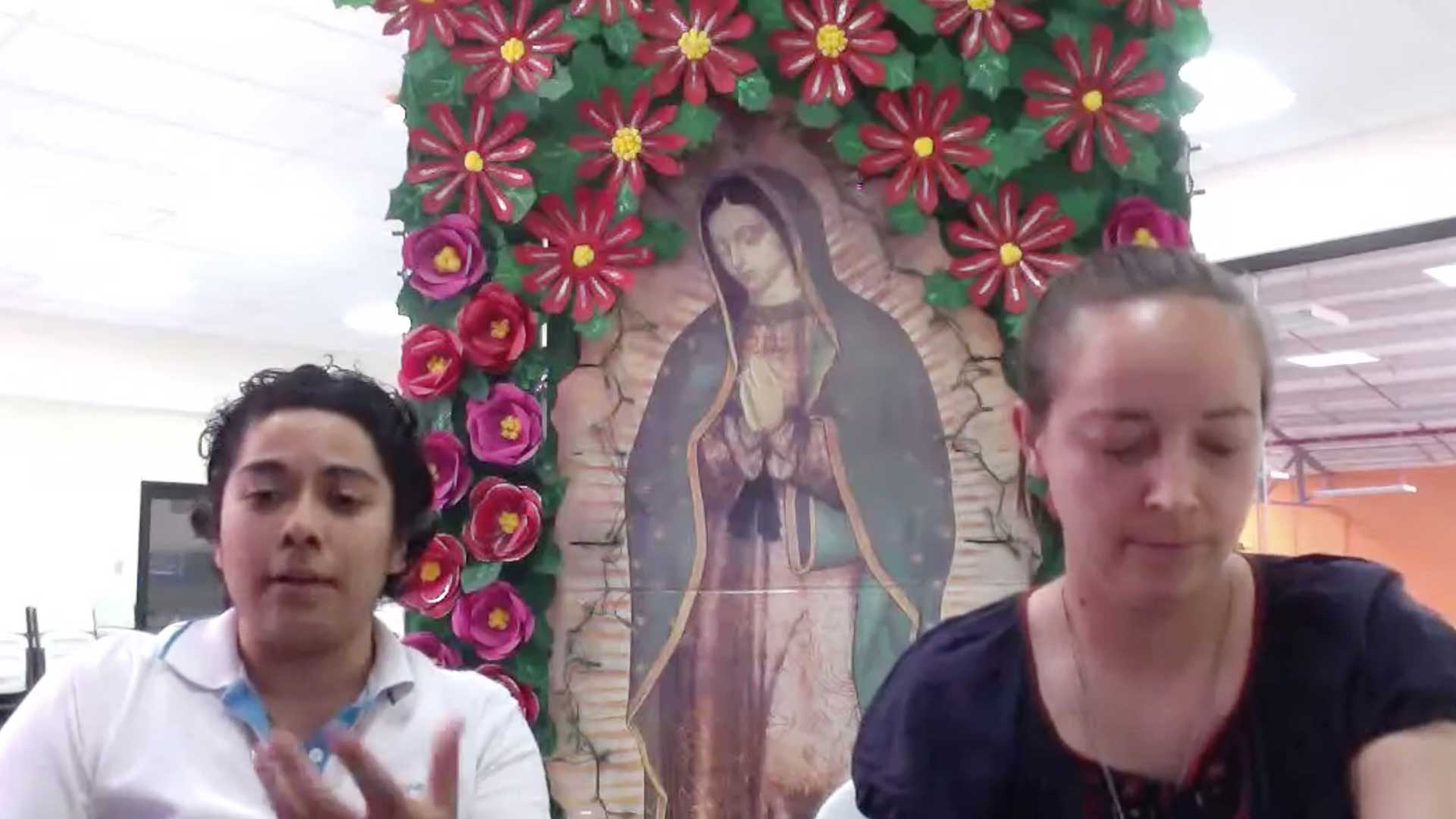 Kino Border Initiative staffers Josefina Bejarano Padilla and Tracy Hogan read messages sent from across the country for Mother's Day, in this still image from the shelter's Facebook Live event.
The coronavirus pandemic changed how families everywhere celebrated Mother's Day this year. At the border, a migrant aid group found a way to adapt the way they honor mothers passing through.
The Kino Border Initiative offers meals to hundreds of migrants waiting in Nogales to claim asylum in the U.S. That process has been put on hold in the wake of the pandemic, and the border is closed to non-essential travel until later this month. COVID-19 cases are also widespread across the state of Sonora.
Kino Border Initiative Communications Director Katy Sharar said the group has adapted by opting for to-go meals and asking families to send just one person to pick up food to limit crowds. She said they usually make a special effort to honor migrant mothers passing through on Mother's Day with a celebration.
"Flowers or song, special food or prayers," she said. "Of course, an in-person celebration just wasn't going to be possible [this year]."
Sharar said that's why they asked people to send in digital messages instead. A few staffers read those messages and sang during a Facebook Live event ahead of Mother's Day.
Sharar said they received emails and texts, and WhatsApp messages from around the U.S. Some were asylum seekers who'd passed through Nogales months before and had since reunited with family in the U.S.
"This prayer is from Kerleyn, who was recently here at the comedor and was recently released from detention and is seeking asylum," said Tracy Hogan, the organization's education coordinator. "For all mothers who have children who are detained, I know they are worried for their children, and all mothers who are detained or separated from their children, we pray."
Other messages came from migrants who had come through Nogales on the way to other Mexican border cities like Juarez to wait for asylum hearings across the border in the U.S. Those hearings have been postponed until June.
Cecilia Lopez, another coordinator at the center, said even though an in-person celebration wasn't possible, the organization would still find a way to honor those passing through on Mother's Day.
"We want to find something symbolic to give them, like lotion or flowers," she said.