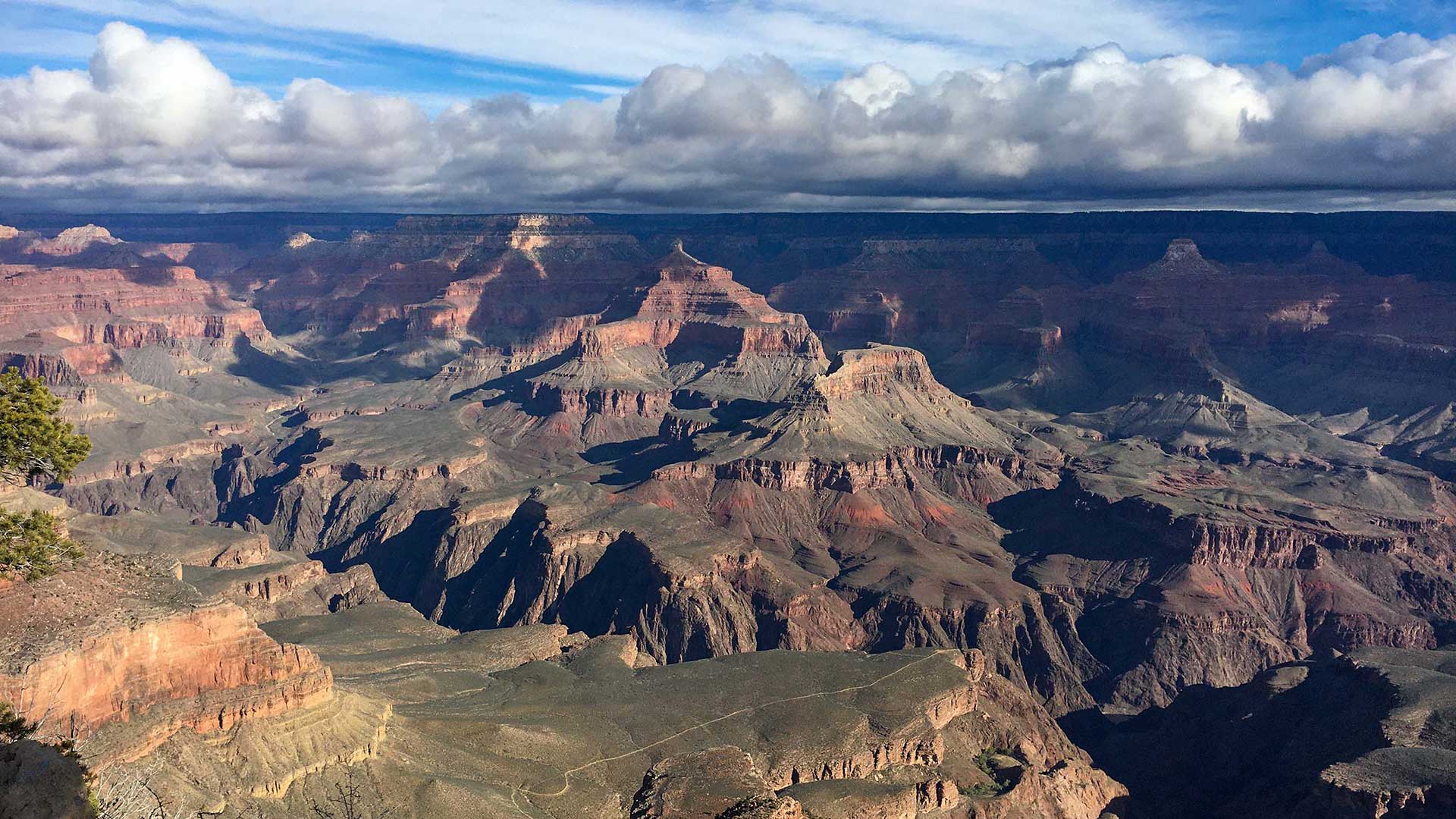 March 18, 2020 view from Yavapai Point on the Grand Canyon's South Rim. National parks are working to keep up with shifting health guidelines due to the COVID-19 outbreak.
M. Quinn/NPS
Select AZPM and AP coverage of the COVID-19 outbreak as of midday March 20. For more coverage, visit our resource page. This story may be updated.
---
Gov. Ducey calls up National Guard, halts some surgeries
PHOENIX (AP) — Arizona Gov. Doug Ducey is calling up the National Guard to help grocery stores and food banks, halting elective surgeries and closing businesses in areas with known cases of COVID-19.
Ducey intensified his response to the virus outbreak Thursday as public health authorities reported the biggest day-to-day jump in cases, from 30 to at least 46. By Friday morning, the total number of cases in the state was at 63, according to the Department of Health Services.
Ducey says his orders will ensure grocery shelves remain stocked and preserve the ability of hospitals to manage an influx of cases.
A dozen new cases were found in Maricopa County. Santa Cruz County saw its first case. Bars, movie theaters and gyms will be required to close in seven counties, and restaurants will be restricted to takeout and drive-thru service. Ducey also delayed the expiration date for driver's licenses to ensure people over 65 don't need to visit the Motor Vehicle Division.
TUSD dropping off meals for kids
(AZPM) When schools closed due to the coronavirus it meant a longer spring break for students, but it also meant some children were no longer going to receive the breakfasts and lunches they rely on. The Tucson Unified School District will change that beginning Monday, March 23.
The area's largest school district will offer meals to any school-aged child, each day between 10 a.m. and 2 p.m. The program is an extension of the summer lunch program and is open to all children regardless of where they go to school or their family's income.
Learn more here.
COVID-19 updates in Spanish? Depends on where you look
(AZPM) How are coronavirus updates reaching non-English speakers? That's one question groups around the country are asking as health information changes quickly.
Southern Arizona is home to many Spanish speakers. But finding information in that language depends on where you look.
As of March 19, the Arizona Department of Health Services website did not have a COVID-19 page in Spanish. As of March 20, the Centers for Disease Control did have a Spanish-language page.
Tucson Mayor Regina Romero released a coronavirus video update in Spanish on March 19. Pima County Health Department's website has also translated its COVID-19 page.
Learn more here.
Yes, your tap water is safe, Arizona water agencies say
(AZPM) Water agencies in Arizona say they've been receiving questions about how the state's water supplies could be affected by the COVID-19 pandemic.
The short answer, is yes. Your tap water is safe, and you can continue to drink and use it as normal.
Click here to find a list of the most frequently asked questions and answers, from the Arizona Department of Water Resources and the Central Arizona Project.
GOP-led Arizona House rejects $50 million Senate virus plan
PHOENIX (AP) — Republicans who lead the Arizona House late Thursday rejected a bipartisan Arizona Senate budget package that included tens of millions of dollars of extra spending to prevent foreclosures and evictions and help small businesses weather the coronavirus crisis.
House Speaker Rusty Bowers instead adjourned his chamber until Monday over howls of protest from minority Democrats. The action crippled an effort to get emergency unemployment cash to laid off workers, and the governor can't access the emergency cash to prevent evictions and help small businesses survive the storm. And if one member falls ill, lawmakers could be kept from working at all.
US and Mexico to curb border travel to control coronavirus
SAN DIEGO (AP) — Mexico and the U.S. have announced plans to sharply limit travel over their busy shared border as they try to control the spread of the coronavirus pandemic. President Donald Trump and Mexican Foreign Secretary Marcelo Ebrard say their governments agreed to prohibit recreational and tourist travel.
It's similar to the restrictions put in place earlier this week along the U.S. and Canadian border. There would be no ban on people traveling for work or other essential activities and there would be no halt to commercial traffic. The restrictions take effect at midnight Friday. The U.S., Mexico and Canada also worked out an agreement to immediately return people trying to illegally cross the borders due to the potential health risk of detaining migrants
Democrats fret as virus halts in-person voter registration
PHOENIX (AP) — The coronavirus is idling a potentially powerful force in the Democratic Party. It's those liberal canvassers who go door to door or cruise through public gatherings with clipboard in hand to register new voters. Such efforts have been all but frozen because Americans are being asked to stay inside and keep their distance to prevent the spread of the virus.
In Arizona, Latino registrations drives have moved online. In Michigan, community organizers are trying to reach out remotely. It's a quiet change with potentially big consequences for Democrats up and down the ballot in the November general election. Candidates have been forced to cancel rallies and shift to a new world of online campaigning.
National parks are free, but some oppose encouraging visitors amid virus
SALT LAKE CITY (AP) — Most national parks are open as a refuge for Americans tired of being stuck at home because of the coronavirus. Entry fees have been eliminated, but many parks are closing visitor centers, shuttles and lodges to fight the spread of the virus.
Parks are trying to keep up with ever-changing rules and recommendations from government officials who are urging people to avoid gathering in large groups but allowing them to get outside for fresh air as long as they keep their distance from others. Not everyone is on board with people coming to parks to escape the virus. Gateway towns fear they couldn't handle a local outbreak.