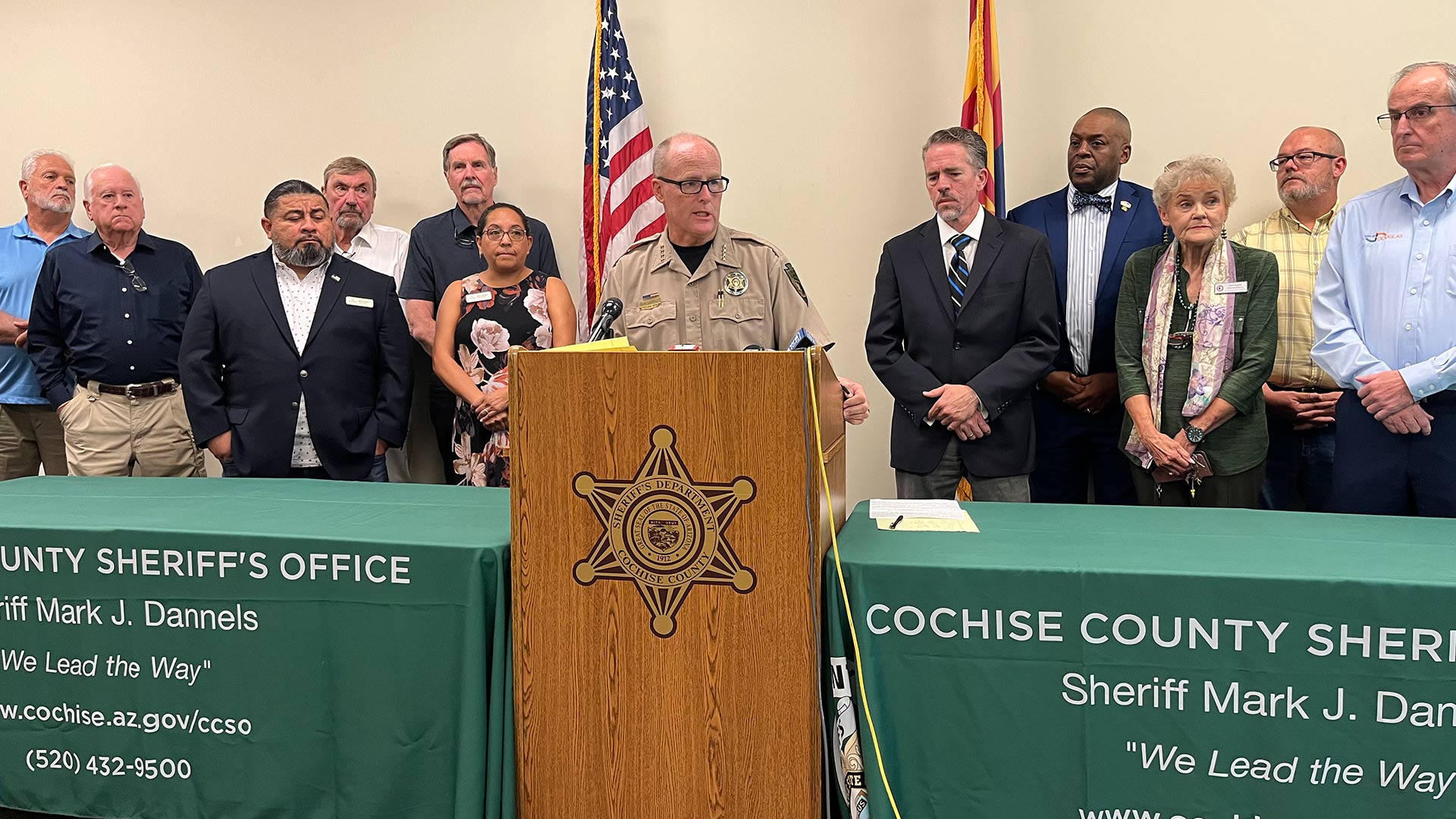 Cochise County Sheriff Mark Dannels and other elected officials and law enforcement talk to reporters on Thursday, Sept. 14 about Border Patrol releasing migrants without services on the street in Bisbee and Douglas.

Danyelle Khmara
Cochise County officials are asking the federal government for help as Border Patrol continues to release migrants on the streets.
Typically after Border Patrol process migrants at the southern border they hold them until an NGO, usually one run by Pima County, picks them up in buses and brings them to Casa Alitas in Tucson or another migrant help center.
But now, local officials say due to an over capacity at Border Patrol facilities, officials are dropping migrants off in Bisbee and Douglas before the buses arrive, causing a gap in services.
Wednesday, Border Patrol dropped off 41 migrants at the Safeway in Bisbee, including children. And Thursday, they dropped off 16 in an empty parking lot.
"They're out in the heat, they're out in the rain, just outside the Safeway, waiting for these buses," said Daniel Duchon, director of Emergency Management in Cochise County.
Bisbee recently began using their local shelter for a temporary respite for the migrants Border Patrol is releasing, which was up to 89 by Friday afternoon.
Bisbee Mayor Ken Budge says the situation is unmanaged because Border Patrol is dropping small groups of migrants off at random times, making it impossible to coordinate buses from Pima County.
"The federal government can not just take a federal problem and dump it on local municipalities," Budge said. "You want to quote me, that's my quote. That's just not the way government should work."
In Douglas, churches and nonprofits are temporarily providing food, water and facilities to nearly 150 migrants already dropped off over the last three days.
Several of Southern Arizona's members of Congress are calling on the federal government to address the lack of coordination and increase resources to local communities.