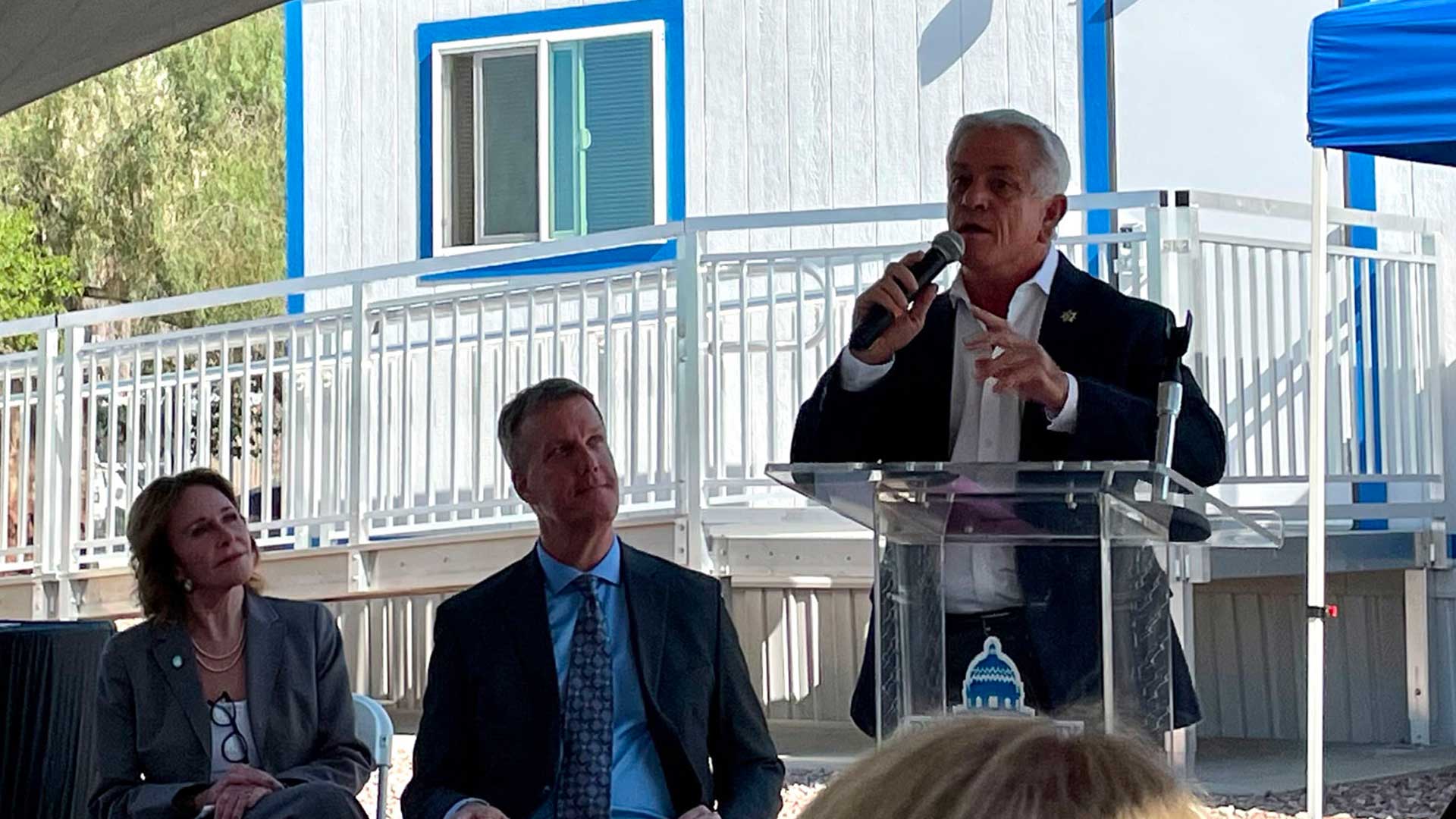 Pima County Sheriff Chris Nanos, accompanied by Pima County Administrator Jan Lesher and Pima County Supervisor Rex Scott, speaks at the grand opening of the Pima County Transition Center in Tucson, Ariz. on Thursday, Sept. 7, 2023.
Hannah Cree
Pima County officially opened its new Transition Center at the Pima County Adult Detention Center on Thursday, Sept. 7. The facility is part of the county's effort to reduce rearrests and individuals failing to appear in court.
At the grand opening event, Pima County Sheriff Chris Nanos reported the Pima County Jail population surpassed 1,900 that morning. This is a peak that hasn't been seen since pre-Covid.
According to a county fact sheet , the most common charge for booking in the Pima County Jail is failure to appear in court.
The Transition Center is aiming to solve this by giving new releases a free cell phone with three months of service. Pima County Administrator Lesher said that step is "critical" to increase court appearances.
In addition, workers called "Justice Navigators" will connect released individuals with services like transportation, shelters, and treatment centers.
Nanos said his jail is not equipped to manage mental health issues and substance abuse the city is facing, and expressed his support for deflection programs that keep non-violent individuals out of the facility.
"We shouldn't be expected to handle every problem society has," he said.
Chief Civil Deputy for the Pima County Attorney's Office Sam Brown also said the center is an important deflection strategy. He said with access to resources the jail is not equipped to handle, more people stay out of jail and avoid engaging with the justice system entirely.
"For those who are not an ongoing threat of harm to the community, jail must be the last door, not the first. We are asking law enforcement to acknowledge the powerful data showing that deflection is a success," Brown said.
In the last month, Lesher said over 80 individuals have used the Transition Center.
"Each person has taken advantage of some services, be they transportation, employment resources, and so many more," she said.
The Pima County Jail will now track facility data for the next year, including rearrests and court appearances, to measure the facility's success.