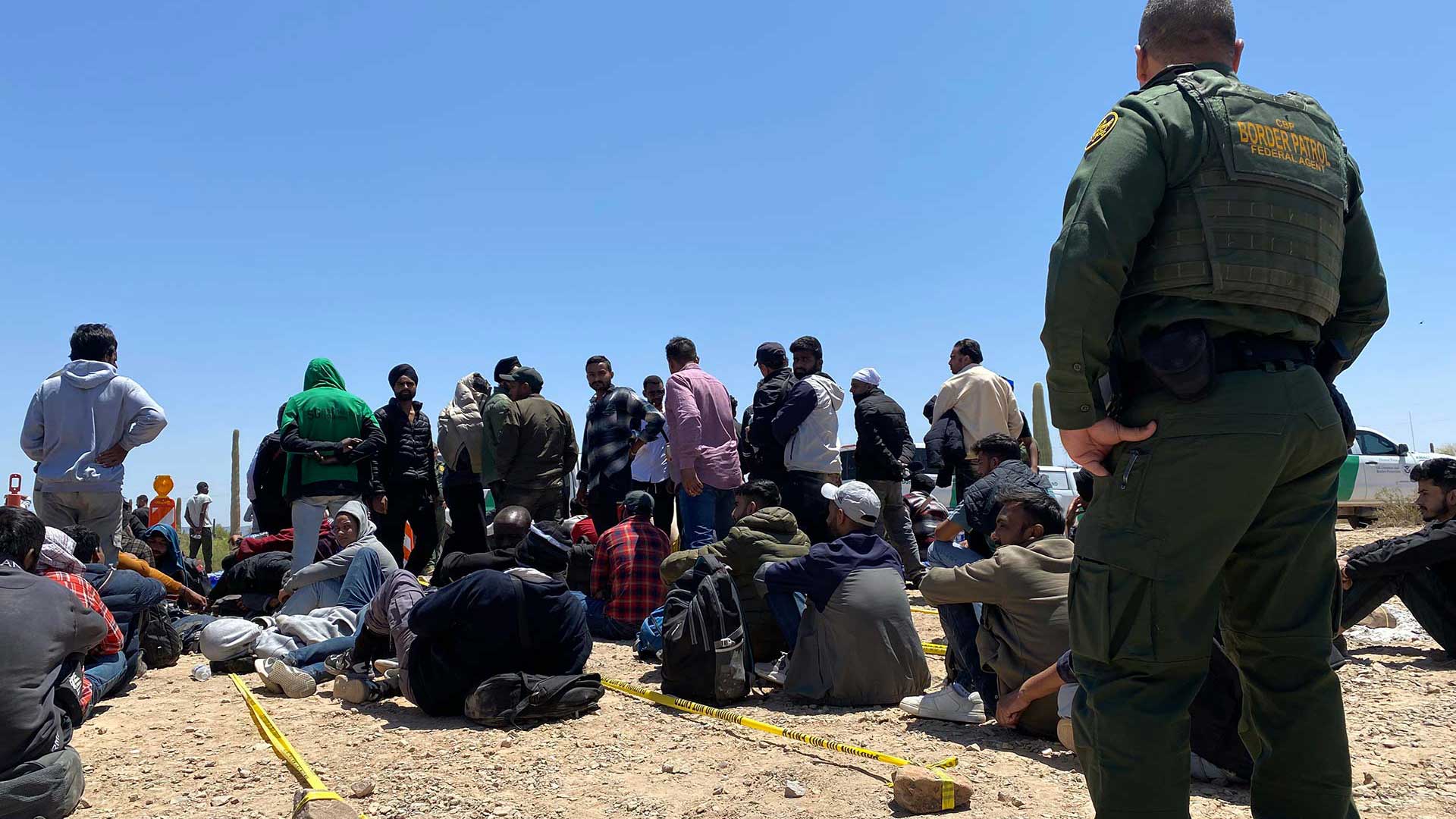 Border Patrol process migrants near Lukeville on May 10, 2023.
Danyelle Khmara
Rene unsuccessfully tried to cross into the U.S. four times in recent months, after fleeing an organized crime group in the southern Mexican state of Guerrero, where he's from and was a farm worker.
"An organized crime group showed up, telling the town where we're from that we had to join them or else people would start to disappear," he said in Spanish.
Rene asked to just be identified by his first name out of fear for his life. He has an uncle who disappeared and another uncle and a cousin who were killed.
Now he owes the equivalent of about $3,500 to criminal organizations that he doesn't know how he could possibly pay.
The last time he tried to cross the border was in April. He was climbing a ladder to go over the border wall, and once he got to the top, the ladder twisted and he fell. He doesn't know how high he was, but the border wall ranges from 18 to 30 feet.
He broke several bones and had three operations. Four months later, he walks with a crutch and one ankle is still swollen.
For the last several months, he's been staying at a shelter on the border and trying to recuperate, but the people he owes money to are beginning to threaten his wife, back home in Guerrero.
"When I came here I borrowed money so that I could come here," he said. "And right now the people who lent me the money are already telling my wife that they want the money. If not, then they're going to kill her."
Betto Ramos, with the Migrant Resource Center in Agua Prieta, says the tens of thousands of migrants who come through his center each year tell him they don't have the money that they owe the criminal organizations.
"They say 'All that money, all that they charge us, we don't have it. We owe it all, and it was all to save our lives,'" Ramos said in Spanish.
To get beyond the tall, locked metal door at the migrant help center just south of the border from Douglas, Arizona, you have to push a call button. And if you want, you can smile up at the camera.
A large Bienvenidos is painted on the side of the building, beyond spiraling barbed wire above the gate surrounding the perimeter of the small center.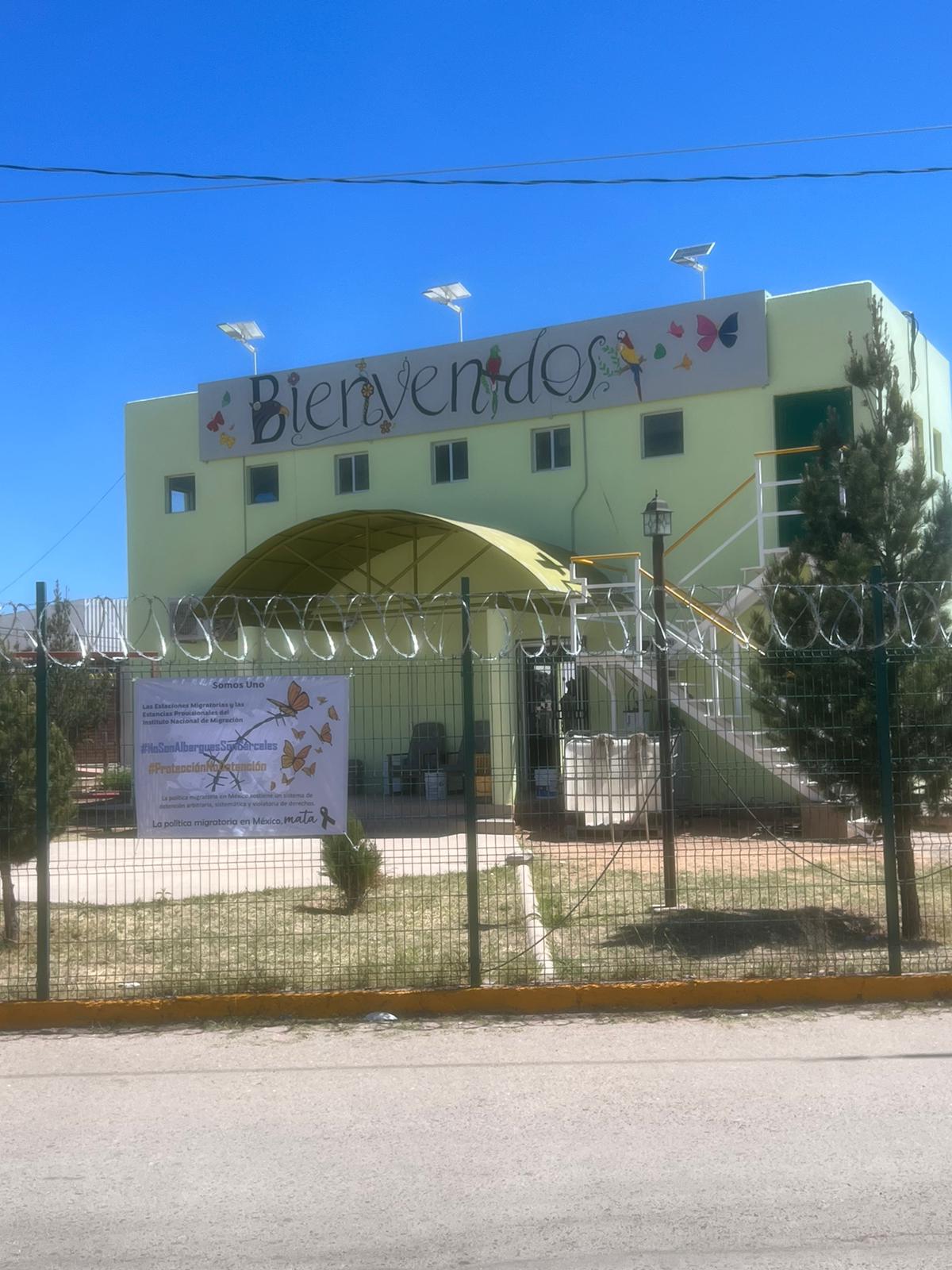 The Migrant Resource Center in Agua Prieta

courtesy The Migrant Resource Center
The locked door and the barbed wire has been there for about a year, but Ramos, who is coordinator for the center, says the reason for the added security began in 2018 and '19 when they had more than 50 incidents of being threatened and intimidated by human smuggling organizations.
"They followed me," Ramos said. "They took photos of me. They stopped me to ask me what work I was doing, questioning how much we charge."
The Migrant Resource Center has served nearly 160,000 migrants in the 17 years it's been open, and more than a quarter of those were last year alone, providing free basic necessities and shelter.
In recent years one of the biggest money makers for organized crime groups involved in the U.S.-Mexico border has become human smuggling, essentially controlling migration and charging every single person trying to get to the U.S. a fee.
Ramos says smuggling organizations charge migrants up to $2,000 to cross the border. That could mean $80 million for the organized crime groups, in just one year, just from people who came through the center.
The fact that smuggling organizations are making so much money off migrants doesn't surprise border authorities.
Border Patrol's Tucson Sector Deputy Chief Justin DeLaTorre says that migration trends are largely driven by criminal organizations that control human smuggling at the border.
"The criminal organizations, they're going to move anything that they can move that they're going to make money off of, and part of that is human smuggling," he said.
A report by InSight Crime says the Department of Homeland Security in recent years estimates that criminal organizations earned $500 million annually from migrant smuggling. Based on migrants' experiences that could be an underestimate.
InSight Crime reporter Parker Asmann says during the team's two-year investigation in Mexican border states, they found that factions of the Sinaloa cartel collected at least $100 per migrant in Altar, about an hour-and-a-half drive south of Sasabe, Sonora, where U.S. officials have dropped off large groups of migrants in recent years, returning them to Mexico.
"Assuming that as many as 30,000 migrants pass through Altar in a single month, which is what the local priest estimated, that's $3 million just from that quota, just in Altar, just in one month," he said. "So that gives you an idea of just how much money there is to be made."
In addition to that, the report found migrants paid at least $10,000 to be transported from Central America or from Mexico to a U.S. city.
U.S. authorities encountered migrants nearly 2.4 million times in 2022 on the southern border. The InSight Crime report says that if even half of that represented migrants who paid $10,000 in smuggling fees and bribes, the market would be worth close to $12 billion.
One way that migrants pay these fees is paying half up front and the other half they plan to pay after they get to the U.S. and start working. But like Rene, they owe that money regardless of whether they make it.
The main authorized way for migrants to get a chance to seek asylum in the U.S. is through an app called CBP One where thousands of migrants vye for limited appointments. Many families have been able to start the asylum process and enter the country, but getting an appointment can take months.
Rene hopes to ask for asylum in the U.S. but doesn't know how. He's never heard of the CBP One app.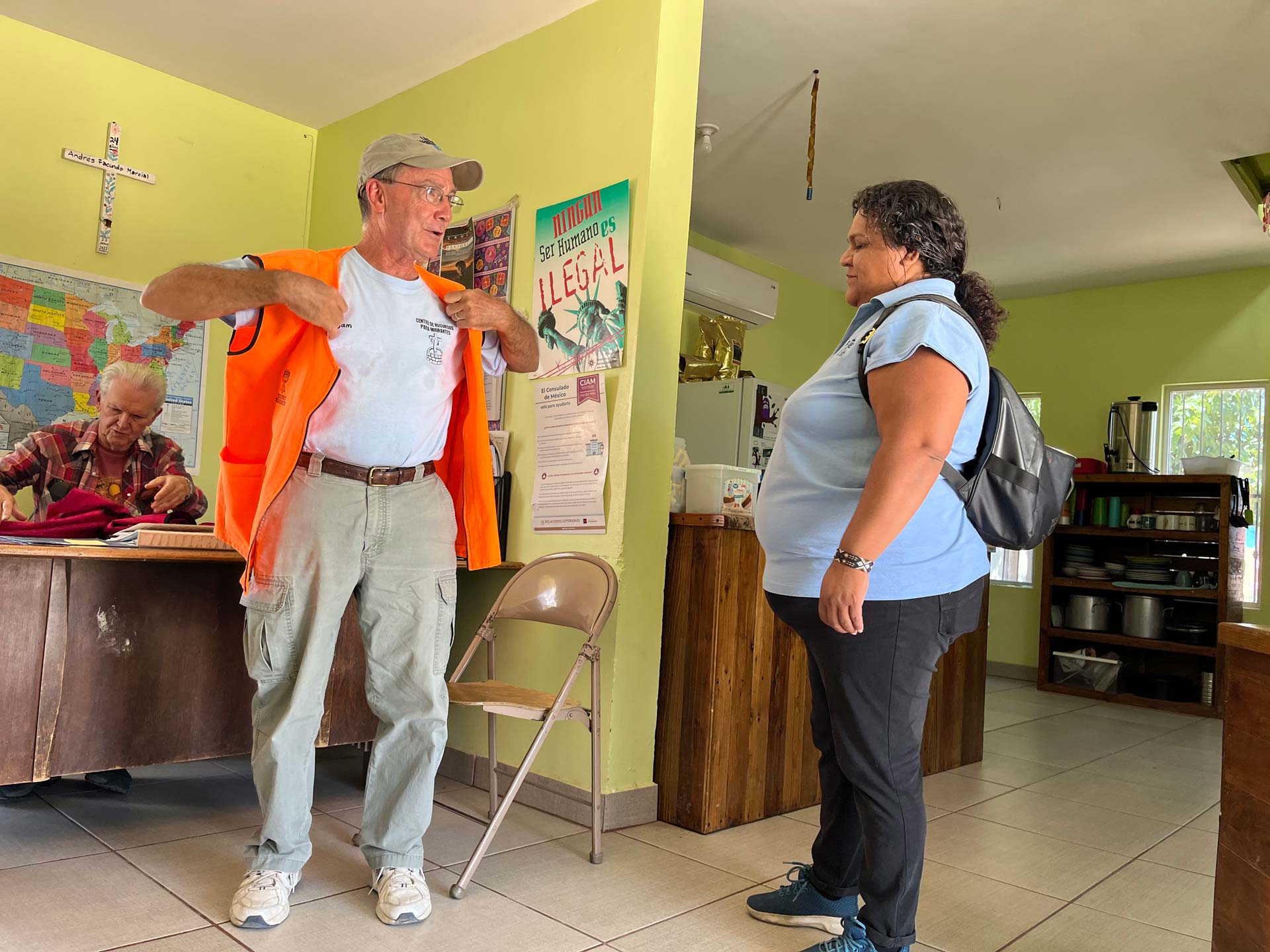 VIEW LARGER Volunteer Sam Pendergast talks with Joca Gallegos, who works at the Migrant Resource Center in Agua Prieta.

Danyelle Khmara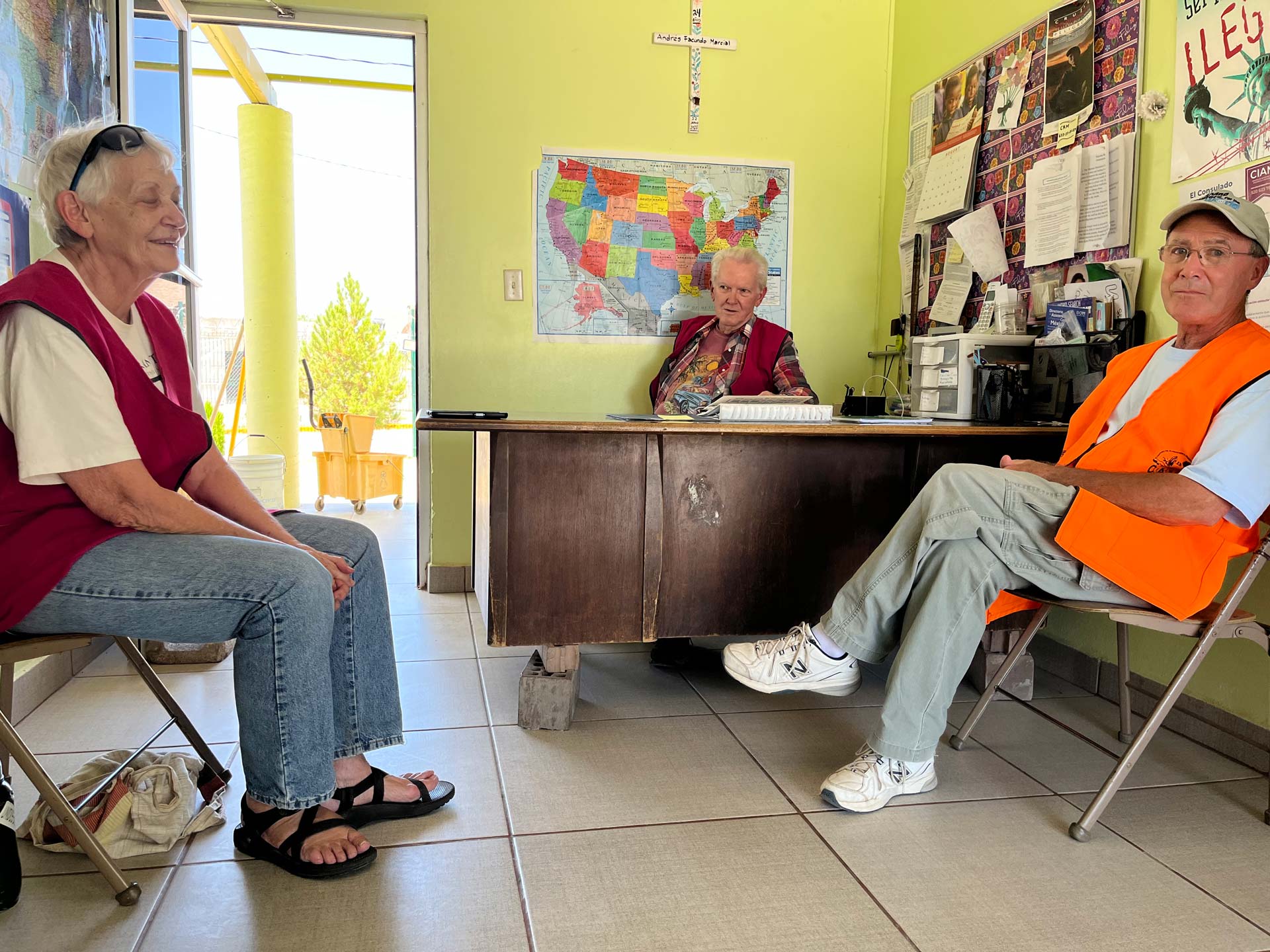 VIEW LARGER Volunteers Linda and Jack Knox and Sam Pendergast help out at the Migrant Resource Center in Agua Prieta on Aug. 3, 2023

Danyelle Khmara
Criminal organizations are at the border making sure everyone pays to pass. Ramos says they watch what migrants are doing, waiting in places where they know migrants will be, such as bus stops and where those who try to cross into the US get expelled across the border.
They don't let anyone who's a migrant get through, he says. They have to "pagar su piso," which means to pay a sort of protection money.
Asmann says the InSight Crime report found this same practice in other parts of the border.
"We saw first hand that this was a common reality for migrants, that very shortly after they had crossed back into Mexico, there were people looking for them and ready to take advantage of them in one way or another," he said.
Under new asylum rules, much like Migrant Protection Protocols under Trump, many migrants are forced to wait in Mexico while they seek a chance to apply for asylum. Asmann says this creates a situation where thousands of migrants were forced to wait in border cities that they had no communal or social ties to.
"It sort of expanded the potential pool of victims for extortion, corruption, kidnapping, etc," he said. "So I think US policy contributed to these dynamics that you saw on the border that sort of made migrants increasingly vulnerable."
The InSight Crime report suggests U.S. authorities improve their ability to process asylum seekers and expand legal pathways for migrants to enter the country.
"With that, you close off some of the revenue streams for organized crime groups who are capitalizing on the fact that many migrants are seeking alternative ways to enter the country because of how difficult it is to enter legally and because of the lack of pathways that are available to them," Asmann says.
Families who come to the Migrant Resource Center in Agua Prieta tell Ramos about what they've been through and about their hopes.
"Many of the families and people tell us, 'I just want to live in peace. I want to have peace.'"