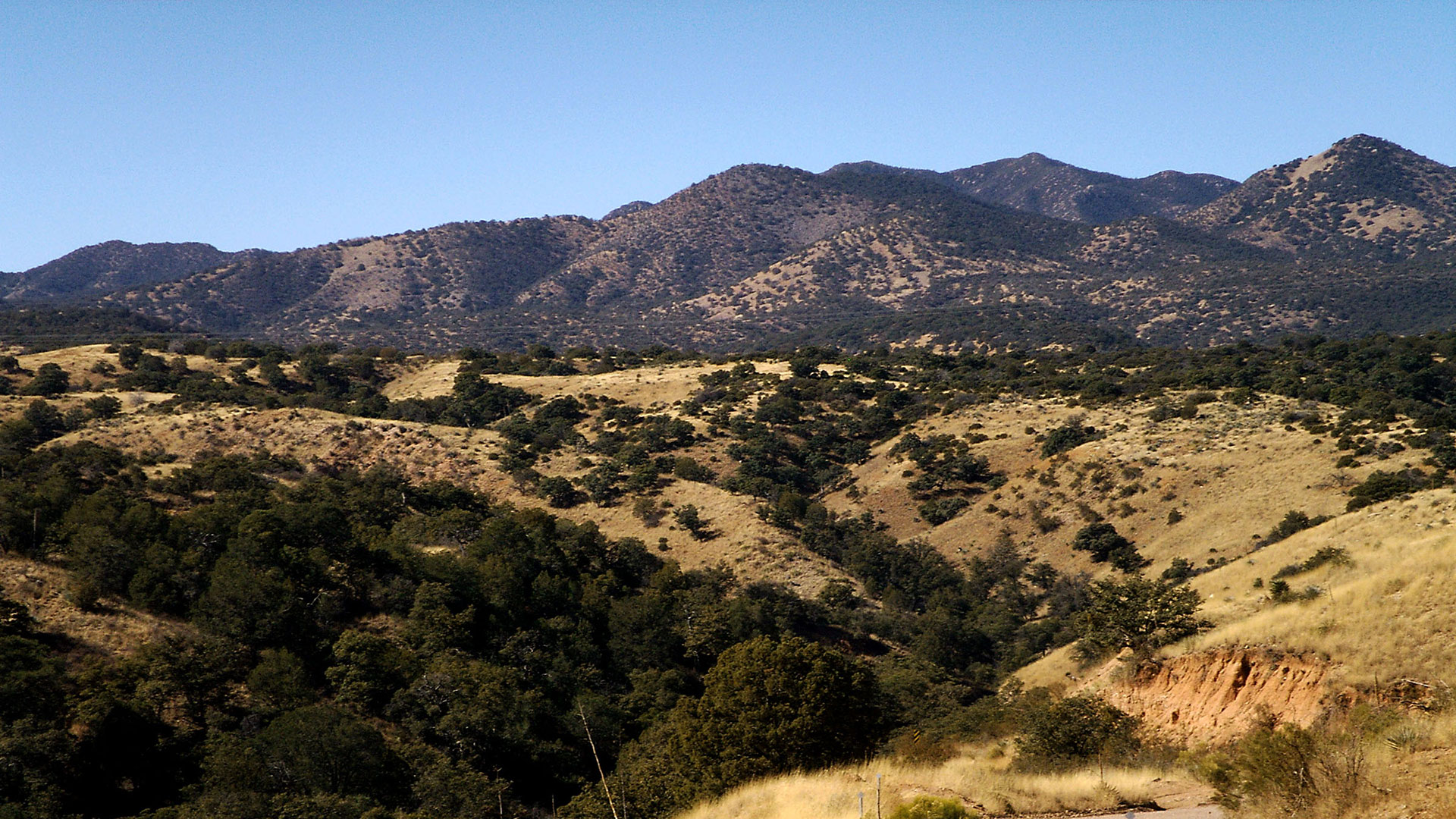 The Patagonia Mountains in Southern Arizona, taken in January 2006.
Flickr user cobalt123 via CC license.
Attorneys delivered oral arguments in the Tucson federal court Thursday, August 25, on a preliminary injunction to stop the Sunnyside and Flux Canyon mineral exploration projects in the Patagonia Mountains.
Lawyers representing Earthjustice, a conservation nonprofit organization who filed a lawsuit along with the Center for Biological Diversity (CBD,) Patagonia Area Resource Alliance (PARA) and other groups, against the United States Forest Service (USFS) in June, argued the injunction to keep mining from starting is necessary, to prevent irreparable harm to residents, wildlife and the environment in the Patagonia Mountains.
"There are endangered Mexican spotted owls that live within the area that this mining exploration is going to take place in, that would be almost guaranteed to be driven out of that area," said southwest conservation advocate for the CBD, Laiken Jordahl. "This is also a stronghold for other endangered species like jaguars and ocelots and yellow-billed cuckoos and quite frankly, there's just too much to lose here for corporate mining companies that just want to pad their pockets with additional profits."
Conservationists against exploratory mining are concerned about the contamination of groundwater, as well as around-the-clock mining operations that would disturb over 100 threatened and endangered species that are known to the area, as well as the"lasting scars" that would be left on the landscape.
Scott Stern, an attorney for Earthjustice said they've asked the judge to issue a ruling before Friday, September 15.
"The mining companies have agreed to hold off ground disturbing activities until September 15, so hopefully the judge will issue the preliminary injunction to prevent them from doing anything after September 15, up until the judge has time to fully consider the case on its merits," Stern said.
Legal counsel for the global mining and metals company South 32, which oversees the Arizona Minerals Inc.-held, Flux Canyon Exploration Drilling Project, said that domestic production of critical minerals are essential to the United States' energy security and that exploratory mining would not cause any environmental harm, rather create a lot of jobs.
Counsel representing Arizona Standard LLC, the subsidiary company for the Canadian metals exploration company, Barksdale Capital Corporation which oversees the Sunnyside Exploration Drilling Project, argued that existing dirt roads would be left in better shape than they were before and that the plaintiffs' intuition had evoked emotions.
Andrew Smith, an attorney with the Department of Justice, representing the USFS said wildlife would be affected intermittently and temporarily and that public lands are meant to be used and protected.
"Plaintiffs tout their environmental interests which are very valid and we appreciate those, but national forests are not set aside as preserves, they're set aside for economic development and multiple uses," Smith said.
Smith also said that the USFS was unaware of South 32's Hermosa critical minerals project until months later, after an Environmental Assessment (EA) was completed and after South 32 issued a press release.
"Mr. Smith announced today that the government knew about the Hermosa Critical Minerals Project but the Forest Service didn't but it's undisputed that the Forest Service knew at the time of the decision and now we learned at the time of the environmental assessment," said managing attorney for Earthjustice, Timothy Preso. "Best case scenario, the judge will swiftly issue an injunction and stop the bulldozers, stop the drill rigs from descending on this beautiful, peaceful corner of the Patagonia Mountains," Jordahl said.
A decision for an injunction is anticipated some time this week.
"I will really look forward to seeing what the judge says, I am hopeful that she will read all the briefs and internalize all the arguments and come to the conclusion that preliminary injunctive relief is merited here," Stern said.