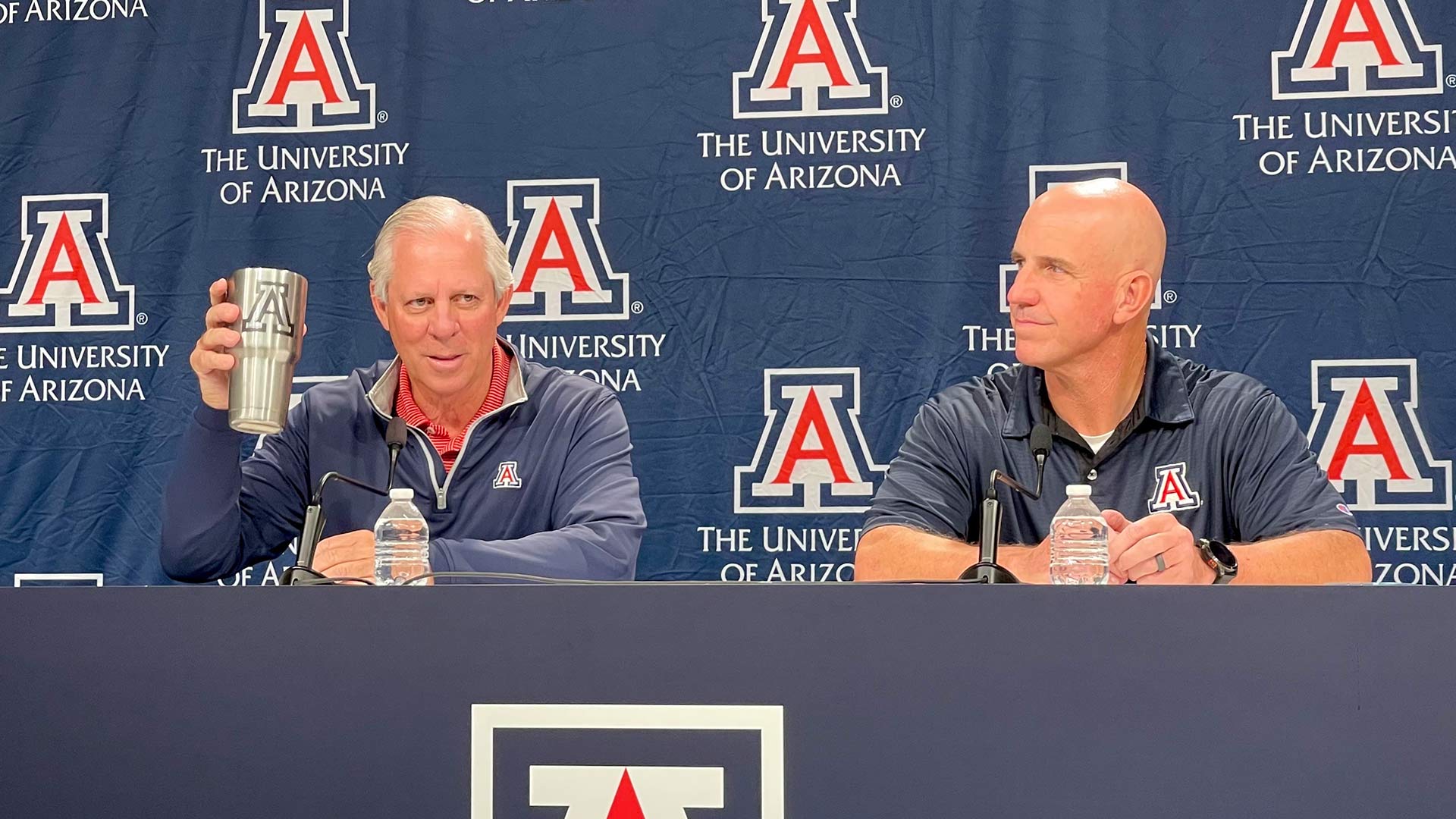 University President Robert Robbins and Chief Safety Officer Steve Patterson sit at a press conference on Friday, Aug. 25, 2023.
Hannah Cree
Nearly a year after the murder of Hydrology Department Head Dr. Thomas Meixner, students and staff headed back to campus this week undoubtedly have one question on their minds.
Is the campus safer than it was one year ago?

President Robert C. Robbins and Chief Safety Officer Steve Patterson emphasized personal responsibility and mental health awareness at their campus safety briefing on Friday, Aug. 25.
"One of the biggest threats I think, to safety, individual safety and collective safety are the choices that you make. Whether you put on a bicycle helmet, whether you get enough sleep, those are all safety issues individually and collectively," said Robbins.
Robbins and Patterson also said making university members aware of mental health resources on campus is a priority.
"Rarely is there a situation in which somebody starts doing things… inappropriate or violent in nature, where there wasn't prior indicators. That's what we're really trying to do is to try to educate the campus community on some of these things to look for, and then let us know," said Patterson.
According to an interim report released by the University earlier this year, university officials were aware of safety concerns regarding the gunman that killed Meixner as early as January 2021.
Robbins said at the press conference that he believes campus communication was the biggest failure leading up to the Meixner shooting.
"I don't think we were as prepared last October as we should have been. And so I think the communication is better now," he said.
As far as physical changes to campus, Patterson said the university installed locks on doors and placed emergency preparedness posters in classrooms over the summer.
When asked about specific resources, Patterson plugged the new 21-page Wildcat Safety Guide, a downloadable PDF containing instructions on what to do in various emergency situations, like active shooters, bomb threats, and disruptive individuals. He also encouraged the campus community to download the LiveSafe app, which offers text, picture, video, and audio communication with UAPD.
As for next steps, Patterson said that safety is an "ongoing process," which includes addressing the 33 areas of concern identified in the PAX report conducted after Meixner's murder.