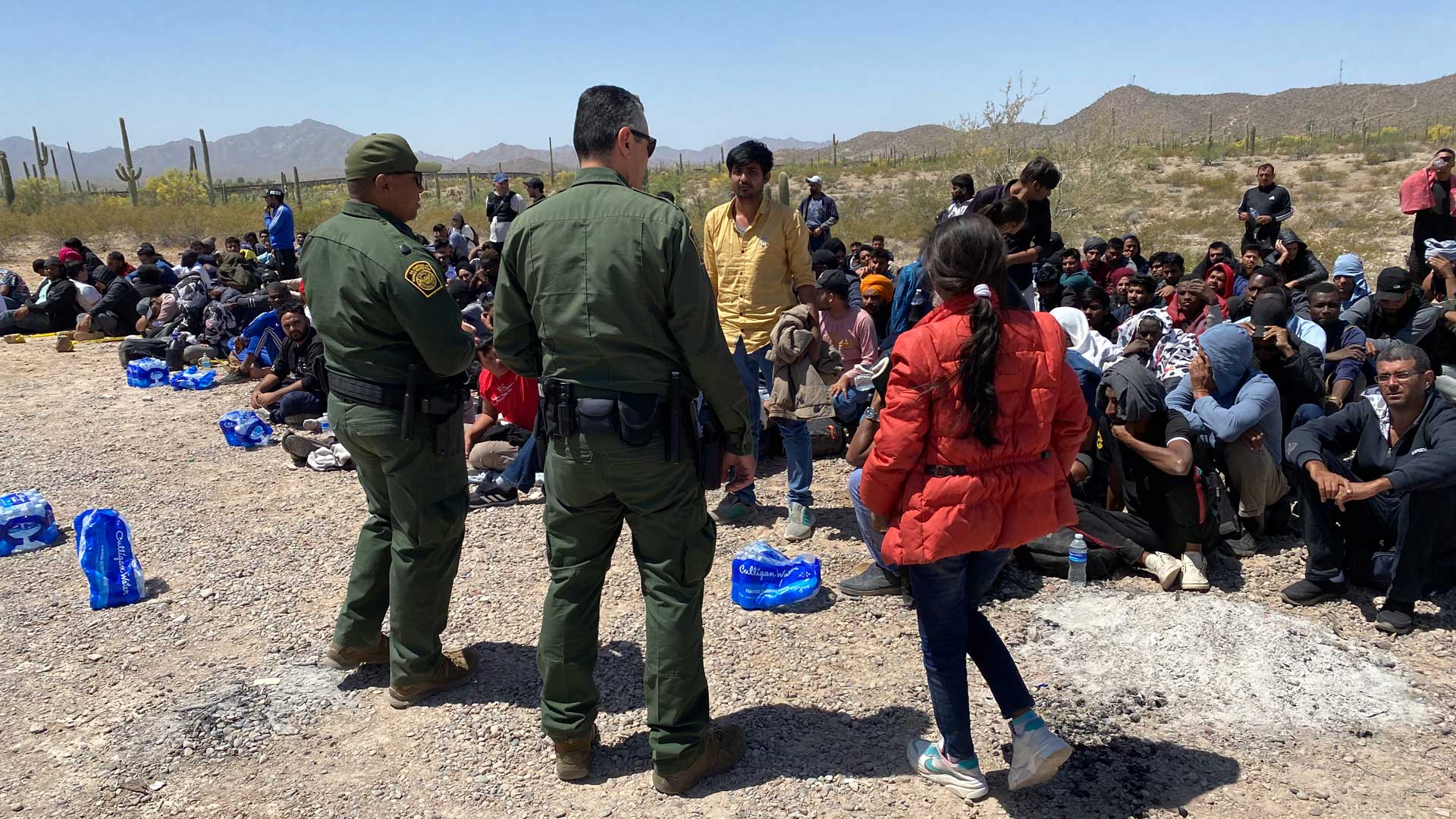 Border Patrol agents process a group of nearly 250 migrants in Ajo, Arizona, on Wednesday, May 10.
Danyelle Khmara, AZPM
The Tucson Sector has been struggling to handle the influx of migrants at the border, but are receiving additional personnel as the sector continues to be the busiest border region.
Deputy Chief Justin DeLaTorre says the Tucson Sector alone does not have the resources to deal with the current flow of migration it's experiencing.
But they have recently received additional law enforcement and support personnel from Customs and Border Protection and other departments under Homeland Security, which is helping them respond to the increase they're seeing.
"We're certainly starting to see the benefits right now of those added resources out here," he said. "We are able now to move people through the processing system faster, which allows us then to get more patrol resources back out to the border. We are actively and in the process of deploying additional resources as we speak."
The sector had more than 39,000 migrant encounters in July and are currently averaging nearly 1,600 people a day, the majority of which are families and children and turn themselves into border authorities.
The majority of adult migrants arriving at the border in the Tucson Sector who aren't traveling in a family unit are being put into detention, with some being flown to other parts of the country as detention space on the border reaches capacity.
Nearly all migrants who are entering the country unauthorized are being put into removal proceedings, DeLaTorre says, one of the consequences officials hope will lessen the surge of migrants at the U.S.-Mexico border in the Tucson Sector.
The Tucson Sector is also coordinating with Immigration and Customs Enforcement to fly migrants, on a number of daily flights, to other parts of the country where there is space for detention.
"What that does is it allows us to hold those migrants in custody while their cases are being adjudicated. If they're found to be eligible to stay then they're given that option, and otherwise they're removed back to their home country," DeLaTorre says.
He says the vast majority of single adults are being placed into detention, but families are not.
Officials hope this consequence along with working to interdict and prosecute smuggling organizations controlling the movement of migrants will be a deterrent.
"As we are able to increase our ability to apply consequences for unlawful entry, we expect that we'll see that trend shift to another location along the border," he said.