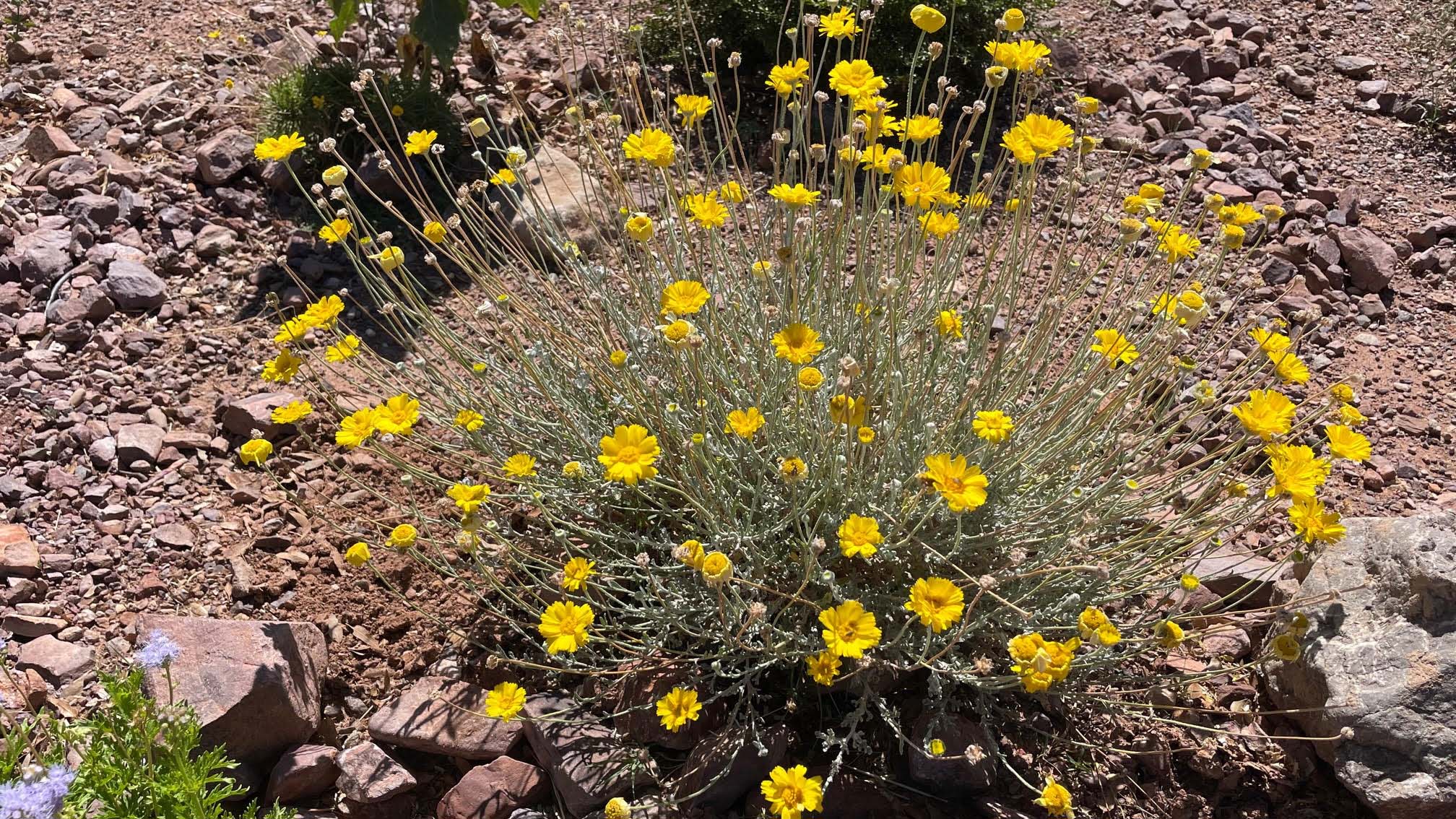 Volunteers with Project Wildlife: Bisbee have planted hundreds of specimens since starting the transformation at Vista Park in March 2023.

Tony Paniagua / AZPM
This story is part of the Arizona Spotlight episode which aired on August 24, 2023.
A group of volunteers in Bisbee is celebrating their city's official designation as a Community Wildlife Habitat by the National Wildlife Federation.
The group, Project Wildlife: Bisbee, got at least 100 property owners to commit to planting native species to provide food for pollinators, cover, and a place to raise young.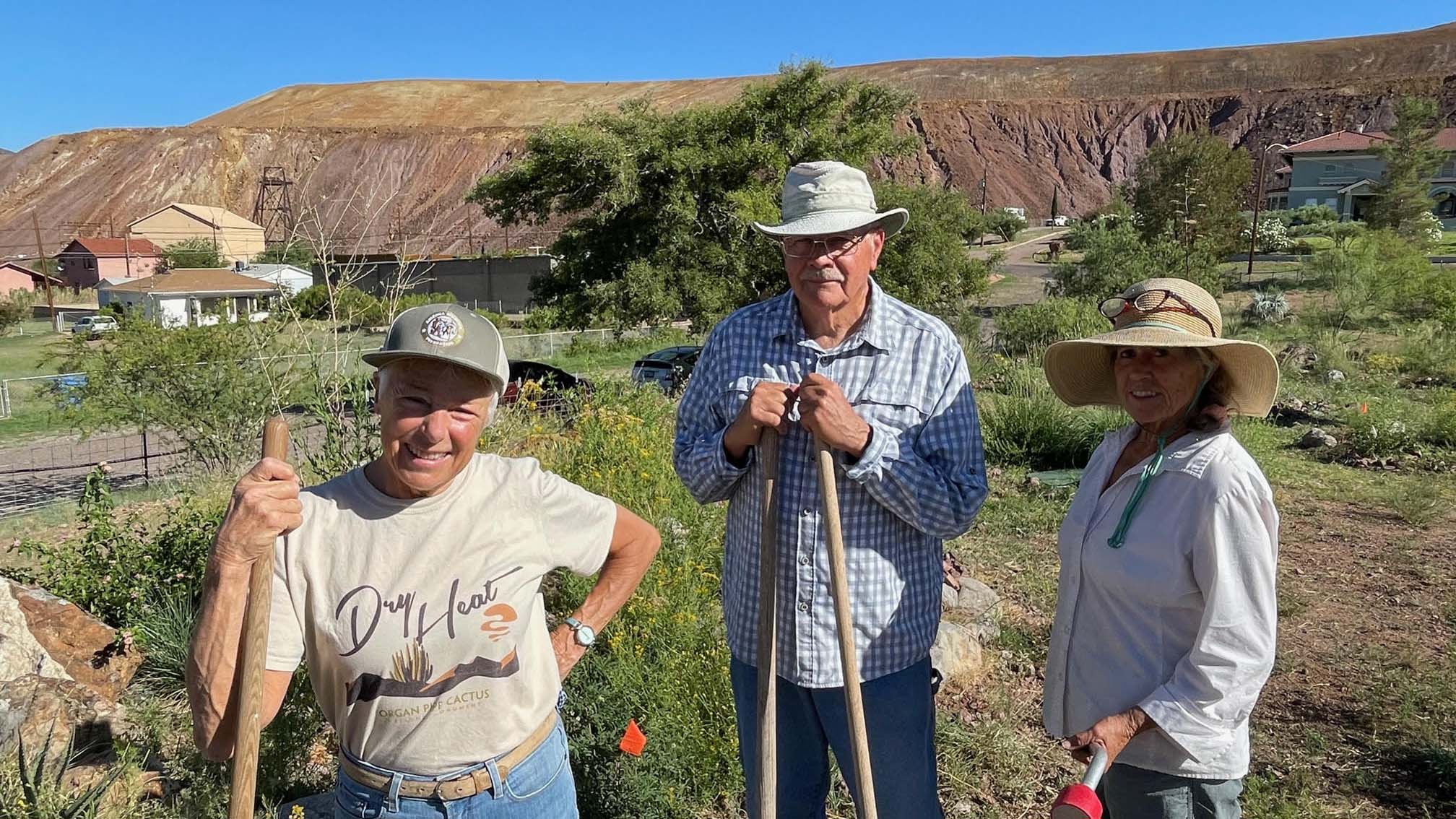 Jane Gaffer, Doug Danforth and Carmen Faucon are core members of Project Bisbee: Wildlife and have put in countless hours to get Bisbee certified as a community wildlife habitat by the National Wildlife Federation. However, the trio credits city residents and many others for their cooperation and participation.

Tony Paniagua / AZPM
Residents will also add a source of water for the birds, insects, and other wildlife.
The idea began when passersby and visitors noticed a sign in front of Carmen Faucon's house after she moved from Yuma to Bisbee.
The sign is from the National Wildlife Federation and says, "Certified Wildlife Habitat."
"How I got involved was I've always registered my yard wherever I lived with the National Wildlife Federation, and I've always tried to pay attention to what I'm planting," Faucon says.
"And so that sign was in my yard for like about two years. And everyone just thought, 'Oh my gosh, she must be this expert.'"
Faucon was invited to participate in the Bisbee Bloomer's annual garden tour in 2021 and she took the opportunity to inform others about the process.
"I called a friend of mine that's a wildlife biologist. I said, 'Valerie, come down here dressed as a field biologist, you know, have binoculars, khaki shorts, boots, a butterfly net, a tag hat and let's let's talk about planting native,'" Faucon adds.
"And then I got a bunch of wildlife magazines from the National Wildlife Federation and a bunch of different handouts. And we were like selling this idea to the public. And from there, Jane wanted to make this be a community wildlife habitat."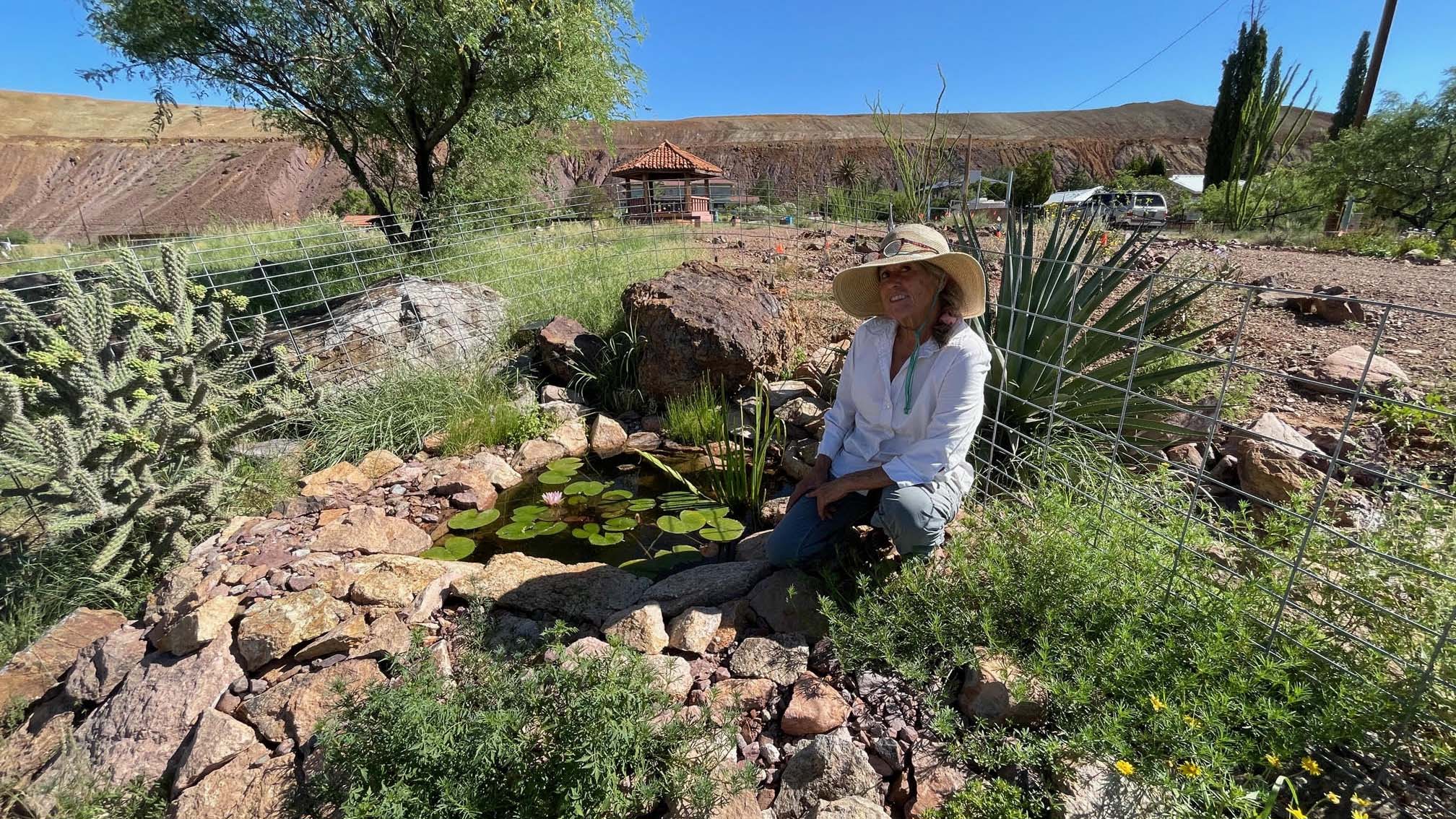 Carmen Faucon, one of the team members of Project Wildlife: Bisbee, sits next to one of the water features installed by the volunteers.

Tony Paniagua / AZPM
Jane Gaffer is an avid gardener who has also displayed her yards in the annual Bisbee Bloomers tour.
She, Faucon, and others held their first meeting in April 2022 to discuss possibilities.
Gaffer's research showed that if enough people would participate, Bisbee could become a Certified Wildlife Habitat.
"And we thought that would do the city good and it would be fun. And we went to the city and asked for their blessing because we were making the city a wildlife community habitat," Gaffer says.
Not only did the city agree to the concept, but it also offered a two-acre parcel in Vista Park for the small team to begin their work.
"They gave us their approval and they gave us $3,000 and said, in effect, they didn't put it like this, but they said, 'go home, put your money where your mouth is, put our money where your mouth is, and plant the rather neglected Upper Vista with native plants.'"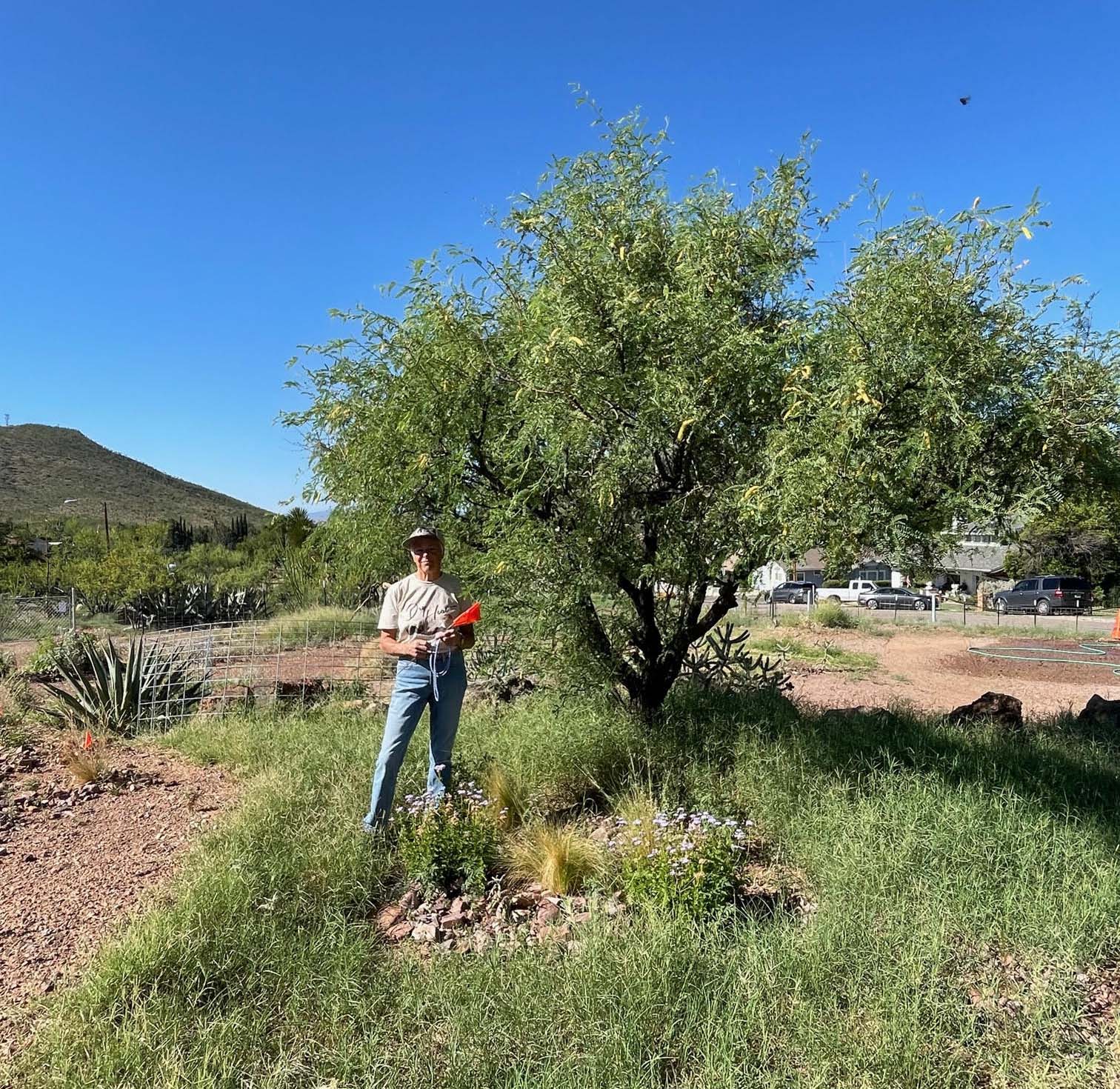 Jane Gaffer, one of the team members of Project Wildlife: Bisbee, stands next to a mesquite tree which is one of her favorite features at the park.

Tony Paniagua / AZPM
The core team of Project Wildlife: Bisbee also includes retired science teacher and author Doug Danforth.
Together, they have planted hundreds of flowers, shrubs, and trees since March 2023. Along with the plants, they have also added rock features and water sources.
And despite the lackluster monsoon this year, many of the plants are growing.
"I love gardening," says Danforth.
"And this project came about at the Upper Vista and I thought it was a great project to build wildlife habitat in the Upper vista and to make it an outdoor classroom," he adds.
"That's one of the goals we have is, is to have school groups come over and learn about native plants and pollinators and pollination. So it just kept evolving."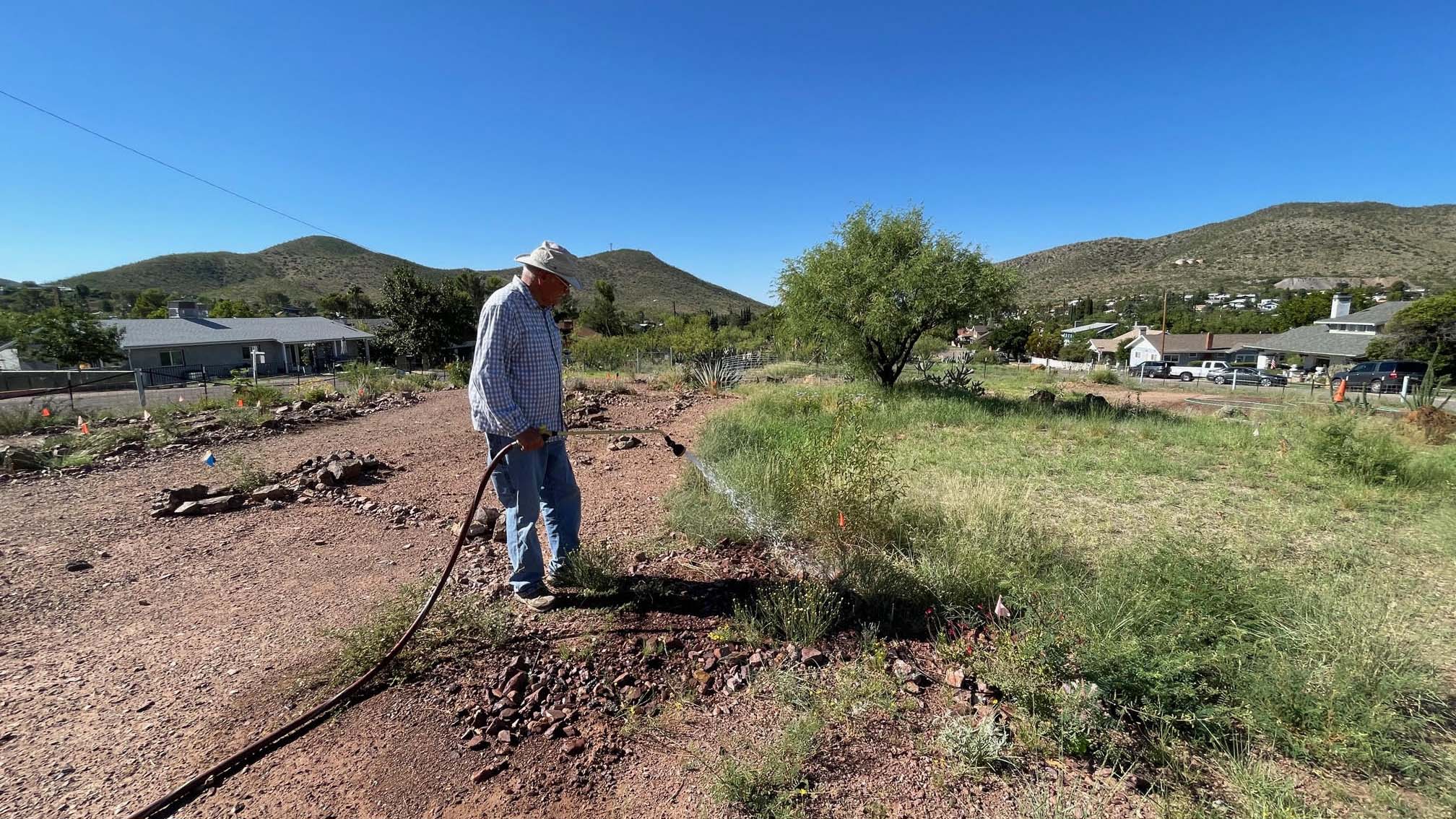 Doug Danforth, one of the team members of Project Wildlife: Bisbee, waters some of the native specimens that the volunteers have planted.

Tony Paniagua / AZPM
The team has been working tirelessly for months but Danforth, Faucon, and Gaffer say it would not have been possible without assistance from friends and family members, the City of Bisbee, the local water company, and many other groups, including the Arizona Wildlife Federation which is providing assistance with grant writing and other guidance.
"I just hope that in the future we just see this park being used by people for all kinds of purposes, dealing with conservation and nature," Danforth says.
Bisbee's official certification as a Community Wildlife Habitat was August 1, 2023.

It was preceded by the unincorporated community of Ajo in western Pima County in 2017, and the Sweetwater neighborhood in the Tucson Mountains in 2007.

To see the work at Vista Park and several other wildlife-friendly gardens in Bisbee, you can attend the annual Bisbee Bloomers Garden Tour on Saturday, September 2, 2023.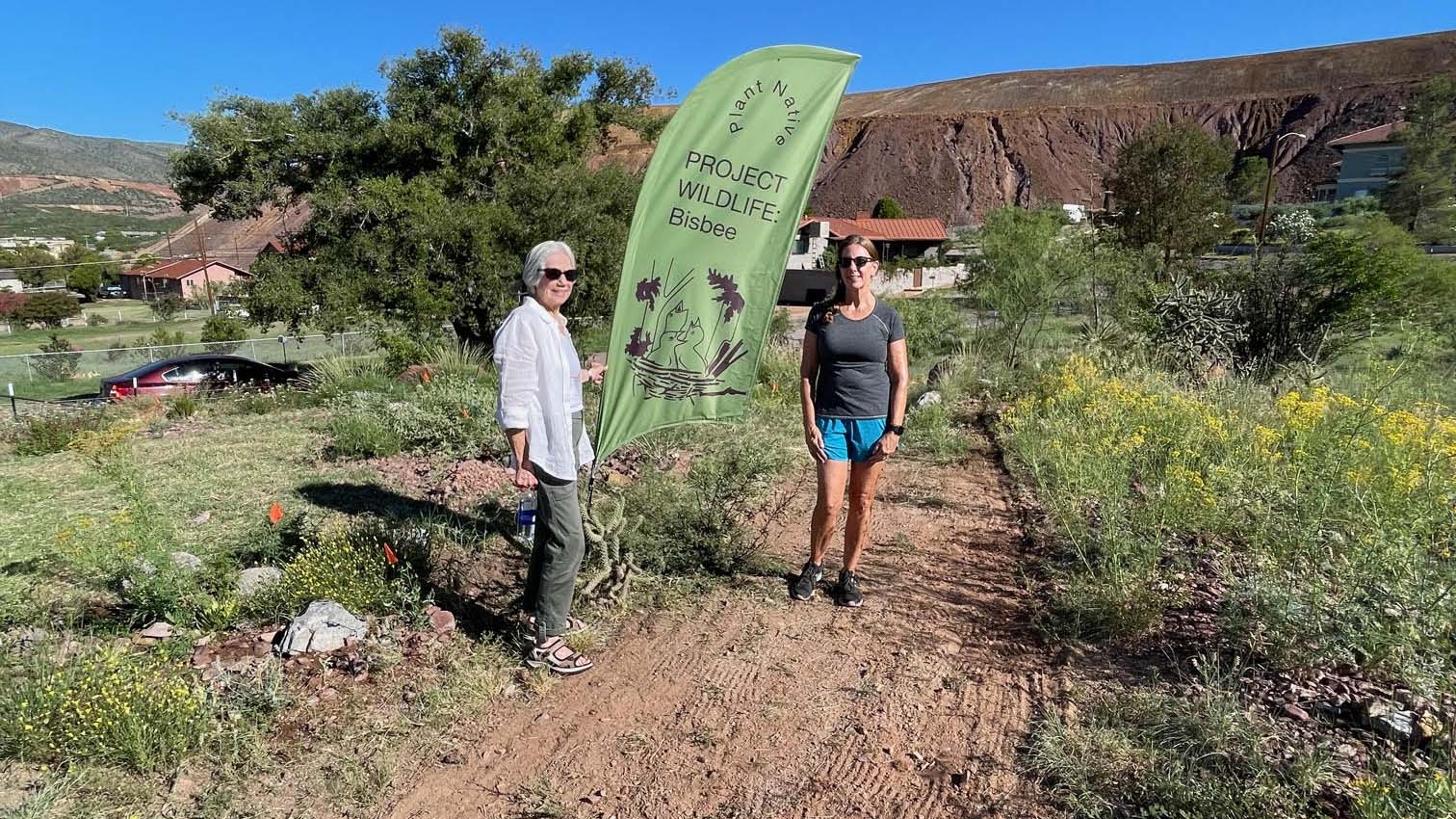 Carole Beauchamp (left) and Suzanne Aldridge, both residents of the Warren District in Bisbee, like to walk by Vista Park every day.

Tony Paniagua / AZPM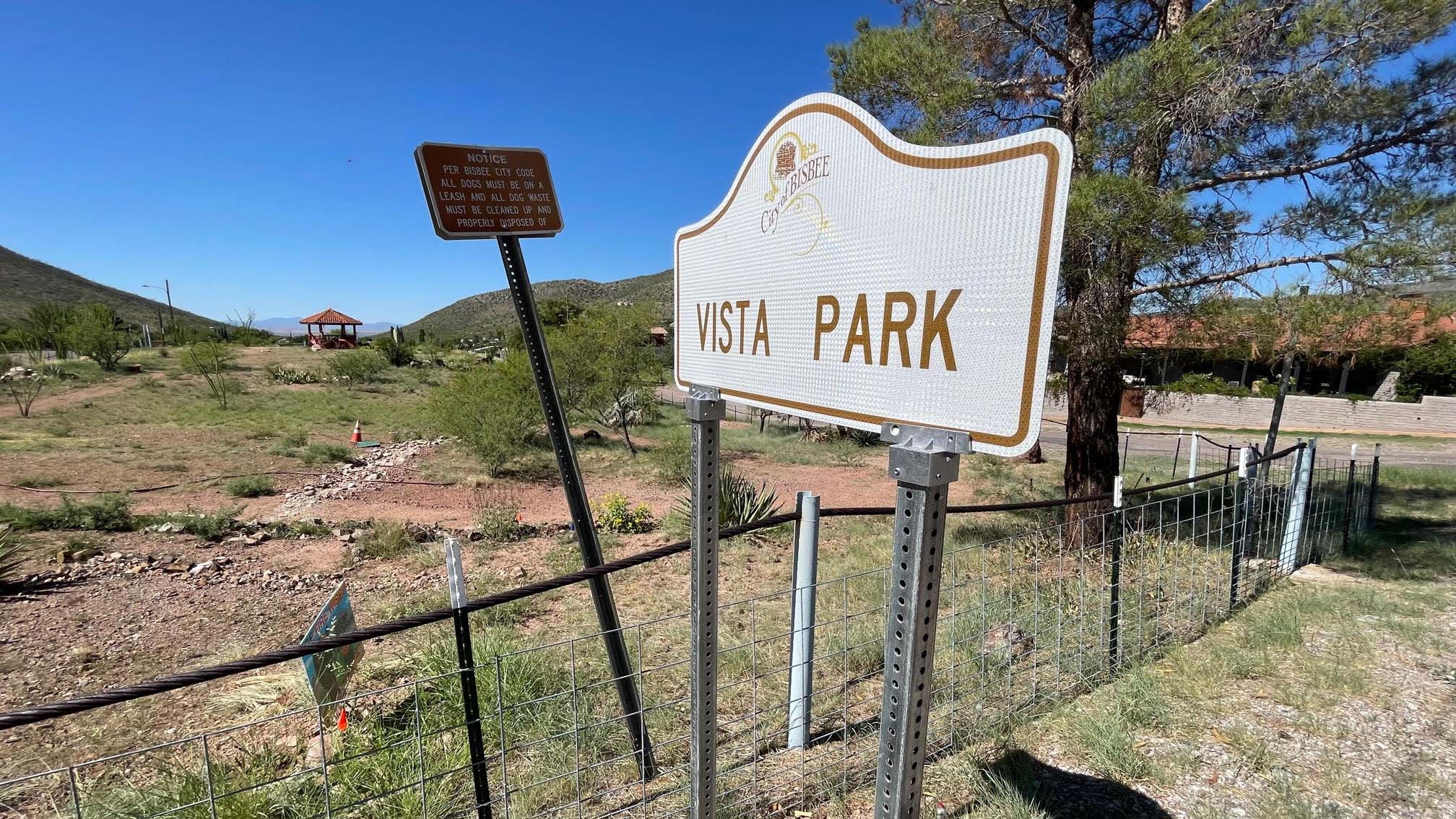 This is part of Vista Park in the Warren District of Bisbee, where volunteers with Project Wildlife: Bisbee are planting native species for pollinators and other species.

Tony Paniagua / AZPM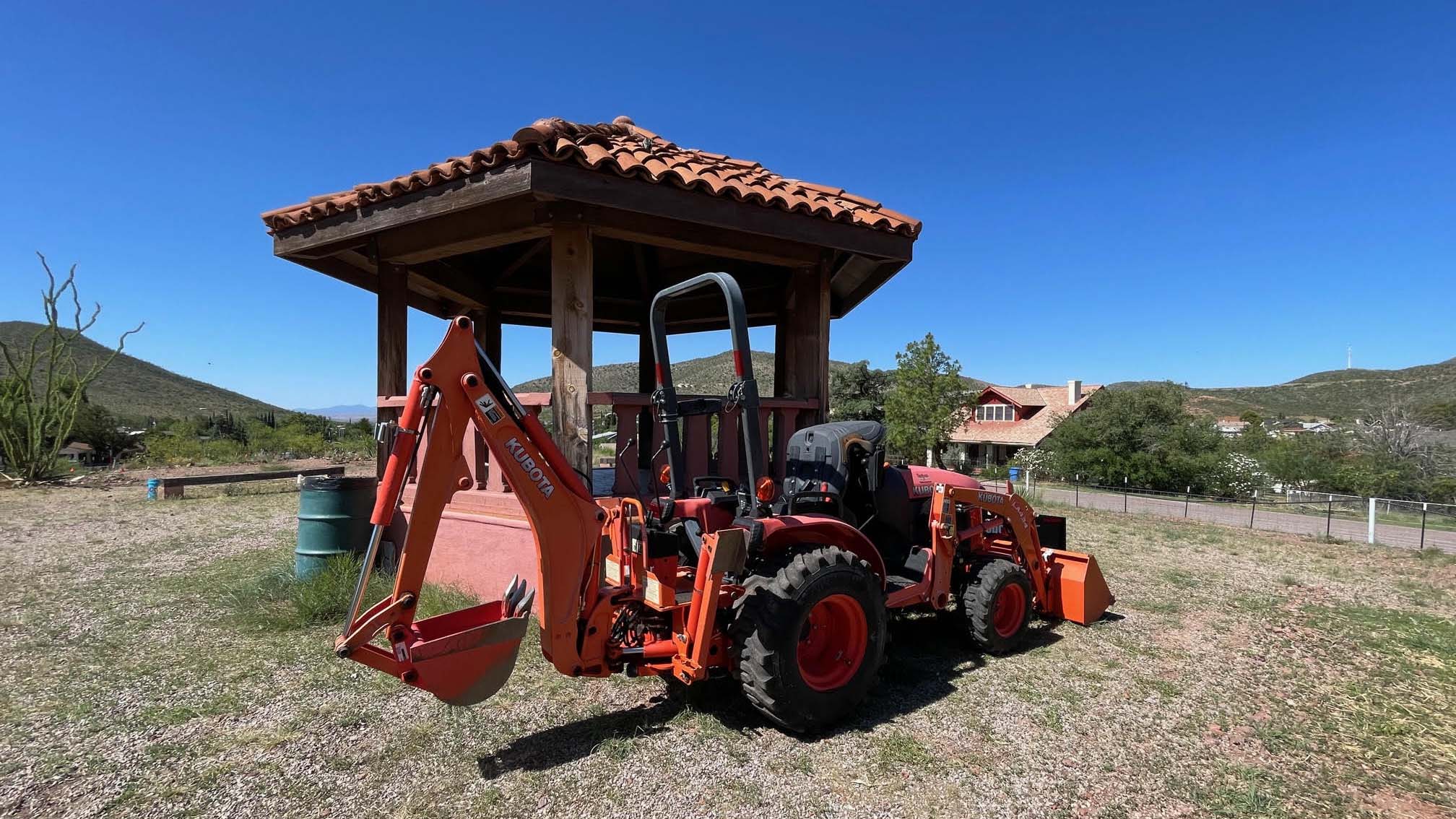 Volunteers with Project Wildlife: Bisbee are staying busy at this section of Vista Park by planting native species for pollinators and adding water sources.

Tony Paniagua / AZPM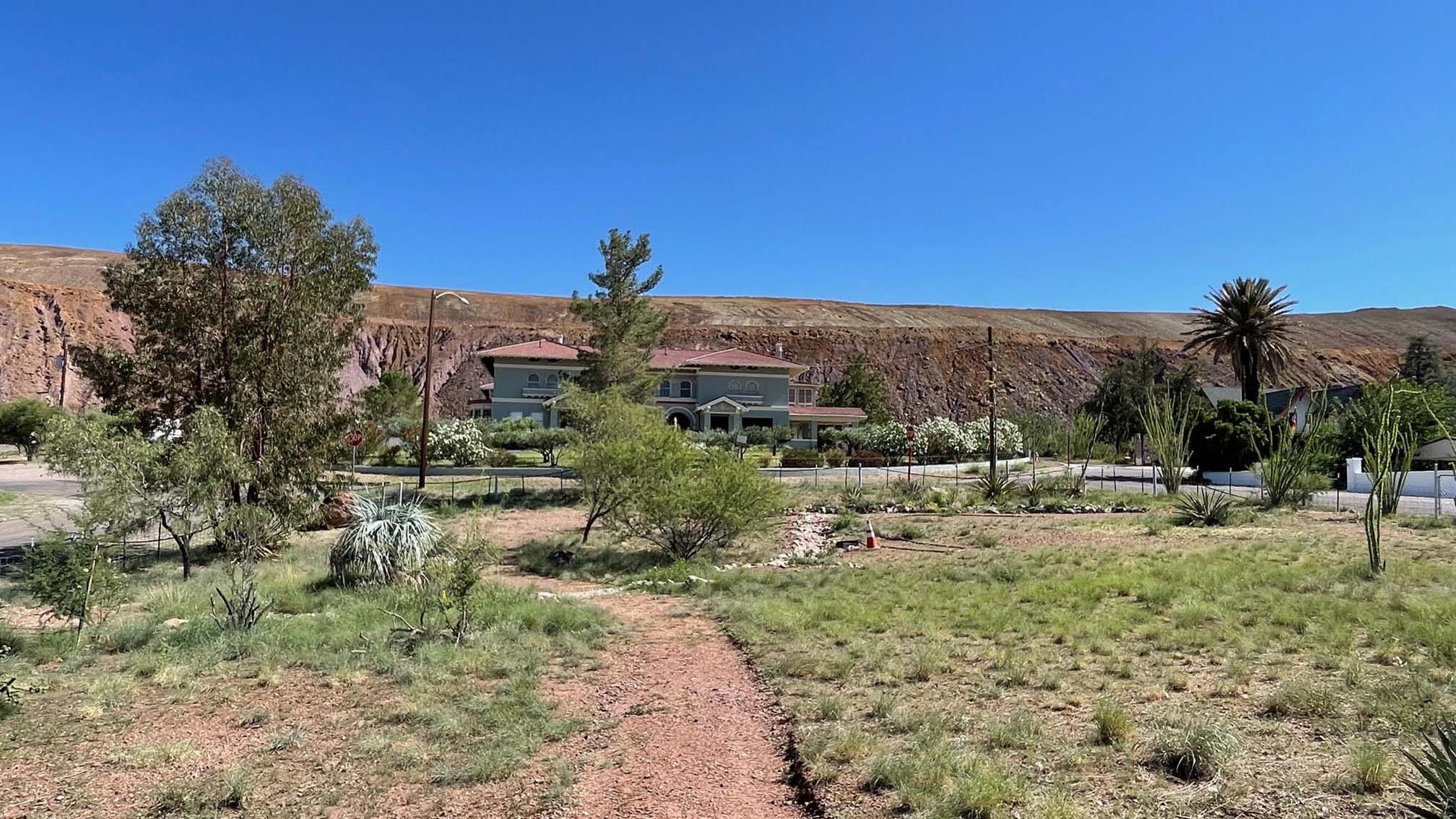 This is part of Vista Park in the Warren District of Bisbee, where volunteers with Project Wildlife: Bisbee are planting native species for pollinators and other species.

Tony Paniagua / AZPM