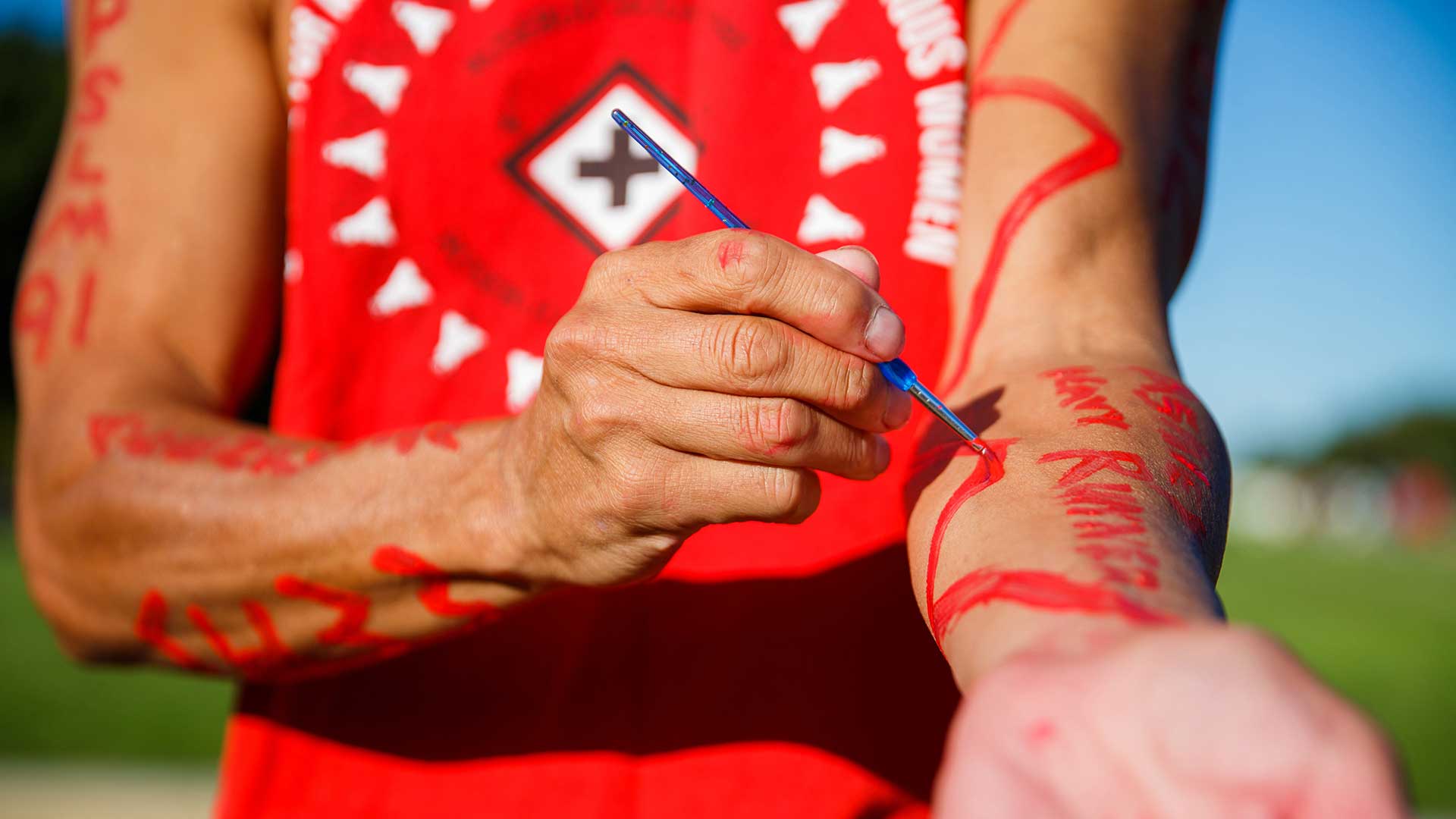 Duane Garvais-Lawrence paints the name of a missing Indigenous woman on his arm before starting a run around the National Mall in Washington, D.C., during the final stop in 2021 for the MMIW Bike Run USA to raise awareness of the issue of missing and murdered Indigenous women.
Diannie Chavez, Cronkite News
*The original version of this story misstated the number of states that require reports to the National Missing and Unidentified Persons System, and mischaracterized tribal police agencies' access to the National Crime Information Center. Thirteen states, including Arizona, require police to file missing and unidentified persons reports with NamUs, while 123 tribes have direct access to NCIC. *
Jason Chavez acknowledges that members of Gov. Katie Hobbs' Task Force on Missing and Murdered Indigenous People face a "big ask" – to "reduce and end violence against Indigenous people" in the state.
But Chavez, Hobbs' director of tribal affairs, said he is "confident" the task force can succeed in the three years it has been given to meet that goal.
If he's right, Arizona would do what no other task force on the state or federal level has been able to accomplish after years of work.
At least 10 states and various federal agencies have launched efforts to address the problem of missing and murdered Indigenous people. But, charged with solving in a few years an issue that took centuries to develop, those efforts have had to grapple with historical neglect, modern bureaucracy and myriad disparities that would require a transformation of Indian Country's public services to be resolved.
"The reality is those task forces didn't tell us (Indigenous communities) anything that we didn't already know. And, in many places, … haven't produced actionable results," said Annita Lucchesi, founder of the Sovereign Bodies Institute.
Lucchesi is also a member of Interior Secretary Deb Haaland's Not Invisible Act Commission, which has been hosting hearings around the country to discuss potential solutions that could be facilitated by federal agencies. Lucchesi – a victim of trafficking herself – said she has doubts about what the commission will be able to achieve, but that she owes it to her community to try to help.
"The community does know what we need, and frankly, everybody on the commission knows what we need," she said. "It's just a matter of the government actually stepping up to do it."
Arizona has ranked third in the nation since 2019 for the number of missing Indigenous people, according to data collected by the National Missing and Unidentified Persons System (NamUs). Within that time span, the state has also held the title for having the most unidentified missing Indigenous persons in the country.
Hobbs signed an executive order in March creating the 14-member task force of lawmakers, state officials, tribal representatives and law enforcement officials. The order requires the task force to work with state, federal and tribal agencies to propose solutions to the problem, and to submit a report of its activities and a list of recommendations to the governor by Dec. 1 of each year.
But reports and policy suggestions in other states have had mixed success.
Justine Rufus, co-chair of Wisconsin's Missing and Murdered Indigenous Women (MMIW) Task Force, said that recommendations from her task force have nudged state lawmakers, but that little lasting change has resulted so far.
In 2019, Montana's task force was given two years to accomplish its goals, but spent much of that time fighting for an extension, which was granted in 2021. The state legislature this year extended the task force's scheduled 2023 expiration by a decade.
Ingrid Cumberlidge, who oversees the MMIP working group in the U.S. Attorney's Office for Alaska, went through three extensions before getting a permanent role as the state's MMIP coordinator. She said the change has fostered more trust from Alaska's tribes and given her time to work with them to form Tribal Community Response plans.
Lucchesi and advocates in several states point to a range of issues that make it difficult to address America's MMIP caseload – unreliable internet service, little access to victim services, a broken foster care system and limited police staff and resources on tribal land, among others.
Former Bureau of Indian Affairs agent Tom Woolworth said he remembers watching people file missing persons reports from a pay phone at a convenience store, because they didn't have working phones or reliable service at their home. Meskee Yatsayte, who works to find missing people in the Navajo Nation, said some who come to major cities for resources or money end up becoming unsheltered.
"A lot of the time our people, they get rolled, they get robbed and then you know, they're kind of stranded there because the people that brought them there, they already went back home, back to the res (reservation)," said Yatsayte, who is on the board of the group Missing and Murdered Diné Relatives. "So now they're walking on the streets trying to just survive."
Before a victim can be found, they have to be reported missing – this is where families with missing loved ones face even more barriers, advocates say.
Woolworth – who is a board member emeritus of the National Native American Law Enforcement Association – said people cannot file a missing-person report until a certain amount of time has passed, but that can range from 24 to 72 hours, depending on the jurisdiction. Even reports that are successfully filed are likely to have inaccurate or incomplete information about the subject, advocates say.
As these problems have persisted, decades worth of missing and murdered cases have piled up in Indigenous communities across the country. The NamUs report said the average MMIP case was 19.2 years old.
Rufus said it has come to the point where cold cases – and the missing loved ones at the center of them – have left an emptiness in communities that have become commonplace to life in Indian Country. An emptiness that is not seen in non-Native communities, she said.
"Anywhere else in Wisconsin, anywhere else in a small town: Can they even think of one person that went missing or was murdered?" Rufus said, recalling conversations with tribal residents. "Here we are, we're just naming these names of all these folks that we know that died, they died. Or we never find them again. They're just gone."
Being seen: Discrepancies in reporting
Arizona, Alaska, Montana, and New Mexico were ranked among the top 10 of 36 states with missing American Indians and Alaskan Natives in a December NamUs report. But stakeholders said the national data is likely a significant undercount.
Troy Payne, director of the Alaska Justice Information Center at the University of Alaska Anchorage, said it is difficult to measure the true impact of MMIP due to the effort it takes to separate out the murdered from the missing.
"To find that information, you're going to have to go through report narratives and police reports to be able to figure out when did a person go missing and then when were they found," said Payne, whose center has conducted research on homicide in Alaska. "That is hard to do."
Indigenous missing persons also tend to be miscategorized as Hispanic, other, and even Asian, Yatsayte said, looking back on the decade she has run the Navajo Nation's Missing Persons Updates. Yatsayte said she noticed it more frequently when NamUs did not have an American Indian and Alaskan Native category. NamUs did not start collecting data on tribal enrollment and affiliation until December 2018.
Lucchesi, whose research includes tracking cases of missing women and girls, said erroneous categorization is especially a problem if those victims are under 18 and in the foster care system. Referring to cases she was studying in Washington state, Lucchesi said the "vast majority of the girls in that data had gone missing more than five to 10 times."
"The real red flag for kids being system-involved is most of those girls have multiple files based on different spellings of their names or inaccurate birthdays," Lucchesi said. "So depending on how you type in their DOB (date of birth), or how you spell their name, maybe they went missing once, or three times, or five times, and when you really add it up, it's nine times."
Yatsayte and other advocates said they have found countless missing persons cases that were not uploaded onto national databases like NamUs or the National Crime Information Center (NCIC), a national law enforcement hub of information on missing and wanted people around the country.
The NamUs website says that just 13 states, including Arizona, have laws requiring police to file missing or unidentified persons cases to the federal database.
At the same time, many tribal police departments have to take extra steps to share information about missing persons because they do not have direct access to NCIC. This means tribal police officers may have to rely on nearby state police or county sheriffs to publish information about missing persons cases in Indian Country.
"When you play that game of telephone, I rely on somebody else to put in my information, and then they maybe rely on someone else to put in information. Information gets lost off the get-go," said Rufus, the co-chair of Wisconsin's MMIW Task Force.
Valued less: Inequities in tribal policing
In 2020, Arizona State University's Research on Violent Victimization Lab became the "research arm" for the MMIP Study Committee that had been created by the Legislature to review the issue. Part of the lab's work included analyzing the role of law enforcement in MMIP cases, and what the researchers found was familiar to stakeholders across the country.
"It's not just a problem in terms of lack of trust or connectivity with law enforcement, but law enforcement, too, are handcuffed in their abilities to take on cases and to adequately investigate them due to chronic underfunding there," said Kate Fox, director of the ROVV Lab.
Not only do tribal law enforcement agencies not have access to NCIC, they are also likely to have fewer staff, limited jurisdiction, and a lack of resources like crime labs that can use DNA to resolve unidentified missing persons cases.
Additionally, tribal police can only charge people with misdemeanors and low-level felonies. Woolworth said this means they can only jail people for a year at the most and otherwise have to work with the U.S. Attorney's Office in their state to prosecute more serious felonies like murder.
Tribal police can get support from federal agents in the FBI, BIA, and from the Missing and Murdered Unit – set up by Haaland in 2021, the unit includes agents tasked to work on cold cases around the country involving Indigenous victims. But the federal agents also heavily rely on local law enforcement because they do not have the time and resources to always actively work on MMIP cases, Woolworth said.
"They may have a working relationship with the tribe and with tribal police but they're … not going to get our agents out at two o'clock in the morning to respond to this," Woolworth said. "That's why you guys have got tribal police, county sheriffs, and state patrol officers, and even local police … do that."
And advocates say MMU agents sometimes get caught up doing other tribal police work. Carmen Harvie, president of the MMIP State Chapter of Oklahoma, said one agent her chapter works with is sometimes pulled into other states for weeks at a time. Lucchesi said Montana's agents have been rotating as chief of police for Lame Deer "because the federal government can't find anyone to do it."
Phoenix has three MMU agents, but a BIA spokesperson said the agents were not available for interviews and declined requests for comment.
Woolworth said he has had to explain to grieving families – including his own family members – that tribal police are trying their best to solve cases with a limited pool of resources. His cousin was 17 when she disappeared from a convenience store in Oklahoma, her body was found a day later in a different jurisdiction.
Woolworth said his aunt "went to her grave never knowing what happened to her oldest daughter, or who was responsible for her death. That was the one thing that probably put her in her grave was the fact that she did not know what happened to her daughter."
Harvie's niece was murdered in 2016 but she still doesn't know what happened to her because the case has gone cold. Harvie said she has told this story to her state legislators in Oklahoma "over and over and over." It was a "hard and emotional process," she said, but helping Native families get closure was "too important" to give up.
"Even though you went home angry, or even though you went home to cry, you knew you're doing it for the nation," Harvie said. "And there's a lot of people with their hands up and giving up on finding their loved ones, and you can see those people cheering you on."
Lucchesi said she does it for the sake of women like herself: When she was trafficked, she said, police officers solicited her for sex even though "they knew exactly what was happening to me and didn't care." Lucchesi said she feels obligated now to be vocal on Haaland's commission because task forces have had "the wrong people at the table," people who make promises that don't go into practice.
"It feels like Native people are kind of almost held hostage by the hope of eventually having them (policy recommendations) be put into practice in like some kind of watered-down form," Lucchesi said. "We're supposed to be thankful for whatever crumbs we're getting from the federal government."
Rufus is hopeful that the issue can be addressed, even if it has not happened yet.
"What we need is real action. And that means boots on the ground, and that means real money to address this crisis," Rufus said. "That has yet to happen in any one of our states."