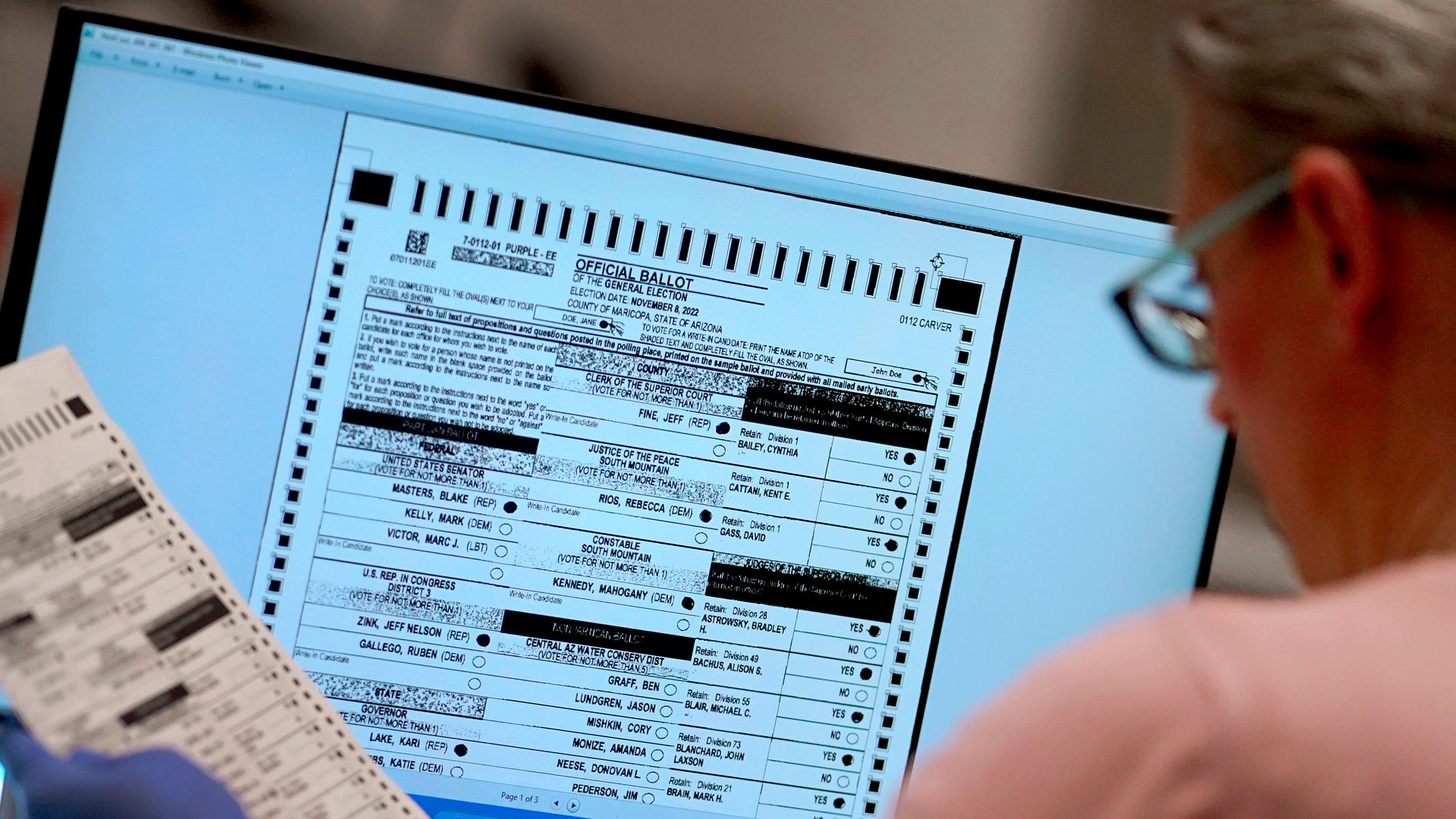 An election worker verifies a ballot on a screen inside the Maricopa County Recorders Office, Thursday, Nov. 10, 2022, in Phoenix. On Friday, Dec. 2, The Associated Press reported on stories circulating online incorrectly claiming Arizona's Maricopa County announced that more than 540,000 voters visited voting centers on Election Day and that only 248,000 Election Day ballots were counted. Therefore, the county "lost" some 292,000 votes.
AP Photo/Matt York
Members from voting rights groups say the 2023 draft of the Arizona Elections Procedure Manual contains needed clarification for post-election procedures, such as conducting hand count audits.
All Voting is Local — a non-partisan voting rights organization's Senior Arizona Campaign Manager Rosemary Avila said that the draft EPM provided necessary clarification on hand-count audit procedures, which are done as part of post election procedures.
"There is some clarifying language about hand counts in this first initial draft of the EPM," said Avila during a press briefing Tuesday. "And basically, you know, mainly saying that they are limited and kinda nipping in the bud the assumption that we can have full-blown hand counts that some counties we saw in 2022, their efforts to try to take that on."
But the new EPM draft did not garner glowing reviews from Republicans. Senate President Warren Petersen threatened legal action against Arizona Secretary of State Adrian Fontes over claims that the draft EPM does not comply with Arizona law in a joint letter with Speaker of the Arizona House of Representatives Ben Toma which was sent to the Secretary of State on Monday.
One area Toma and Petersen criticized the draft EPM was focused in a footnote, which states "A county lacks the discretion to conduct a hand count of all ballots cast at precincts or voting centers located in the county. Likewise, a county lacks the discretion to hand count all early ballots cast in the county."
The target of Toma and Petersen's criticism lies within the footnote citation, which references Attorney General Kris Mayes' opinion from May of this year, which states "A full hand count is only expected to occur if there are discrepancies with the electronic tabulation—not as a matter of course. This further supports the conclusion that § 16-602(B) does not permit an initial full hand count of all ballots."
The Attorney General also sent a letter to Arizona's 13 county attorneys stating that despite claims that Senate Concurrent Resolution 1037 allows counties to boycott using ballot tabulation machines unless they are made in the United States, the resolution does not have the force of law.
"Resolution 1037 is merely a resolution, not a bill, and it was not presented to or signed by the Governor," wrote Mayes in a letter sent on August 11th. "Accordingly, it is not binding authority on your county and has no force of law."
The senate resolution states "That no voting system or component or subcomponent of a voting system or component, including firmware software or hardware ... may be used or purchased as the primary method for casting, recording and tabulating ballots used in any election held in this state for federal office," unless the software and hardware is manufactured in the United States.
Toma and Petersen continue that the Attorney General's authority is only found in statute and that "Nothing in Arizona law permits the Attorney General either to issue unsolicited advisory opinions or to haphazardly nullify prior opinions out of ideological spite."
Both also point to the ongoing litigation surrounding the Cochise County Board of Supervisors, who sought the ability to conduct a 100% hand count audit of the 2022 General Election. The board appealed an earlier ruling that prevented the county from conducting a 100% hand count audit. The Court of Appeals has yet to rule on that appeal, and Toma and Petersen say it is inappropriate for that footnote to be in the EPM prior to litigation's conclusion.
Peterson and Toma also claimed that the 2023 draft EPM does not require the county recorder to get a photocopy of a registrant's citizenship documents, as they claim is required under Arizona law. While birth certificates and U.S. Passports, which are listed under the law as options to provide proof of citizenship are required to be photocopied, the section of the law that relates to confirming a registrant's citizenship status using naturalization documents states that the county recorder must be presented "The applicant's United States naturalization documents or the number of the certificate of naturalization."
The line in question on the draft EPM states "A registrant may present the registrant's original naturalization documents to the County Recorder for inspection or submit (1) a legible copy of the registrant's Certificate of Naturalization or Certificate of Citizenship, or (2) the registrant's Alien Registration Number (the "A-Number")."
Toma and Peterson further allege that the draft EPM that the Secretary of State does not have the authority to modify the 30-day deadline for voter registration if state or federal offices are closed due to a federal holiday within that 30-day period preceding the election.
Avila said that one area that needs improvement to the current EPM is to make voting easier for those who've interacted with the criminal justice system.
"There are a lot of people who are held in pre-trial detention, folks who are in jail who are still eligible to vote," Avila said. "Just because they are incarcerated does not mean that they, if they are eligible in every other aspect, that they should not have the ability to cast a ballot."

The 15-day public comment period for the draft EPM ended Tuesday. The initial draft of the EPM can be viewed on the Arizona Secretary of State's website.
Mayes' May 18 Opinion

View at Google Docs
|

Download File
View the Senate Concurrent Resolution 1037

View at Google Docs
|

Download File
View Mayes' letter to county attorneys

View at Google Docs
|

Download File
View Toma and Petersen's public comments on draft EPM

View at Google Docs
|

Download File