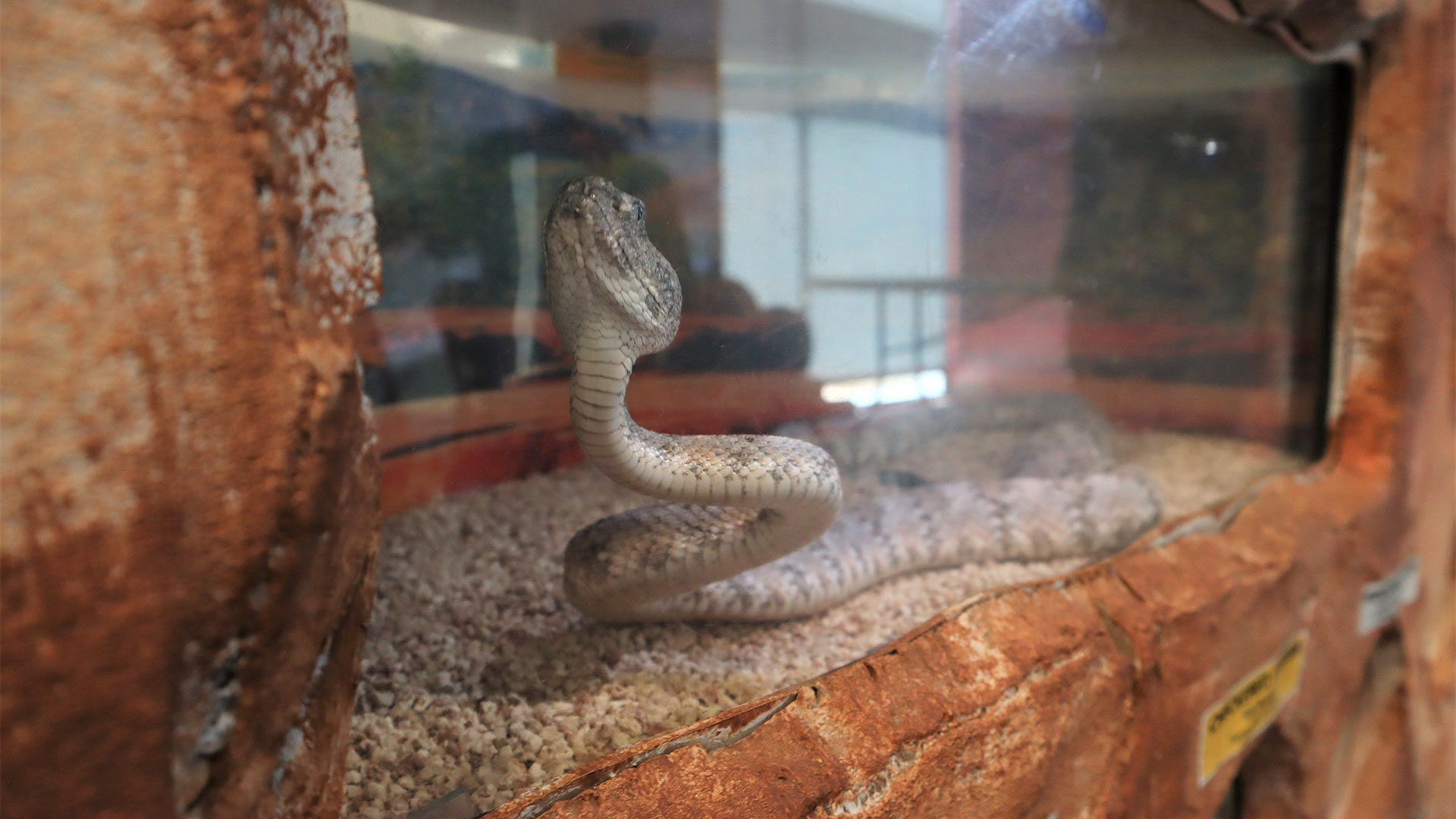 A Speckled Rattlesnake on display during the annual Southwest Wings Birding and Nature Festival. Vice President of the Huachuca Area Herpetological Association Robert Troupe said that this snake is found in the lower desert mountain ranges, which include areas in northwestern Arizona, southern Nevada, Mexico, west-side of Tucson and Phoenix and the California cost. August 3, 2023.
Summer Hom, AZPM News
The annual Southwest Wings Birding and Nature Festival opened this week with nature and wildlife talks spread out over the four-day event at Cochise College's Sierra Vista campus.
For the President of the Southwest Wings Birding and Nature Festival, Chris Harbard, it's all about educating others on the diversity of the wildlife and plant life of the local Sky Islands.
"They are literally islands, pockets of wildlife in the middle of what would be a grassland desert habitat," said Harbard. "And what they do is attract in some of the species north out of Mexico, and this is the only place you can see them in the whole of the U.S. That's what makes them so exciting."
Visitors can attend the 20-to-30 free presentations from 9 am-4 pm and get a close look at various snakes and amphibians with the Huachuca Area Herpetological Association.
"From a talk about beavers on the San Pedro River to looking at tales of fossils that have been found here way, way back in the past," said Harbard. "There's a talk about bats of the area, which will be followed up with a field trip to Ramsey Canyon to see bats."
Huachuca Area Herpetological Association Vice President Robert Troupe pointed out a Sonoran Coral Snake on display, which can be found in central and southeastern Arizona.
"It's a very small snake, this is one right here," said Troupe, pointing at the live coral snake on display. "They have very toxic venom, but they're so small, they don't have volume ... We average one-to-two bites a year in the state. Nobody has ever died from the bite of a coral."
Since the coral snake's fangs are short and the snake itself is relatively small, Troupe said that the primary way people get bit is if they accidentally step on one while barefoot or if they are deliberately trying to mess with it.
"They do not coil up and strike like other snakes," Troupe said. The Huachuca Area Herpetological Association specializes in reptiles, but some amphibians are also on display.
The festival runs through Saturday. Vendors selling birding scopes, jewelry, and organizations providing information on the wildlife in the area are also present in the commons area of the Cochise College Library on the Sierra Vista campus.