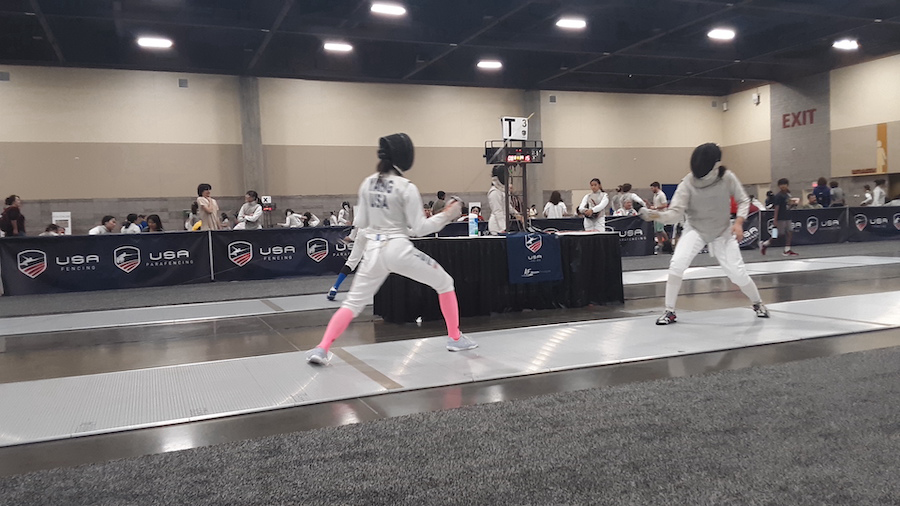 Action from the USA Fencing National Championships and July Challenge in Phoenix, July 5.
Tony Perkins / AZPM
Two dozen Tucsonans joined thousands of fencing competitors who crossed blades at the USA Fencing National Championships in Phoenix last week.
Teenager Carly Kaplan was part of a group that traveled from the Old Pueblo to test their skills against fellow competitors from across the nation and around the world. Kaplan recalled getting a glimpse of the sport for the first time while on a similar trip.
"I was watching TV at an airport and I saw fencing on an insurance commercial," she said. "It was just a silly little clip and I told my dad I wanted to do it and he let me do it."
Many people who pick up the sport remember seeing it for the first time while following the Summer Olympics. Fencers competed in the first Olympic games of the modern era, all the way back in 1896. More than a hundred years later, the equipment is almost the same: a blade, a mask, and protective clothing that covers the competitors from the head to the knees. All that, plus a spirit of combat, triggered by the referee's order, "En garde!"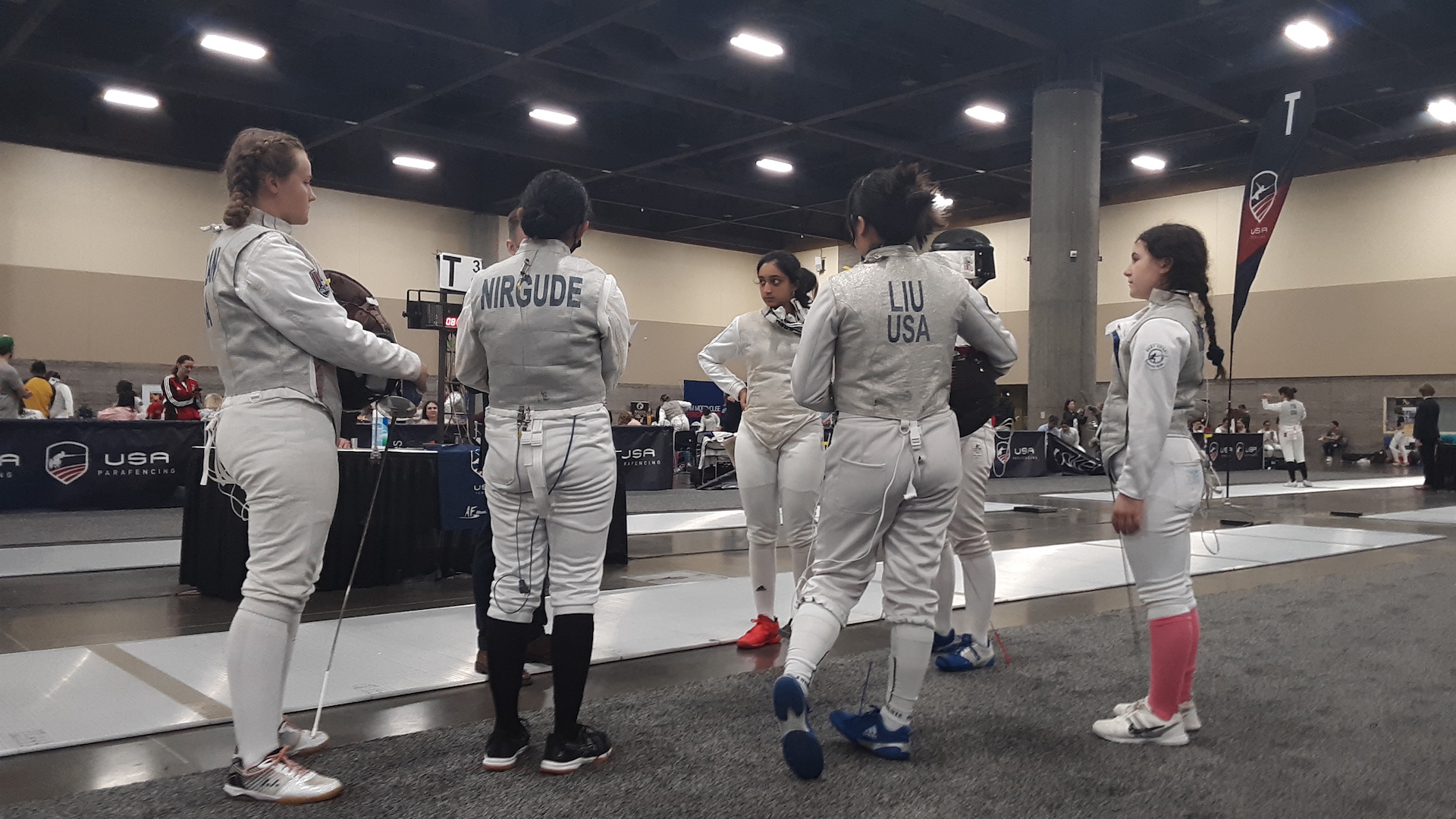 Carly Kaplan of Tucson (L) stands with her fencing group at the USA Fencing National Championship and July Challenge in Phoenix, July 5.
Tony Perkins / AZPM
Fencing's current popularity can be traced to its inclusion in television shows and action movies. The dramatic lightsaber duels from the Star Wars franchise owes some of its moves to fencing and swordplay. Elena Lau, Carly's teammate at Tucson's Still Point Fencing Club, notes she simply wanted to try something unique.
"I think I Googled interesting sports that nobody does," Lau recalled. "And fencing came up and I said, 'Ooh, that sounds cool so I started doing it.'"
Six-thousand competitors took over the Phoenix Convention Center for ten days of action, facing each other in the traditional disciplines of foil, sabre, and epee. During particularly intense matches, scoring a single point elicited either screams of joy or groans of disappointment.
"It's a very large building with a lot of people," Lau noted. "Fencers love to scream so there's a lot of screaming."
Most of the competitors from Tucson were high school students, but there were also a few like Tom Cuevas, who took part in the veterans' division. Cuevas was once one of those high school fencers. Now, at the age of 75, he's rediscovering his sporting niche after spending decades on the sideline.
"I pretty much hate any sort of actual exercise like jogging," he explained. "And this way I get to go do something that has a lot of positive physical effects".
Cuevas remarked fencers never can predict who their opponents will be at national meets. At one point in Phoenix, he found himself matched against the former French national champion, and Cuevas almost won.
"You show up, get suited up, and start fencing with somebody," he said. "And if you're quick you might do fairly well against somebody halfway decent.
Tournament winners in various age categories took home trophies from Phoenix. Many of the high school fencers learned about scholarships offered at a growing number of colleges and universities. But USA Fencing communications director Bryan Wendell says most players gained experience and motivation for the next time they face each other on the competition strip.
"If they weren't lucky enough to get a gold medal or even get on the medal stand in Phoenix, they are going to be working twice as hard back with their coaches at their home clubs," said Wendell.
Next year's national championships will be contested in Columbus, Ohio.