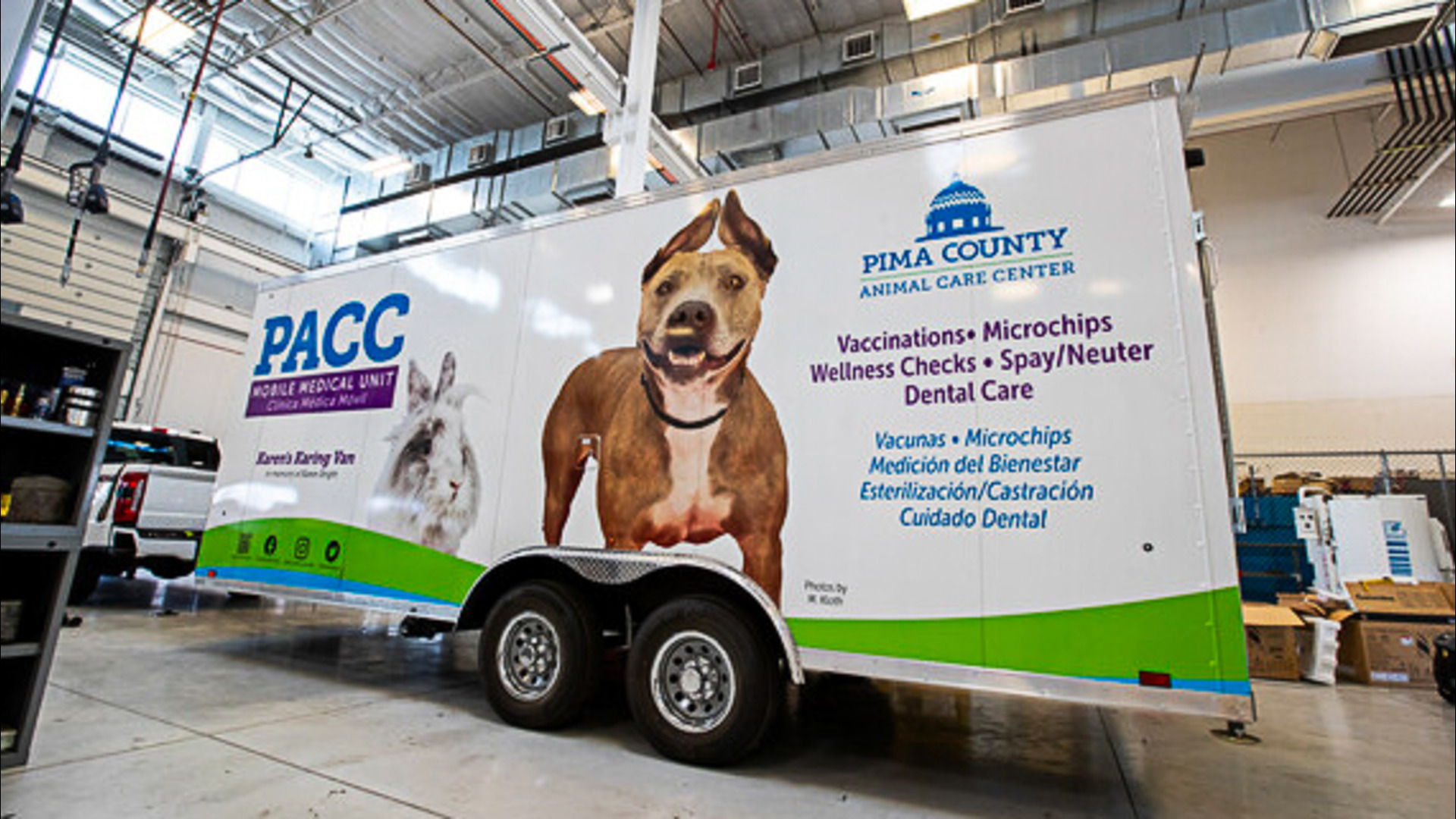 The mobile unit was purchased and donated to Pima County by the nonprofit organization Friends of PACC.
Randy Metcalf/Pima Animal Care Center
Pima Animal Care Center and Friends of PACC are officially launching its first mobile medical unit called the Karen's Karing Van. The new tool will work to proactively target animal care before they are surrendered to PACC or other shelters. The project has been in the works for the past two years and began after there was a clear need for more accessible veterinary care, especially after the pandemic.
"During COVID, people had a hard time getting into veterinarians or they were hunkered down at home not going out," Friends of PACC executive director Torre Chisholm said. "It helped us realize how vulnerable animals in our community are when there's a crisis, or especially a health crisis."
The mobile unit is a 25-foot trailer that contains two surgical tables, an exam table, x-ray, dental equipment and dental x-ray. It is also accompanied by a towing vehicle. The vehicle will also be able to provide services as a disaster relief unit in emergencies.
"A prime example would be a few years back when we had the fire and being able to have a mobile unit on site to treat animals that might have suffered an injury due to that fire."
The unit can potentially serve more than 15,000 pets a year through services like spays and neuters, vaccinations, minor surgeries and dental work. High need areas will be determined and prioritized through zip code data collected by PACC. But, there may still be a veterinary care gap.
"Demand will exceed supply, so people will have to take the time and they'll have to plan to get there early," Chisholm said. "They'll have to recognize there's probably going to be a wait for services."
The goal is to remain at one location for three days to allow residents time to seek assistance. While services will be free with a primary focus on pets at risk of being surrendered, PACC is asking for users to "donate-what-you-can."
"We all have a responsibility for the well being of the animal companions in our lives and that live around us…This is a community that loves and cares deeply passionately about its companion animals and we're excited to be unveiling this new vehicle just to be another tool to help them live happy, healthy, safe lives."