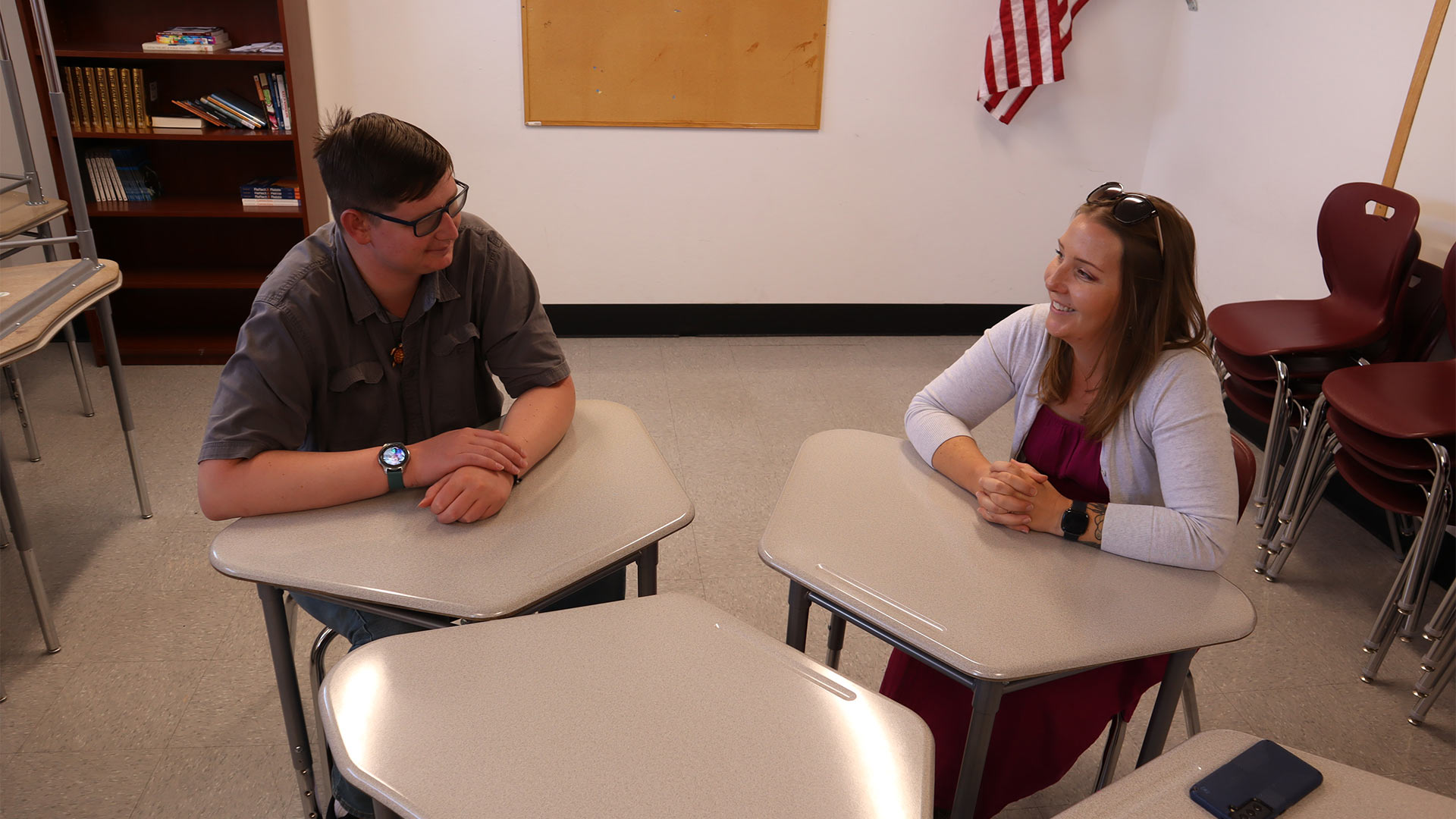 Rebecca Bell, the Student Support Specialist at PEPP TEC high school (right) with her former student Gabe Turner, 18, (left) talk about their use of the Counseling in the Streets Program in the 2022-2023 school year. May 25, 2023.
Summer Hom, AZPM News
Counselor and Psychology Instructor for Cochise College Shaulee Curtis said it all started with a trip to Cambodia in February of 2020.
"Of course being a mental health counselor, I am always fascinated by the different types of struggles that people everywhere go through, you know," Curtis told AZPM. "What are the challenges — the mental health challenges, the life challenges they face, and what kind of services are available?"

Genocide ravaged the Cambodian people in the mid-1970s at the hands of the Khmer Rouge, a communist insurgent group. Curtis said that many of the children who witnessed their elder's murders are now her age. She said today, there aren't many mental health resources in Cambodia.
"That just broke my heart," Curtis said. "And as I delved into this idea of it more, I learned that many countries are the same, in a similar situation where they just don't have the mental health services that they need. And people are struggling. Cambodia was the catalyst."
At the end of the 2020 school year, Curtis said she decided to quit her job as a school counselor at Benson Primary School and decided to pursue creating the Counseling in the Streets program.
She started throwing the idea around with her father-in-law Dr. Lynn Curtis, whose Ph.D. is in adult education, about creating a program that can provide mental health support that could be led by anyone, not limited to a mental health provider. Along with Licensed Clinical Social Worker Kristee Barker and Clinical social worker Kim Andersen, they began to brainstorm.
"And our task really was what is something — a program that is structured yet flexible, provides support but doesn't require — and is effective — but doesn't require a mental health professional to be there," Curtis said.
The four of them began conducting pilot programs and Curtis ran one in Benson. She said that one of the participants in her pilot program suggested she bring the program to Cochise County.
"Cochise County is a very rural county and we are lacking in services," said Curtis.
The program is a discussion-based educational program that is led by a facilitator, who Curtis said can be anyone, and they don't need to be a mental health professional.
The facilitator reads a narrative from the program to a group, or to an individual in a one-on-one setting, that surrounds a topic like depression, anxiety or trauma. Then, the lead prompts a discussion about those topics and encourages others to share their own experiences with that topic.
Curtis said that she's found that when people feel comfortable and safe enough to share their stories, they can start the healing process. She adds that the ultimate goal with the program is to facilitate peer-to-peer support.
Curtis first presented her program in January this year, and has piloted the program in schools throughout Cochise County.
Here's what the facilitators in Cochise County had to say about using the program.
Sierra Vista, PEPP TEC High School
Rebecca Bell, the Student Support Specialist at PEPP TEC high school, a public charter school in Sierra Vista, was one of the facilitators who piloted the Counseling in the Streets program in her school. She initially implemented the program one-on-one with her students and expanded it to a half-hour meeting with focus groups of four students.
"Reading someone else's story, kinda takes the pressure off of you," said Bell. "And so, it opens up that dialogue."
For Gabe Turner, who participated in the program and graduated from PEPP TEC in May, he said trusting his peers was hard at first but as time went on, "It actually helped me a lot," said Turner. "I've let go a lot, I guess. Like, when I first came, I was holding onto my past a lot. And I still do. But most of the things we talked about, I've let go of, just because, I don't know, it helped me."
Bell said that she plans to continue to use the program with her students next year.
Elfrida, Valley Union High School
Danee Bertram, the former Special Education Co-Director and Teacher at Valley Union High School in Elfrida, said her students felt empowered having more tools in their toolbox through using the program.
"One of the reasons they joined the program is they oftentimes were unsure about what to say," Bertram said. "So for example: if a peer came to them and said 'you know, I'm really struggling and I want to run away from home,' they'd be concerned about knowing what to say that would be, sort of the right thing to say to help lead them in the right direction. And when they left the program, they indicated that they'd felt more empowered with tools that they could help peers who came to them who were struggling with different things."
Curtis said that the program isn't supposed to replace traditional, professional counseling. Its goal is to provide additional support and resources to help those who've fallen through the cracks.