St. Stephen's Episcopal Church was extensively damaged by a fire that authorities say was intentionally started Monday.
Summer Hom, AZPM
Investigators have determined that the fire that severely burned and damaged St. Stephen's Episcopal Church and the First Presbyterian church in Douglas on Monday was intentionally set.
The Bureau of Alcohol, Tobacco, Firearms and Explosives (ATF) arrested Eric Ridenour, whose residence is outside of Douglas, for arson under federal law according to a press release from Douglas Police Department (DPD). DPD and investigators with the ATF conducted search warrants of Ridenour's residence prior to ATF's arrest.
Ridenour will be charged and tried in federal court. If convicted, he could face between 5-20 years in prison.
Reverend Peggy Christiansen, the Co-Minister at the First Presbyterian Church, said Monday started out with a phone call from a church member, who said the neighboring Saint Stephen Episcopal Church was on fire. The call for the fire at the Episcopal Church came in around 11 a.m.
"I was really shocked, and started keeping an eye on the situation," Christiansen said Wednesday afternoon. She has been co-ministering the 30-member congregation at the First Presbyterian Church for seven months.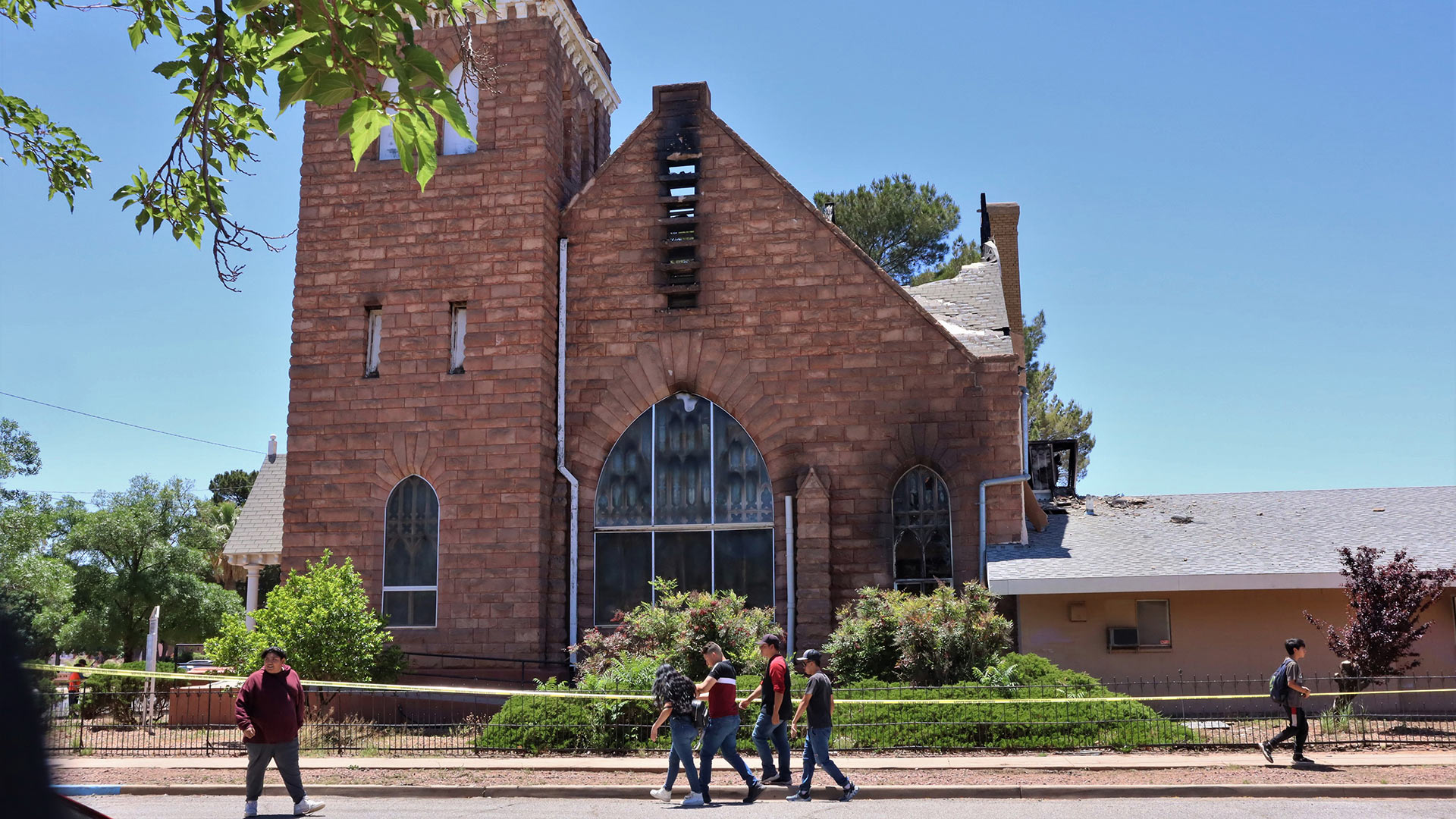 The fire that damaged Douglas' First Presbyterian also appears to have been intentionally set, according to authorities.
Summer Hom, AZPM
Things quickly escalated from there, as Christiansen received a text bringing concern about the Presbyterian Church potentially catching fire.
"At first, people thought our church started because of the Episcopal Church, but that's not the case," said Christiansen. "What in fact happened was that the firefighters were working on the Episcopal Church and they turned around and noticed that there was smoke coming out of our cooler and out of our sanctuary."
She said another fire team was called in to address the smoke in the Presbyterian Church. But by the time Christiansen drove to the scene, she said "There were already flames in the sanctuary and the firefighters were breaking out the windows. And I just was devastated."
Then, things got worse.
Christiansen said the fire reignited Monday evening and caused the roof of the church to collapse. At this point in time, she said she does not know how much of the property is salvageable.
It is not only a significant community and historical loss, as the Presbyterian church was built in 1906, it is also a personal loss for Christiansen, as this was her childhood church and she had her ordination service there.
In learning about the Bureau of Alcohol, Tobacco, Firearms and Explosives' arrest of Eric Ridenour for arson, Christiansen said that she feels sad for him.
"I don't know what the purpose of the person who tried to burn it down, I don't know what they were trying to do," she said. "But there is no way to contain the spirit of God."
Christiansen said the church is covered by insurance and has been approved for a $5,000 dollar disaster grant. In the meantime, Christiansen said they will be holding services in Castro Park, which is right across the street.
Ridenour is being held in the Cochise County jail and is awaiting transport into federal custody.
According to the DPD, arson investigators from its department, Douglas Fire Department, Gilbert Fire Department, ATF, Federal Bureau of Investigation are investigating the case.
AZPM contacted Reverend John Caleb Collins, who ministers at St. Stephen's Episcopal Church, for an interview, but he was not immediately available for comment.
MORE:
Arizona
,
Cochise County
,
Crime
,
Culture
,
Fire
,
Law Enforcement
,
News
,
News Feature
,
Public Safety
,
Religion
,
U.S.