Rebecca Bose handles and processes a Mexican wolf pup, recording its identification number.
Katya Mendoza, AZPM News
Springerville, AZ - On the outskirts of the Apache-Sitgreaves National Forests, wolf recovery coordinators eagerly await the arrival of precious cargo. In just a few short minutes, they will need to orchestrate a carefully choreographed operation that they have done several times before.
Shortly after 9:42 AM, a private jet landed on the tarmac of the Springerville Municipal Airport. Five Mexican wolf pups had arrived.
Flown in from Salem, New York, and courtesy of Lighthawk Conservation Services the pups who were born at the Wolf Center are considered neonatal, they're under 14 days old.
Unbeknownst to them, they are considered genetically valuable participants in the multi-agency cooperative effort, the Mexican Wolf Recovery Plan.
The tiny creatures with brown, fuzzy hair are shuttled inside of a conference room, undisturbed and cuddled together inside of a white, quilted pet carrier.
"We are showing that cross-fostering is a proven method that we are using, that is successful," said Interagency Field Team Leader (IFT), Paul Greer. The department consists of members from the Arizona Game and Fish Department (AZGFD), New Mexico Department of Game and Fish (NMDGF), U.S. Fish and Wildlife Service, and other federal agencies.
The program takes wolves born in captivity and fosters them with wolf packs in the wild, with the intention of enhancing genetic diversity.
A total of 16 wolf pups were fostered into the wild this year, bringing the total number of captive-born fosters to 99.
The fast-paced nature of cross-fostering requires the synchrony of whelping, or wolves giving birth, both in the wild and in captivity. Greer said that the first documented whelp of this year occurred at the end of March in Arizona. He said that for some reason the packs in the state whelp earlier than those in New Mexico.
"The wolves in the wild, breed and select mates randomly rather than what's best for the genetic pairings and that's what drives the need to get those pups from captivity into the wild," Greer said.
Wolf recovery coordinators report thirteen litters produced by foster wolves and know of at least five offspring of fosters that reached breeding age.
Fourteen fosters have also been documented to reach breeding age, which meets key recovery criteria.
Since 2014, the program has exceeded expectations, contributing to the 23% increase in the overall Mexican wolf population between 2021 and 2022.
This is the eighth year of the cross-foster program and 25th anniversary of the Mexican wolf reintroduction into the wild.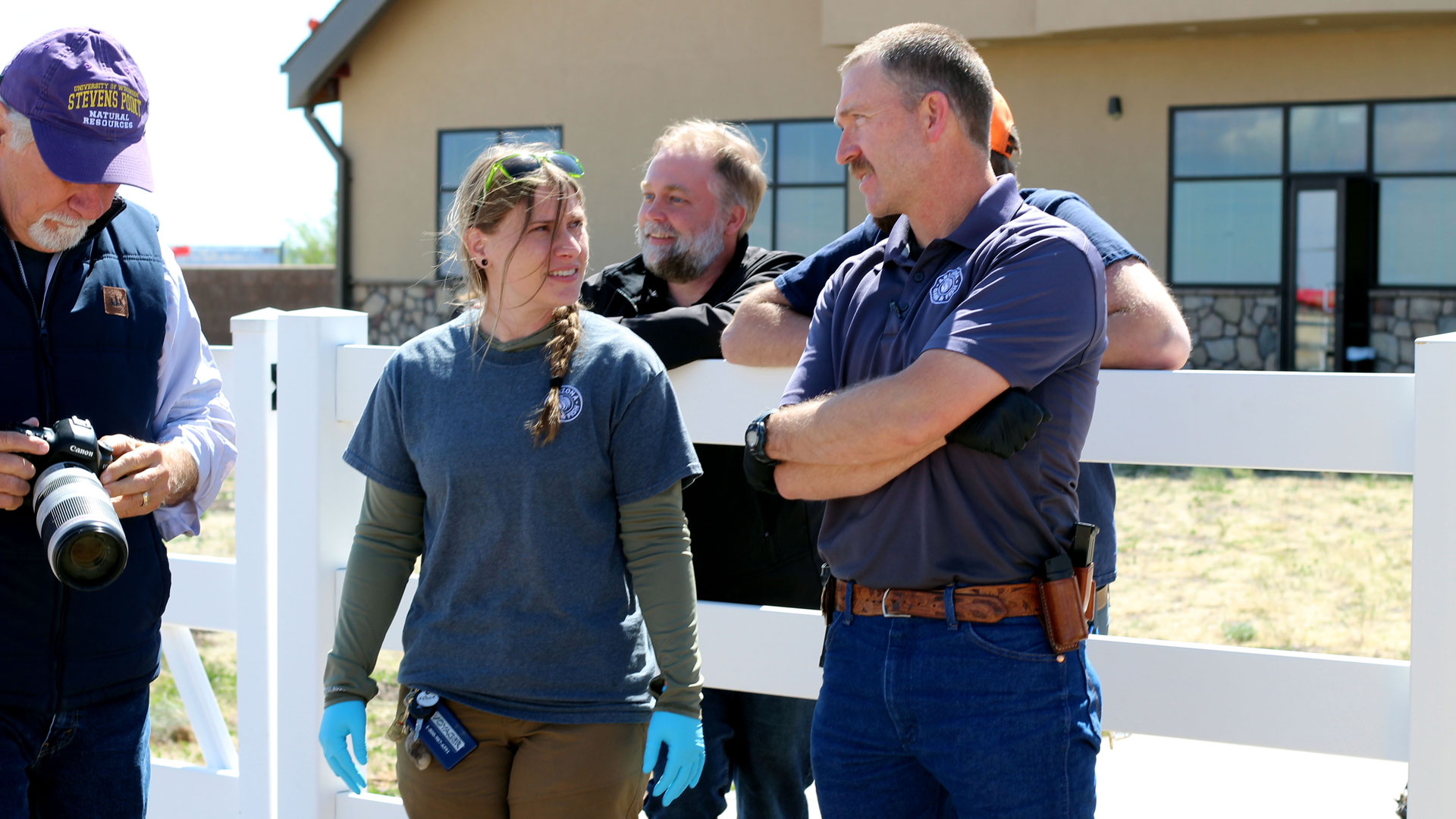 Bailey Dilgard, Paul Greer and others await the arrival of Mexican wolf pups at the Springerville Municipal Airport.
Katya Mendoza, AZPM News
Upon arrival, the pups are quickly processed in a way that reminds an onlooker of an Apgar test administered to a newborn baby. Their pearly claws indicate how much they have yet to grow.
U.S. Fish and Wildlife Service veterinarian and veteran to these operations, Susan Dicks says that the captive pups' chances of survival become equal to their wild counterparts. It becomes a level playing field.
"Things such as not enough food, not enough water, drought, diseases, strife with other packs, injuries," Dicks said. The pups have a 50% chance of living, yet last year they had a survival rate greater than 60%. Genetic diversity might have something to do with that.
"We are improving the genetic parameters and we are beyond where we're supposed to be right now for genetic recovery criteria in the Mexican Wolf Recovery Plan," Greer said.
The plan calls for two different criteria to reach recovery; genetic and abundance.
The abundance criteria requires an average of 320 wolves in the wild for a period of eight years. Greer says the IFT is seeing that progress through the natural reproduction of the wolf population and other efforts to minimize unlawful take. Genetic criteria calls for 22 wolves released from captivity into the wild that survive to breeding age.
For a pup that's cross-fostered, it needs to live to two years of age, when wolves become sexually reproductive and contribute to genetic reproduction. Right now, there are at least 14 wolves in the wild that have accomplished this feat.
Greer says "at least" because there isn't a way to place a satellite tracking collar on a pup. The team has to capture the animal once it's grown large enough.
"We're on track to reach that 22," Greer said.
Instead, the pups are microchipped prior to departure. Little howls and cries escape two male pups, while others squirm and grimace.
"If we catch an uncollared wolf later, meaning several months or even years when they are close to adulthood, we scan every uncollared wolf we catch and if we get a beep with that number, we can find out who that wolf is," Dicks said.
As a form of identification, Mexican gray wolf pups are microchipped in hopes of tracking their whereabouts later on. Once the pup grows older, the Interagency Field Team might be able to locate the older wolf and place a radio collar on it.
Later in the fall and winter, the IFT will go back out and begin its annual survey of wolves, placing those satellite collars with vibrant duct tape.
"We typically place food caches to help these litters along, near their den, (and) far away so we're not going to bother them," Dicks said. Oftentimes the team can get a count on puppies by the late summer, from trail cameras.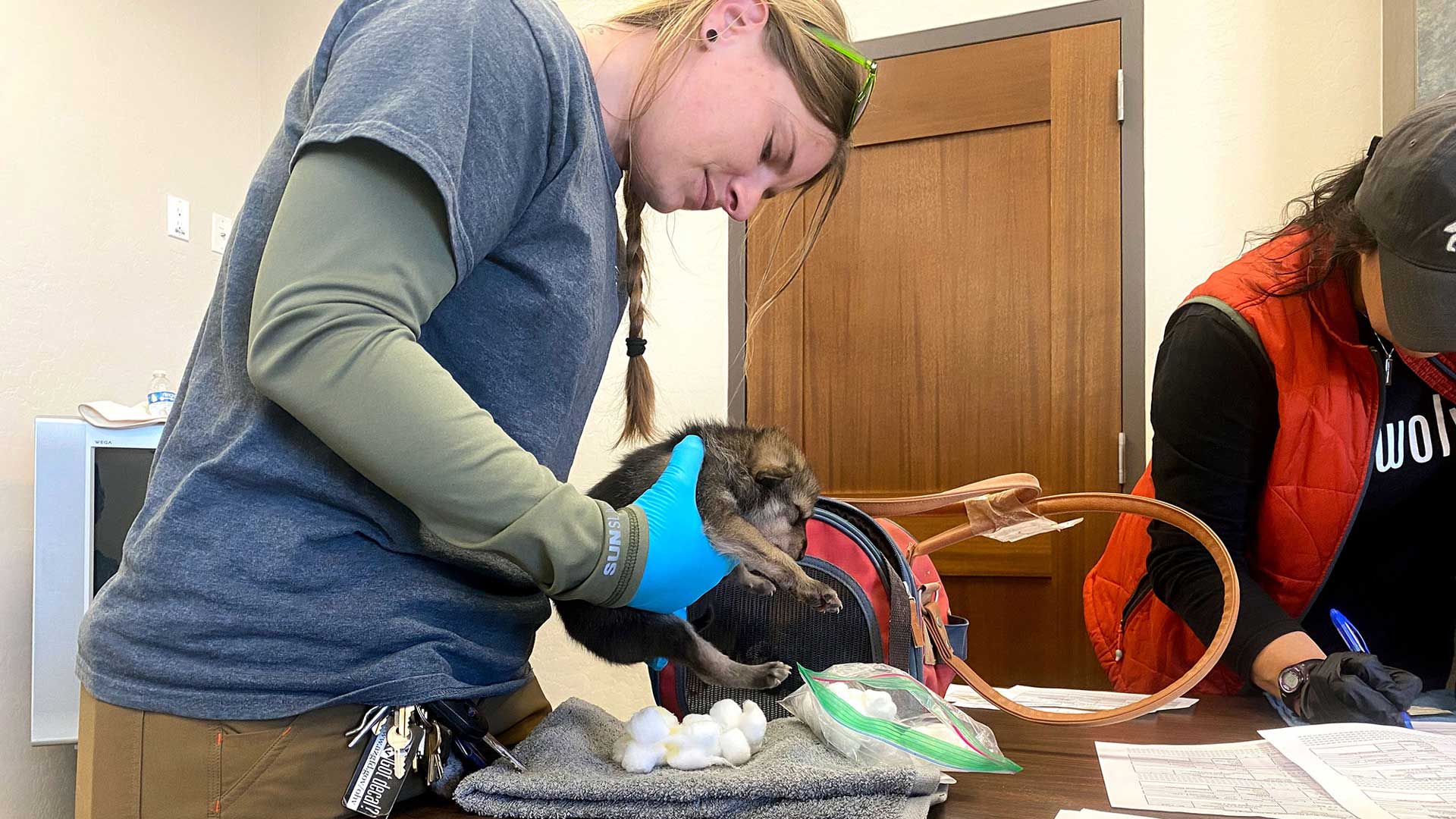 VIEW LARGER Field biologist for the Arizona Game and Fish Department Bailey Dilgard, helps a pup relieve itself by using wet cotton balls. The waste will be saved and used later, to be rubbed on all of the pups to increase the likelihood of acceptance by their foster mother.

Katya Mendoza, AZPM News
Throughout the operation, the IFT is careful to not transmit scent, wearing medical gloves and conscientiously washed clothes out of caution of lowering a pup's chances of acceptance by their foster mother. The pups, who are still unable to defecate on their own, are helped by Dicks and Mexican wolf field biologist Bailey Dilgard, who use wet cotton balls to mimic their mother's licks. The waste will be saved and used later, to be rubbed on all of the pups for scent purposes.
Greer says that veterinarians are with the pups every step of the way.
"To make sure that they're given fluids and they're fed, all the things that a mother wolf would do until we place them into the den, and then the wild female comes in and accepts them as her own," Greer said.
Unique identification numbers are also administered to identify the wolves in the wild and captivity known as studbook numbers, using "m" for male and "f" for female, "p" for pup.
Dicks says she tries to split up the litters as best as possible, considering the finer details such as gender.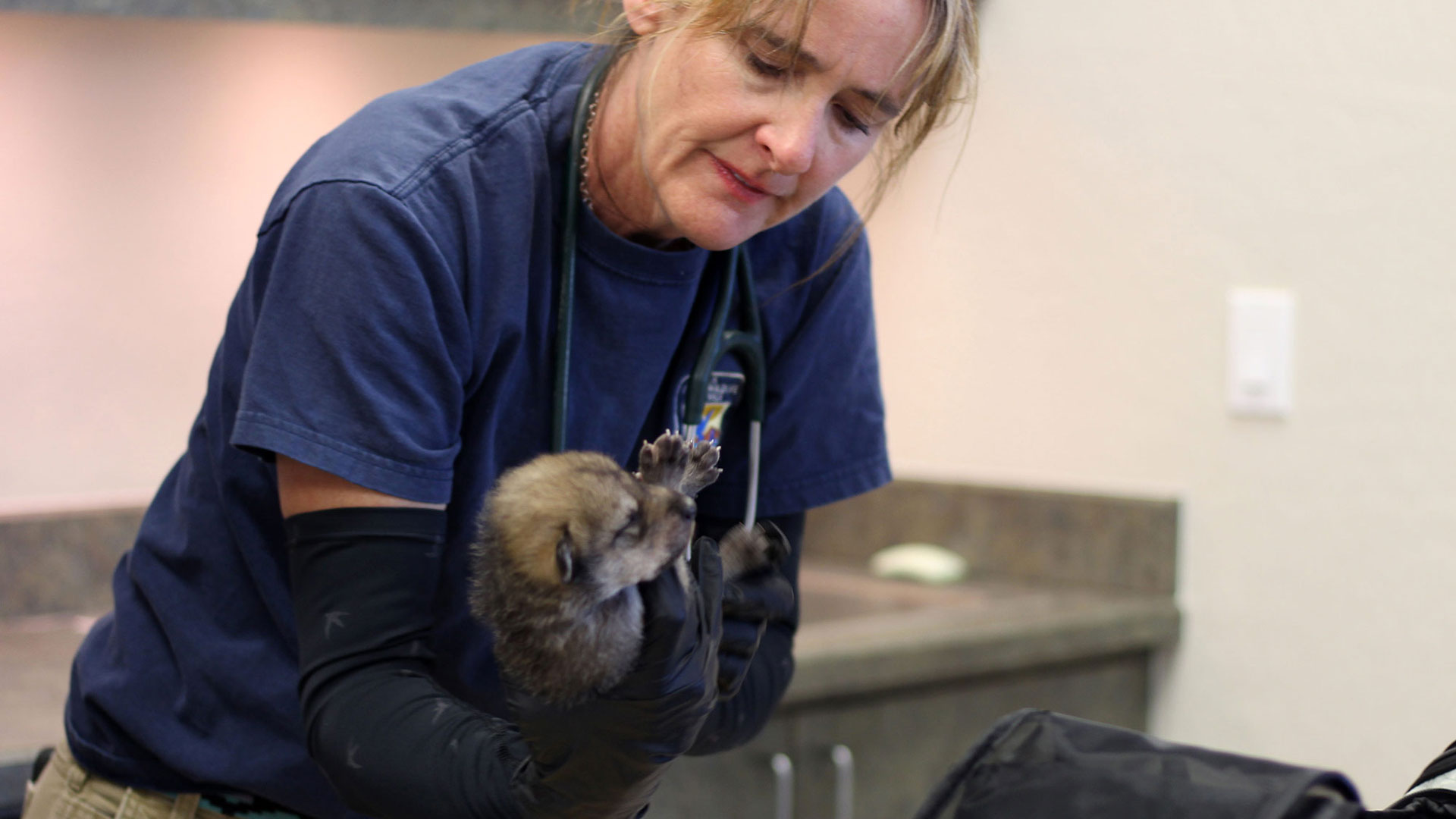 US Fish and Wildlife Service veterinarian Susan Dicks checks the gender of the wolf pup.
Katya Mendoza, AZPM News
"If I do have a wild den that's one or two days older than another wild den, maybe I'll send the largest captive pups to the older wild den to give them possibly a little bit of an advantage," Dicks said.
Dilgard says an initial search crew locates the den using radio telemetry and gets a count on the number of pups that are already in that den.
Of the New York litter, pups were dispersed and directed to packs located in western New Mexico.
"Check 'em over, make sure that they're all healthy and good to go, give them a PIT tag, do some cheek swabs for genetic analysis, place those pups in the den and leave," Dilgard said.
Much to the IFT's surprise, there were six pups already in one den prior to the fosters' arrival.
"She will have a large litter, but this pack has helpers, she's got other wolves bringing her food and she's a very experienced mom," Dicks said.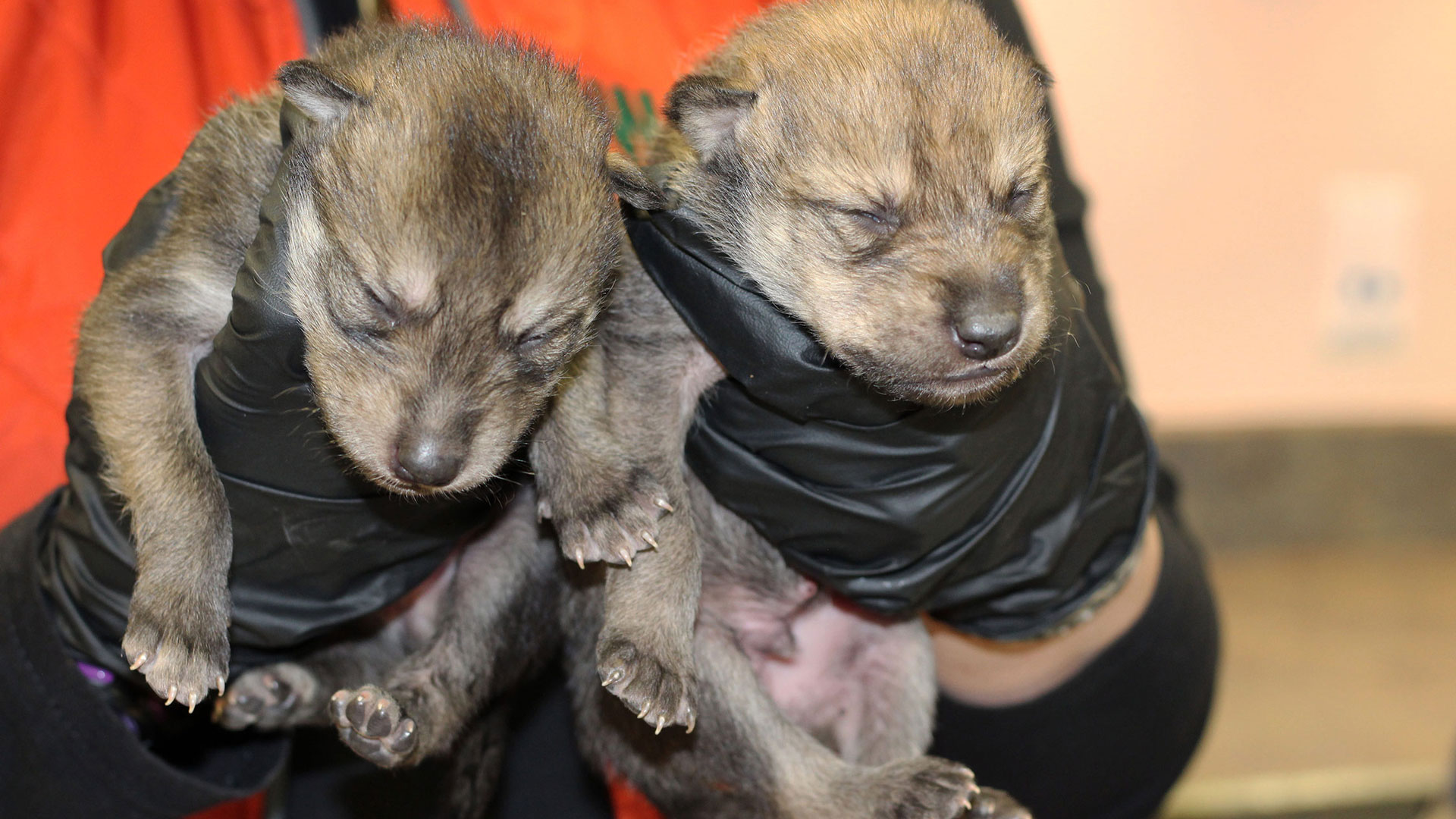 These two Mexican gray wolf pups and siblings were born at the Wolf Conservation Center in New York. They are considered "neonatal" and less than 14 days old.
Katya Mendoza, AZPM News
Assistant Director for Wildlife Management and Mexican Wolf Coordinator for Arizona Game and Fish Department, Jim Devos says recovery coordinators are noticing expansion and distribution of packs.
"We're seeing relatively large litters," Devos said.
"Depending on the den, we've had some pretty shallow ones where you can poke your head in and reach an arm out and be able to take those pups out of the den, but we've had some pretty shallow dens that are quite deep," Dilgard said.
The action of "den-diving" is what it sounds like, at times crawling in tight spaces. Only mother wolves and pups are in the den, the IFT team uses their VHF telemetry equipment to ensure that she has flushed, or left the den to confirm when it is safe to enter.
The main objectives of the Mexican Wolf Recovery Plan are not only to conserve but also to increase and protect the existing population. It is a balancing act of competing interests.
Current numbers indicate the existing population is at least 241 wolves, with 105 counted in Arizona and 136 in New Mexico.
It has been estimated that about 131 Mexican wolves have been killed illegally over the last 30 years.
Earlier last month, Representatives Greg Stanton and David Schweikert of Arizona, along with Gabe Vasquez of New Mexico and August Pfluger of Texas announced the bipartisan Wolf and Livestock Fairness (WOLF) Act.
Stanton says that legislators wanted to be fair to the livestock industry and ranchers in Arizona and throughout the West.
"You can't represent Arizona in Congress without having regular interaction with the Farm Bureau," Stanton said.
The measure would provide full reimbursement to ranchers whose livestock has been harmed by the endangered wolves, 25% more than existing predator support programs. It also establishes an emergency relief program to support herds that have been adversely affected and will be introduced as part of the larger Farm Bill, which is passed every five years in Congress.
The announcement followed the recent removal of an alpha wolf by federal agents in New Mexico.
President of the Arizona Farm Bureau, Stefanie Smallhouse says as wolf recovery efforts have effectively increased population numbers, so has the stress, cost, and burden with regard to the loss of life of cattle for livestock producers. For years the Farm Bureau has been trying to figure out a solution that the wolf program and ranchers find sustainable.
"Congressman Stanton showed great interest in this effort because he sees it as a pragmatic solution to a problem that's existed for a very long time," Smallhouse said. "He recognizes its coexistence."
The bipartisan sponsored bill addresses concerns across state lines, falling in line with the recovery plan itself which provides "site-specific management actions to address the threat of human-caused mortality" or illegal killing.
While the population has steadily increased in the United States, Devos says 90% of the recovery area is in Mexico.
"The recovery plan calls for multiple populations of Mexican wolves before they can be recovered," Devos said.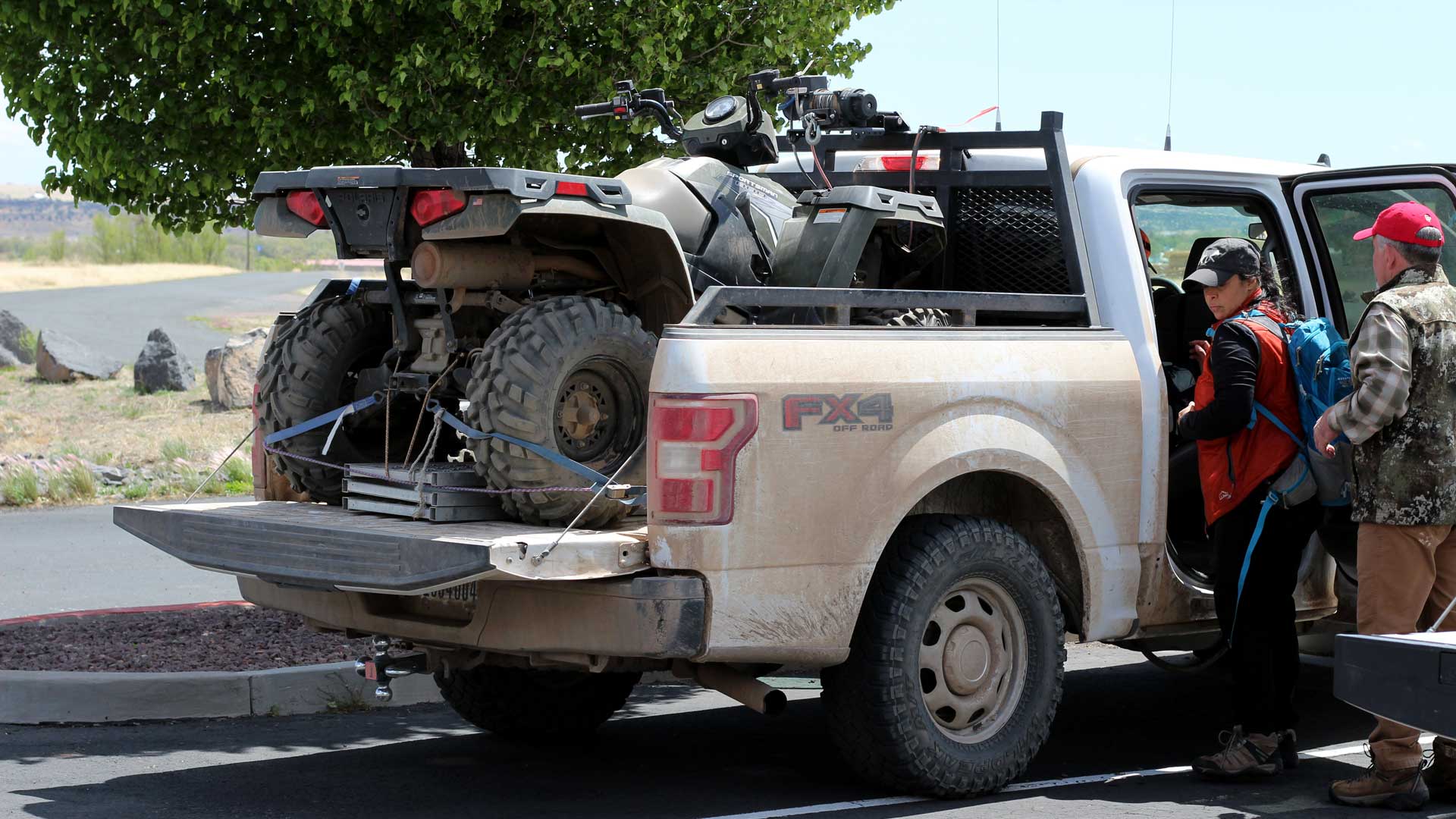 Rebecca Bose and Charlie Duffy load up their pups and prepare for travel to New Mexico.
Katya Mendoza, AZPM News
Devos says he and the interagency program have been in ongoing conversations with recovery specialists in Mexico, as the recovery plan was created binationally with federal agencies in Mexico and Tribal agencies in the United States.
In the US, there are now more than 30 breeding packs, in comparison to Mexico which only has a couple.
"We anticipate that at some point of time, we will be sharing pups for fostering but we need to have a larger suite of females that are giving birth in the wild so all of that timing can align," Devos said.
While the program has proven itself to be effective, maintaining genetic diversity remains at the forefront. Devos said that some believe the current recovery efforts aren't enough. Those that share that school of thought prefer the release of adults who are raised in captivity, which essentially establishes a new pack.
"No matter how careful the captive facilities are, those wolves are exposed to humans," Devos said.
The intelligent animals become habituated, or used to people and are more likely to get into trouble by associating with humans and hanging around livestock. The end result is the return of the adult wolves into captivity, often in a less desirable condition.
"What we want to do on an experimental basis is capture some of the wolves from the wild that have a history of not being depredators, behaving wolves, and being productive," Devos said.
While the Arizona Game and Fish Department works closely with other federal agencies to maintain Mexican wolf populations, the team anticipates reintroduction in Mexico, with a "mixed bag" of both wild and captive wolves. Field investigations have even explored the possibility of expansion further south to Chihuahua and Durango. Both sites bode well for the future.
In the meantime, as sleepy, blue eyes begin to open and whimpers turn into howls, the wolf pups must accomplish one task, survive.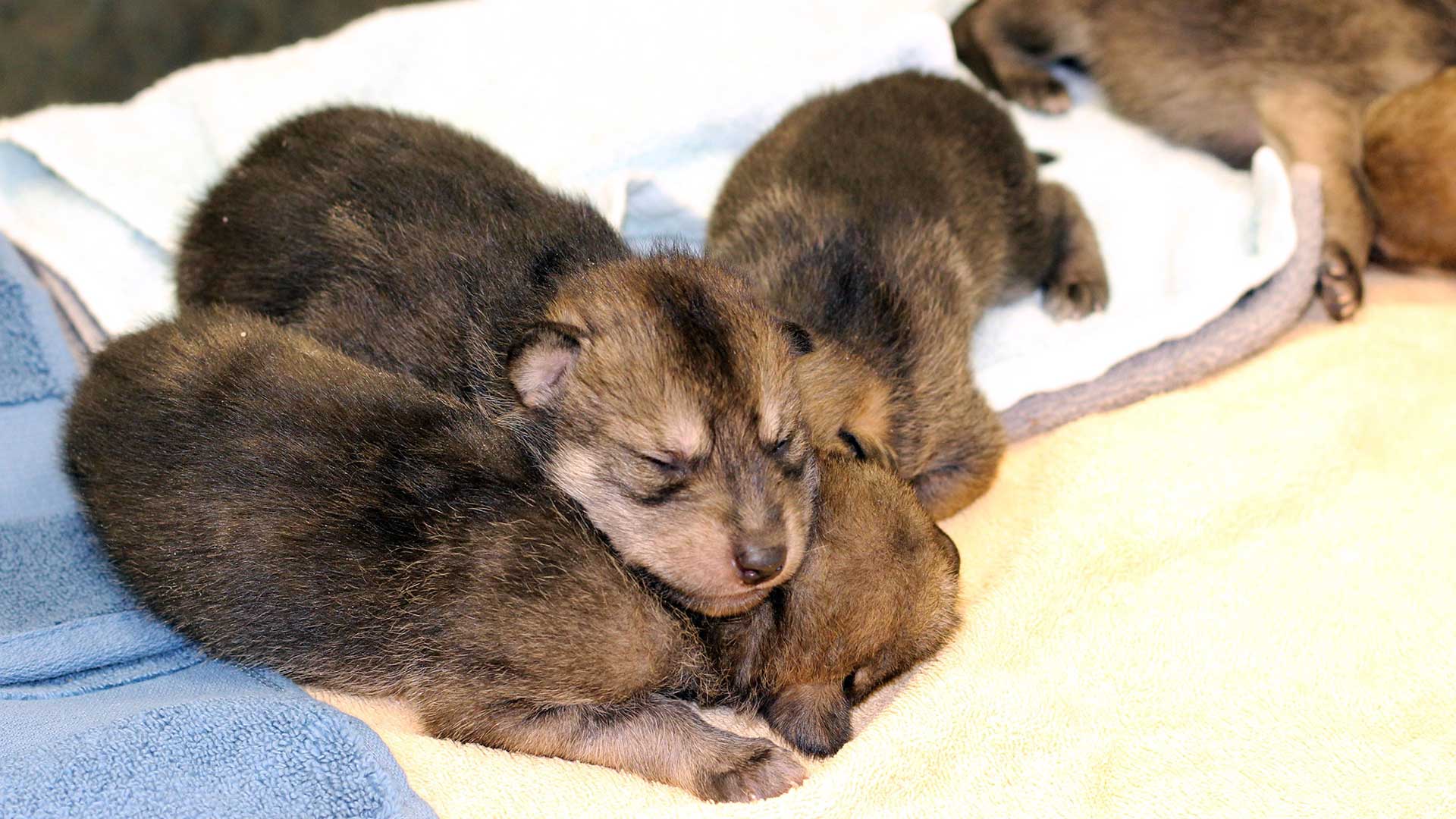 The Mexican gray wolf pups have an affinity to crawl towards each other and their mother for warmth and comfort. The piling reflex is affectionately called a "puppy pile."
Katya Mendoza, Arizona Public Media