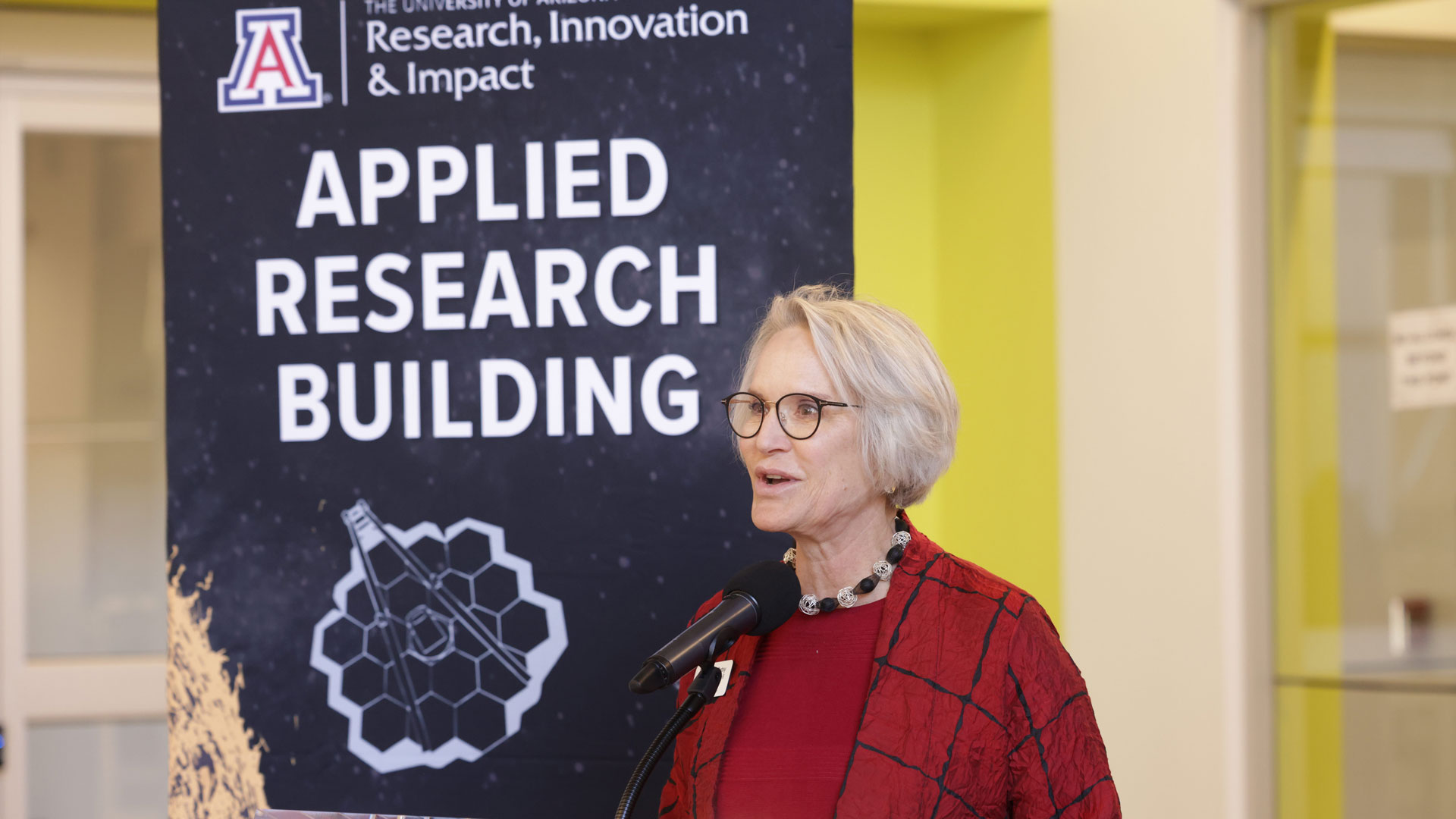 Senior vice president for research and innovation Elizabeth "Betsy" Cantwell speaks at the grand opening of the University of Arizona's Applied Research Building.
Chris Richards, University of Arizona
The University of Arizona's senior Vice President of research and innovation is stepping down to head to Utah State University to become its next president.
Dr. Elizabeth "Betsy" Cantwell joined UA in 2019 after serving as the CEO of Arizona State University Research Enterprise. During her tenure, Cantwell supervised an $825 million annual research portfolio and oversaw the university's 1,267-acre Tech Park, which contributes $1.7 billion annually to the Southern Arizona economy.
The announcement of Cantwell's departure comes less than one month after UA announced that Liesl Folks is stepping down from her role as vice president and provost. Folks will remain at the university as a faculty member and lead the creation of the Center for Semiconducting Manufacturing.
"Both Dr. Cantwell (and) Dr. Folks will remain on campus as we turn attention to national search processes this summer," a UA spokesperson said. "We expect to name interim leaders relatively soon."
USU began its search for a new president after Noelle Cockett stepped down last November following a six-year tenure that faced criticism for how the university handled sexual assault allegations both before and during her administration. Those allegations led to a federal investigation by the Department of Justice, the Salt Lake Tribune reported.
The Utah Board of Higher Education announced Cantwell's selection as the 17th president Friday following a national search that spanned six months.
"I'm enormously grateful for the Utah Board of Higher Education for the faith they've put in me to become the next president of an amazing institution like Utah State University," Cantwell said in a USU announcement. "I'm very thankful for President Cockett for setting Utah State up as well as she has to be on the upward trajectory that it is today. I'm so excited about serving the students, faculty, and staff who have been welcoming, charming and made me certain that this is the place to be."
Under Cantwell's leadership, research expenditures grew from $697 million to over $800 million and supervised the completion of the Grand Challenges Building, the Applied Research Building, and the Mission Integration Lab at the University of Arizona Tech Park at The Bridges.
Cantwell's annual salary was $454,230 at the UA. In her new role, Cantwell's base salary will be $581,585, according to the Utah System of Higher Education.
Cantwell's official end is to be determined. However, UA plans to begin its national search this summer.