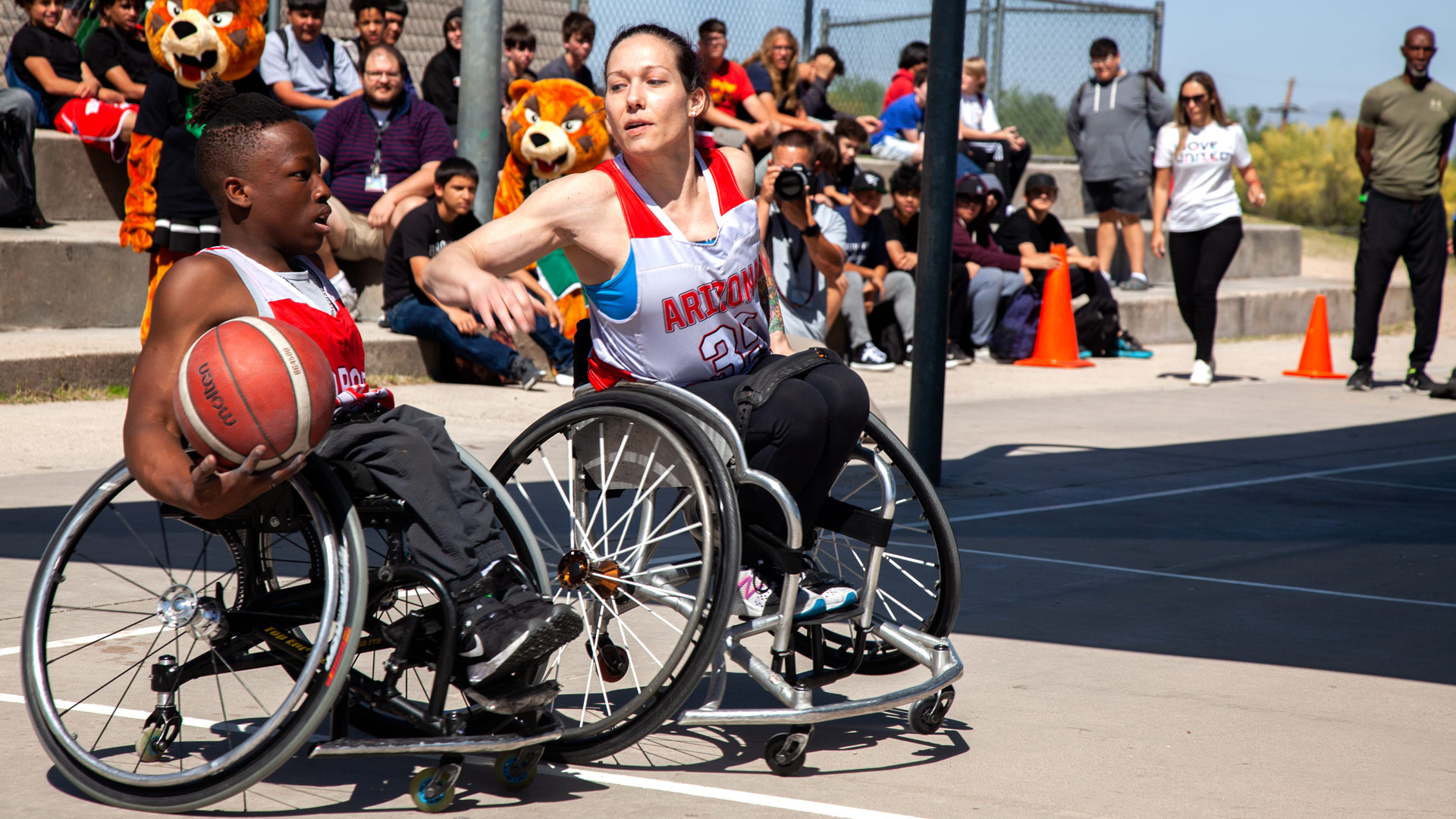 A player attempts to block a pass on Thursday, May 11, 2023.
Paola Rodriguez/AZPM News
For the first time, Gridley Middle School is teaching its students about the game and culture of wheelchair basketball.
The school partnered with Southern Arizona Adaptive Sports (SAAS), the University of Arizona Adaptive Athletics department and the Ward 2 office to change how sports are taught in schools. Council member and Physical Education teacher Paul Cunningham says throughout the weeklong lesson, students learned about how adaptive sports can be for anyone–not just athletes with a disability.
"They were challenged with some tough questions like, hey, it's great that you played wheelchair basketball but what if you couldn't get out of a chair?" Cunningham said. "For a middle schooler, that's a really introspective question."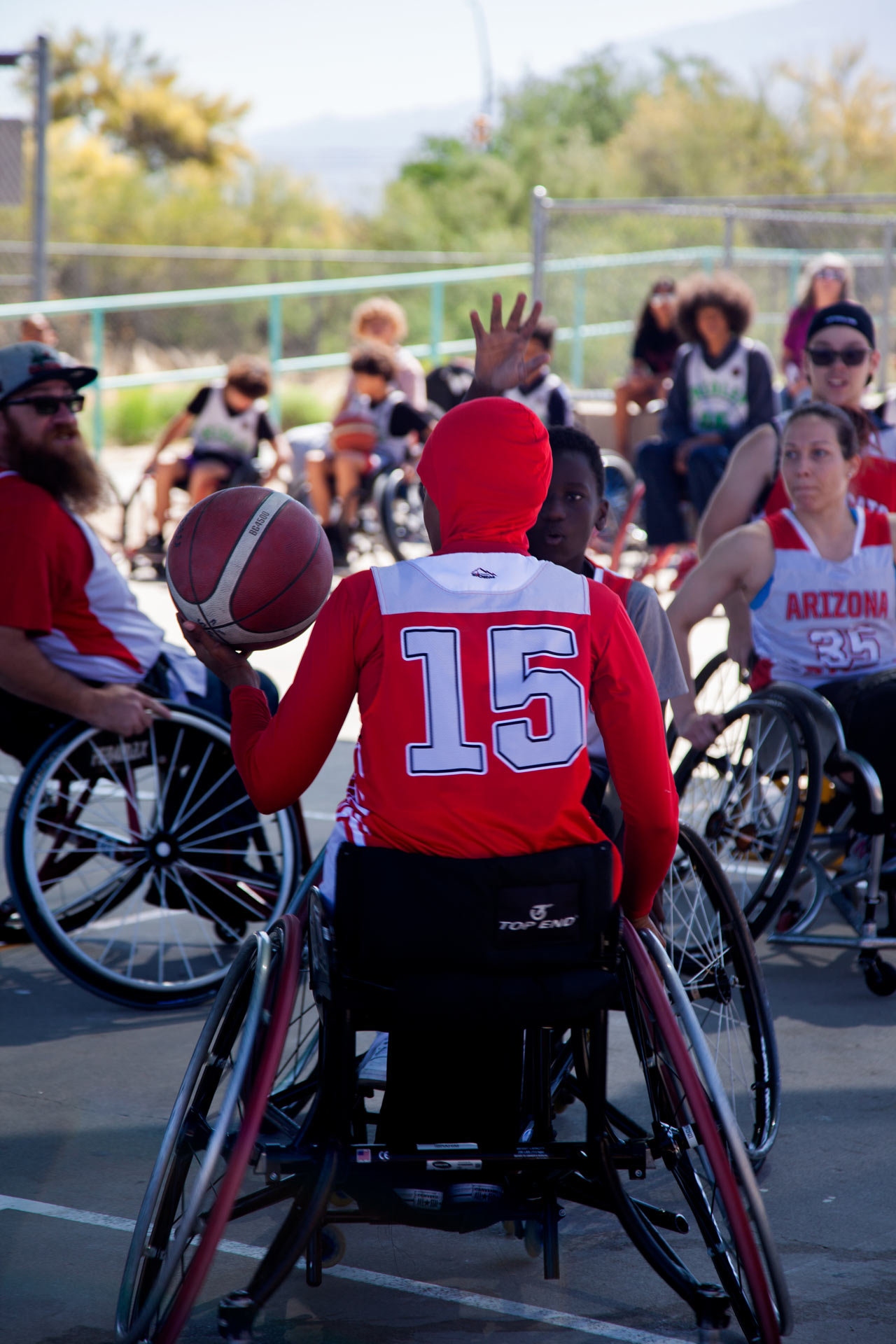 VIEW LARGER A junior wildcat player attempts to pass the ball on Thursday, May 11, 2023 in Tucson.

Paola Rodriguez/AZPM News
The Ward 2 office will work towards pushing this education plan to 18 other southern Arizona middle schools next year. SAAS Executive Director Mia Hansen says the goal is to target students early on in their education.
"We feel that middle school students are right at that moment of life where they're making decisions about what they want to be and where they want to go and how they're going to be as an adult," Hansen said.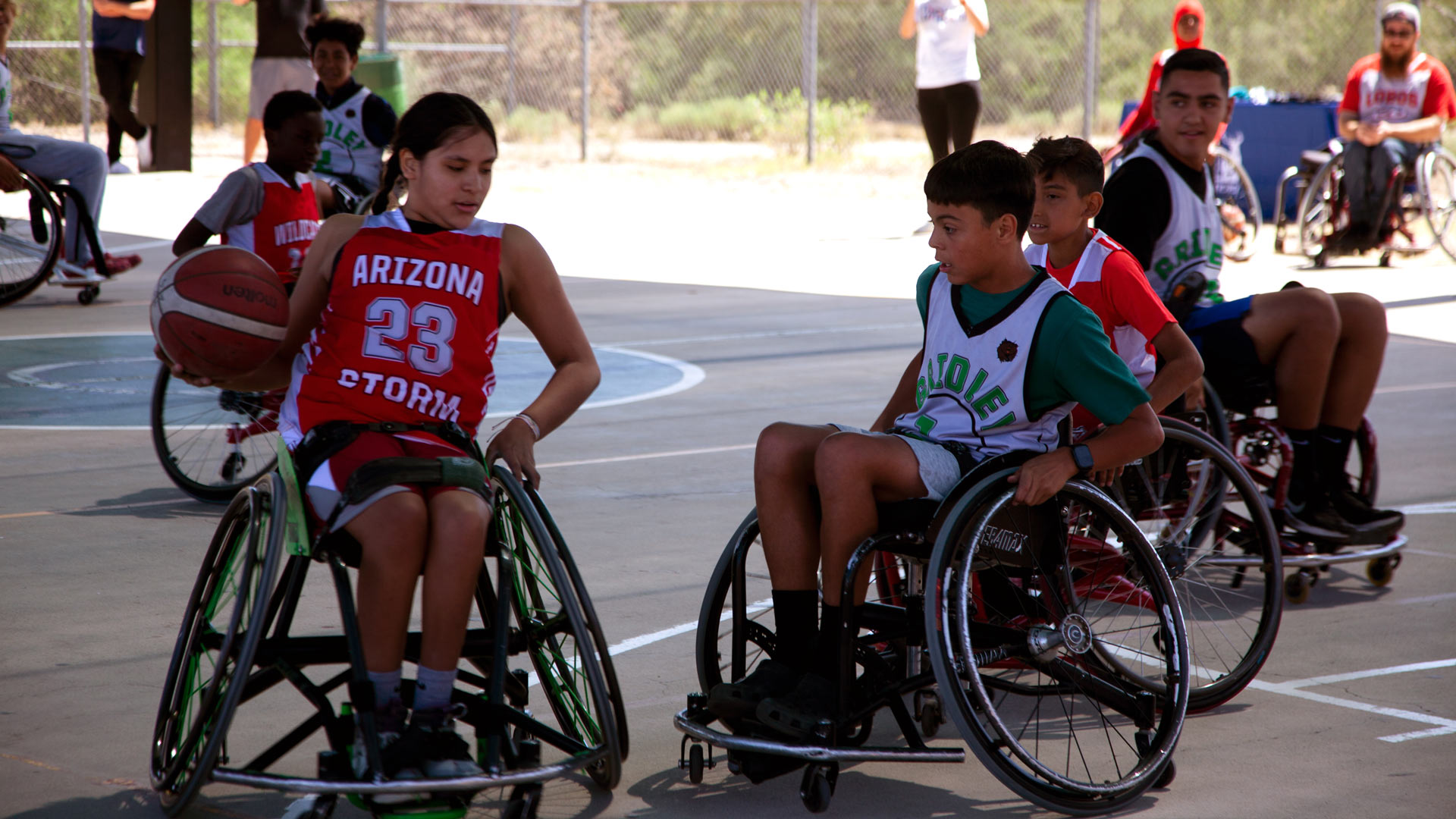 A student athlete from the Gridley Middle School basketball team attempts to get the ball on Thursday, May 11, 2023 in Tucson.
Paola Rodriguez/AZPM News
Sports is for everyone, says Hansen. But, in the case of adaptive sports, the cost of equipment can be a barrier. Custom sport wheelchairs can range anywhere between $2,000 and $6,000. However, SAAS received a $50,000 grant from Hartford Insurance's Adaptive Sports Program and Move United. That money will be used to provide adaptive equipment to interested schools for the duration of the lesson plan.
"We need this equipment," Hansen said. "We also need education and we need an attitude change…They're giving giving these kids perspective, giving them a chance to feel what it's like–not in a way that they're pretending, but to really feel what it's like to roll in someone else's wheelchair, to be in someone else's shoes, and and to break that ice between what children think it is like to be a person with a disability. It's not a bad thing. It's just a different thing."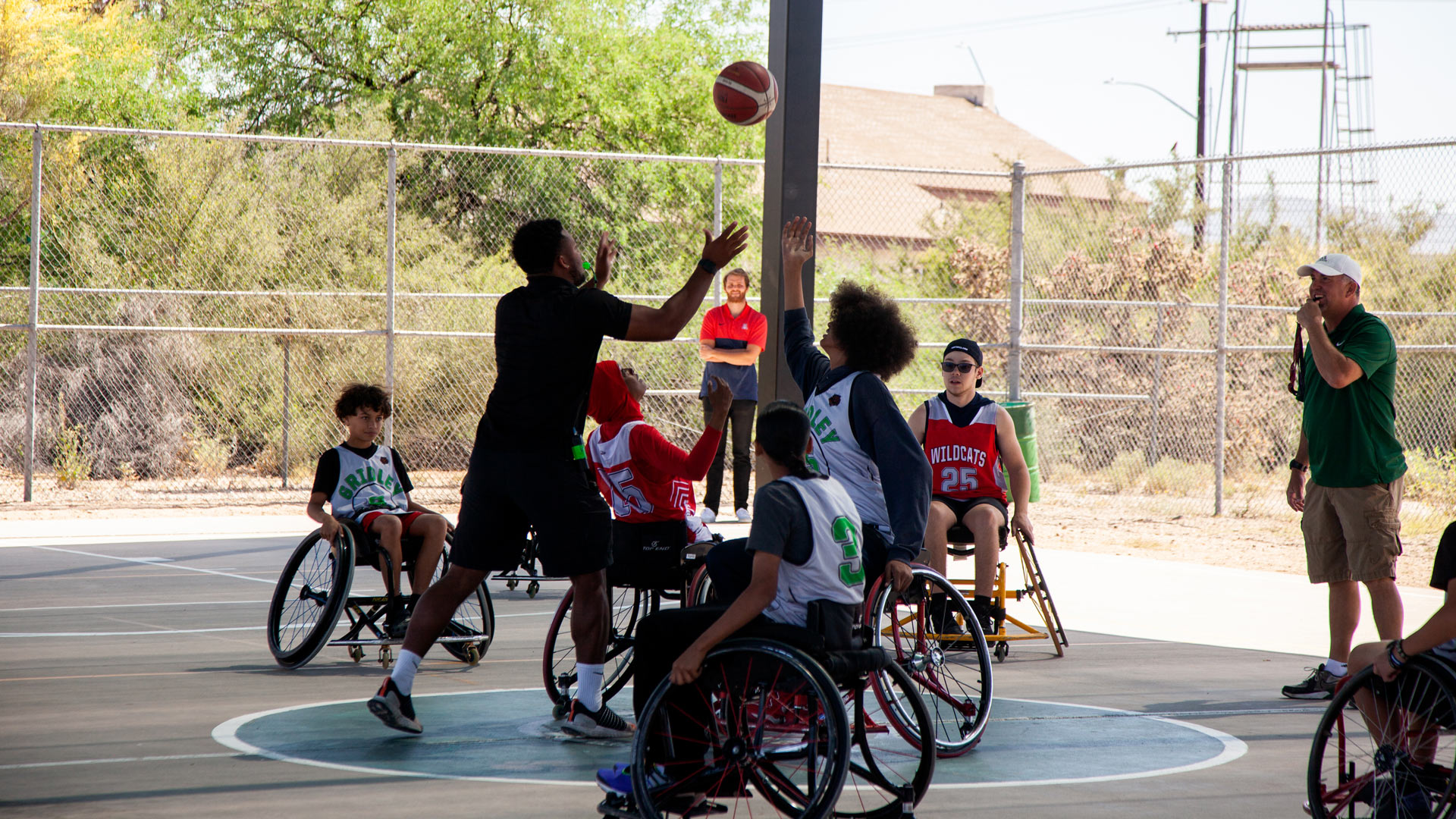 The Gridley Middle School basketball team plays against the Junior Wildcats during a wheelchair basketball game on Thursday, May 11, 2023 in Tucson.
Paola Rodriguez/AZPM News
For Cunningham, he hopes this will change how we understand physical education.
"PE has changed. We want to get kids moving. We want to get them fitness minded, but we also want them to be good people. There's a big citizenship and teamwork piece to physical education. And I think that the learning objectives outlined in this lesson, plan, meet, meet all those challenges."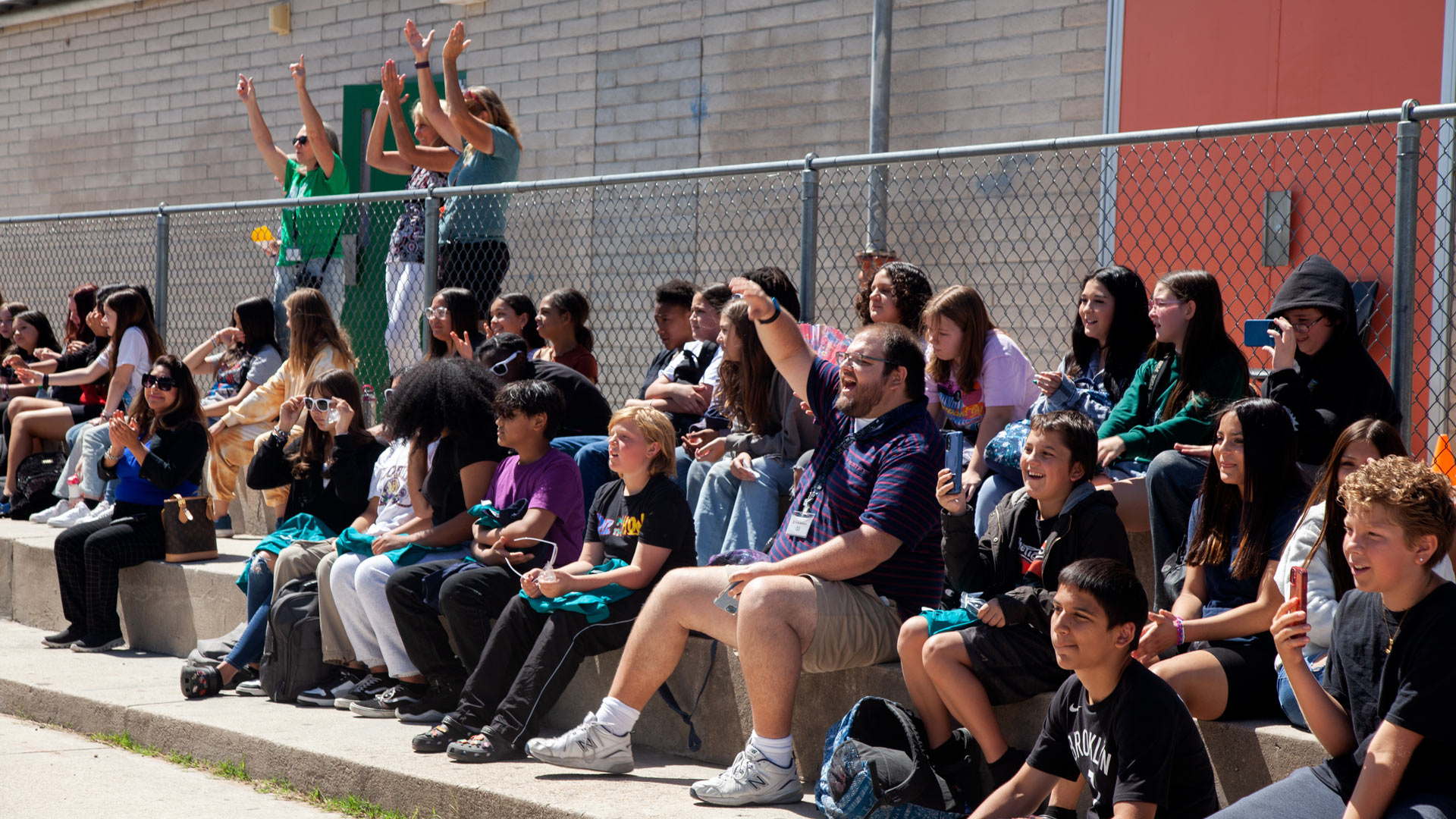 The crowd cheers after the Gridley Grizzlies made a basket on Thursday, May 11, 2023.
Paola Rodriguez/AZPM News