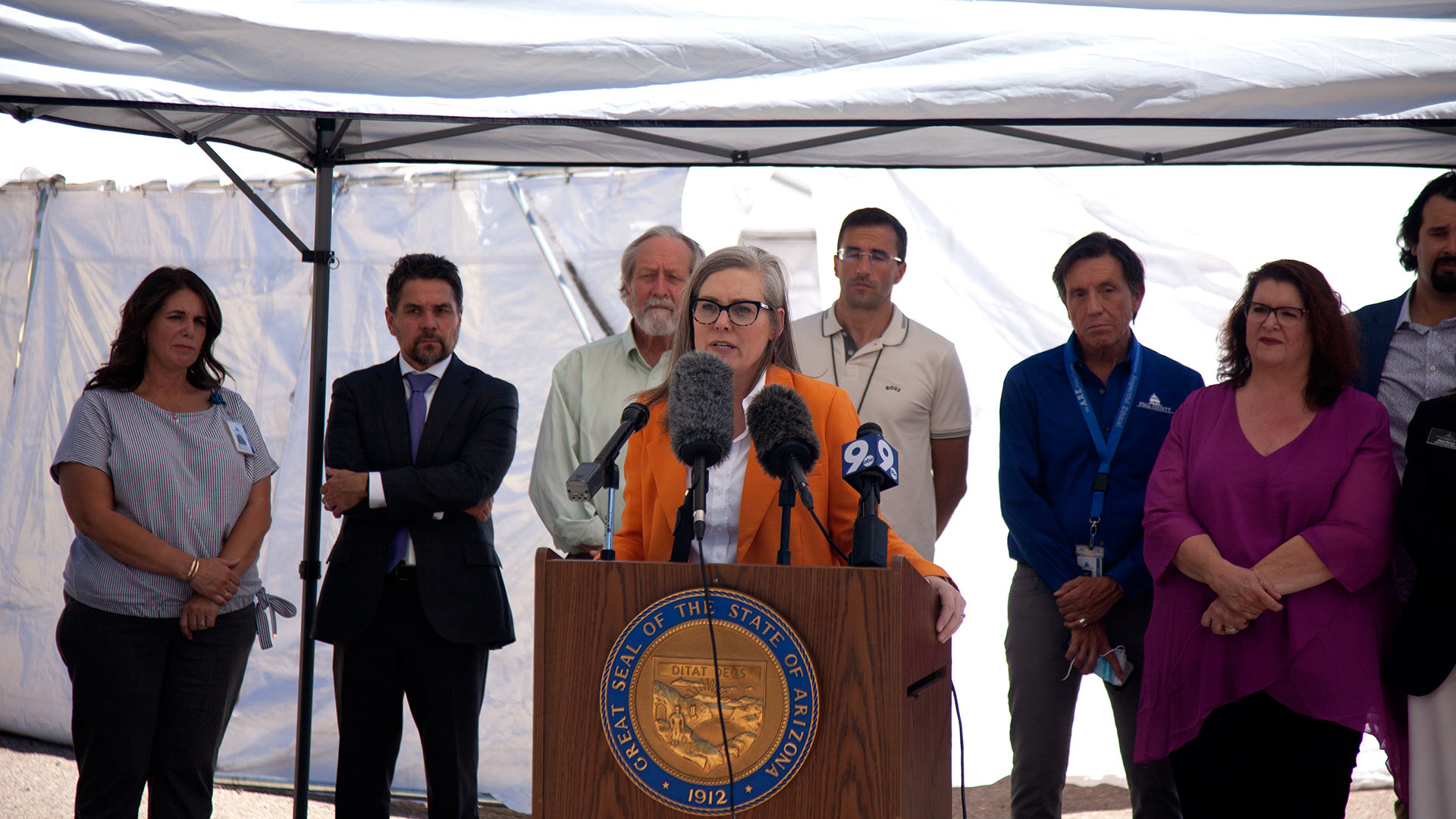 Arizona Governor Katie Hobbs discusses her new five point preparedness approach during a press conference at Casa Alitas in Tucson on Tuesday, May 9, 2023.
Paola Rodriguez/AZPM News
Arizona Governor Katie Hobbs came to Tucson on Tuesday to talk about the impending end of Title 42.
On Monday, Hobbs announced a new five-point preparedness approach to meet an expected increase of migrants crossing the border later this week.
Federal policy Title 42, created during the Trump administration, restricted migrants from entering the United States due to COVID-19 health concerns. Now that will come to an end Thursday.
"With Title 42 set to expire in just two days, it doesn't appear that the federal government is prepared," Hobbs said during a Tuesday press conference. "As a result, Arizona communities will face incredible challenges trying to deal with the influx of people entering the country."
Her new plan to address the anticipated struggles both locally and statewide has five key points:
Public Safety: The Department of Public Safety will work in assisting local sheriffs and law enforcement on Arizona highways to prevent drugs, like fentanyl, from entering.
Partnerships: A new initiative called the Joint Information Command will bring non-government organizations, federal agencies, local governments, and tribal communities to discuss approaches and responses.
Transportation: The Department of Emergency and Military Affairs (DEMA) will assist in the transportation of migrants.
Emergency Shelter: DEMA will work in helping connect migrants with shelter.
Executive Action: Hobbs plans to utilize state resources on an as-needed basis for emergencies.
Parts of the plan are already beginning to take place, such as transportation. Monday, additional bus routes for migrant transportation out of smaller communities in Naco, Douglas, and Nogales were created to meet on-the-ground needs.
"Border Patrol notified localities over the weekend of the need for transportation out of our smaller communities in southeastern Arizona," Allen Clark, director of the Arizona Division of Emergency Management or DEMA, said. " My team was able to triage this and deploy buses to those locations to avoid street releases."
Hobbs also met with Pima County and Tucson city officials Tuesday to discuss the new approach.
"Critical to our success on the ground will be partnerships with organizations like Casa Alitas, local governments like the city of Tucson and Pima county, and local law enforcement," Hobbs said. "I've also seen the challenges Casa Alitas faces with capacity–something that is only going to get more strained when Title 42 is lifted."
Director of Operations for Catholic Community Services Teresa Cavendish says that their aid program, Casa Alitas, sees upwards of 1,200 people circulating through their system at any given time. For months its shelters have faced capacity concerns, but Cavendish says it's a reality now.
"We have more people in our shelter services now than we did this time last week," Cavendish said. "However, we have been able to work with the city and the county to kind of nudge up the level of shelter that we're able to provide right now."
Hobbs said $7 million from the border security fund is immediately available to scale up operations as well as a negotiated $15 million in the state budget for transportation. But, she says that the state cannot handle this alone.
"I've written to the federal government demanding that they take action on the following steps: finalizing the Shelter and Services Program, addressing the processing challenges at our ports of entry, directing DHS to develop a specific plan to decompress border communities with a large influx acts and continuing to target fentanyl smugglers who may exploit this situation for their own gain."