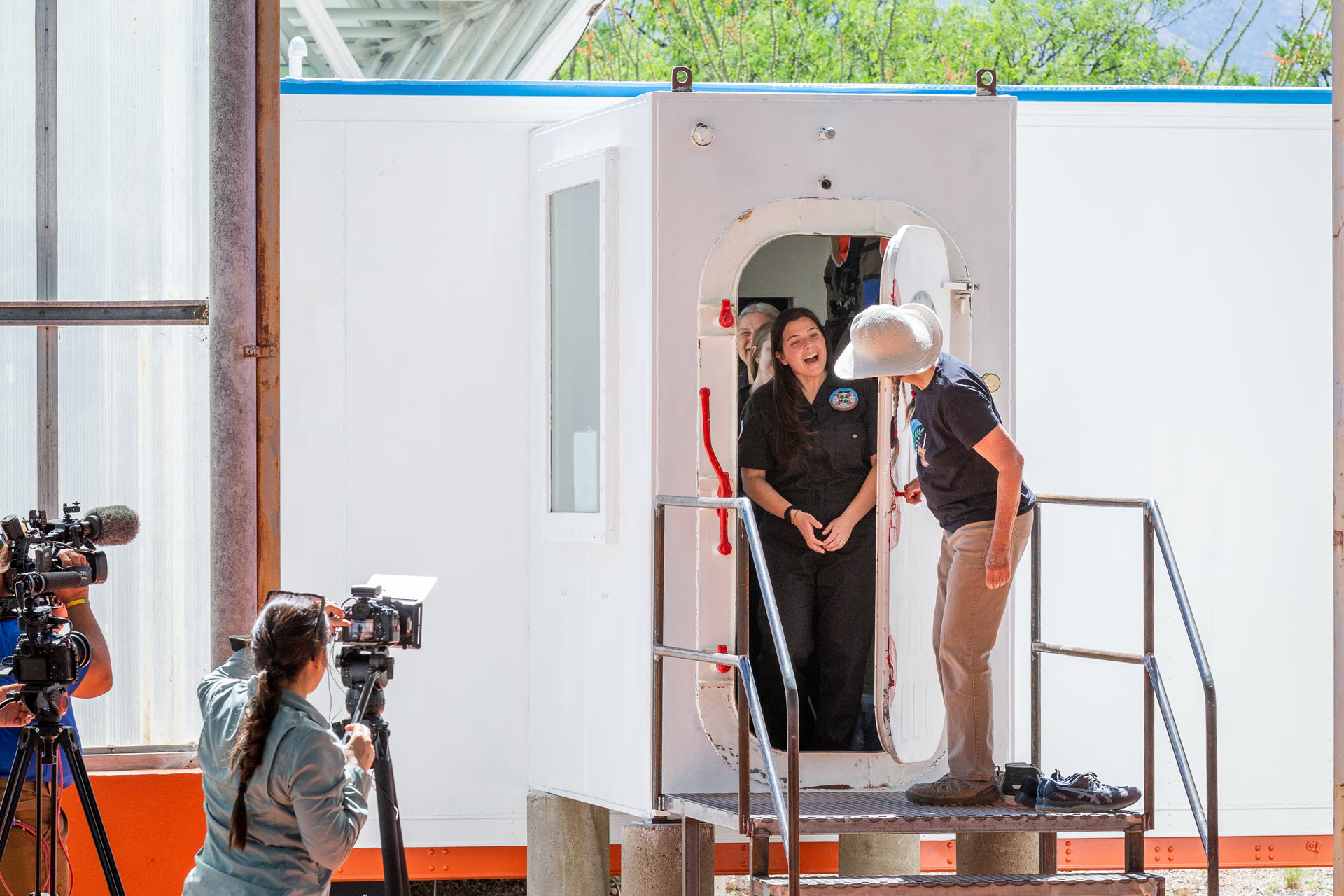 Cassandra Klos, mission commander, left, is greeted by Linda Leigh, right, one of the original eight Biospherians as the door is opened on the Space Analog for the Moon and Mars on Tuesday May 2, 2023 at Biosphere 2 in Tucson.
Provided by the University of Arizona
As the pressurized air from the Space Analog for the Moon and Mars was released into the Earth's atmosphere, cheers of happiness and deep breaths of fresh air were taken in. Four researchers emerged from their sealed, pressurized habitat at Biosphere 2 after being locked in for almost a week in the name of space exploration. Their task: to learn more about what work and life would be like on another planet.
Each crew member had individual projects ranging from health and wellness to visual storytelling. Sheri Wells-Jensen, who is blind, was looking at expanding how we understand accessibility both here and beyond.
"If we have 1/4 of the population of the earth that identifies as having some significant disability, we cannot afford to move forward as a species leaving 1/4 of us behind," Wells-Jensen said. "How do we make space a better place than Earth is, and for the purpose of bringing space back down to Earth and improving what we have here."
Three members from the first Biosphere journey over thirty years ago welcomed the explorers back. This is the first mission since the 1991 adventure to have a crew seal themselves inside of a habitat analog and this space is now the only active, air-tight, and pressurized analog with a greenhouse.
Wells-Jensen believes one of the team's biggest takeaways from their journey was to embrace sustainability in its fullest form.
"I think one of the points we all were reminded of is living within your means and living sustainably is not suffering, right? It's just living," she said. "That doesn't hurt you to be a good steward of the resources that were given."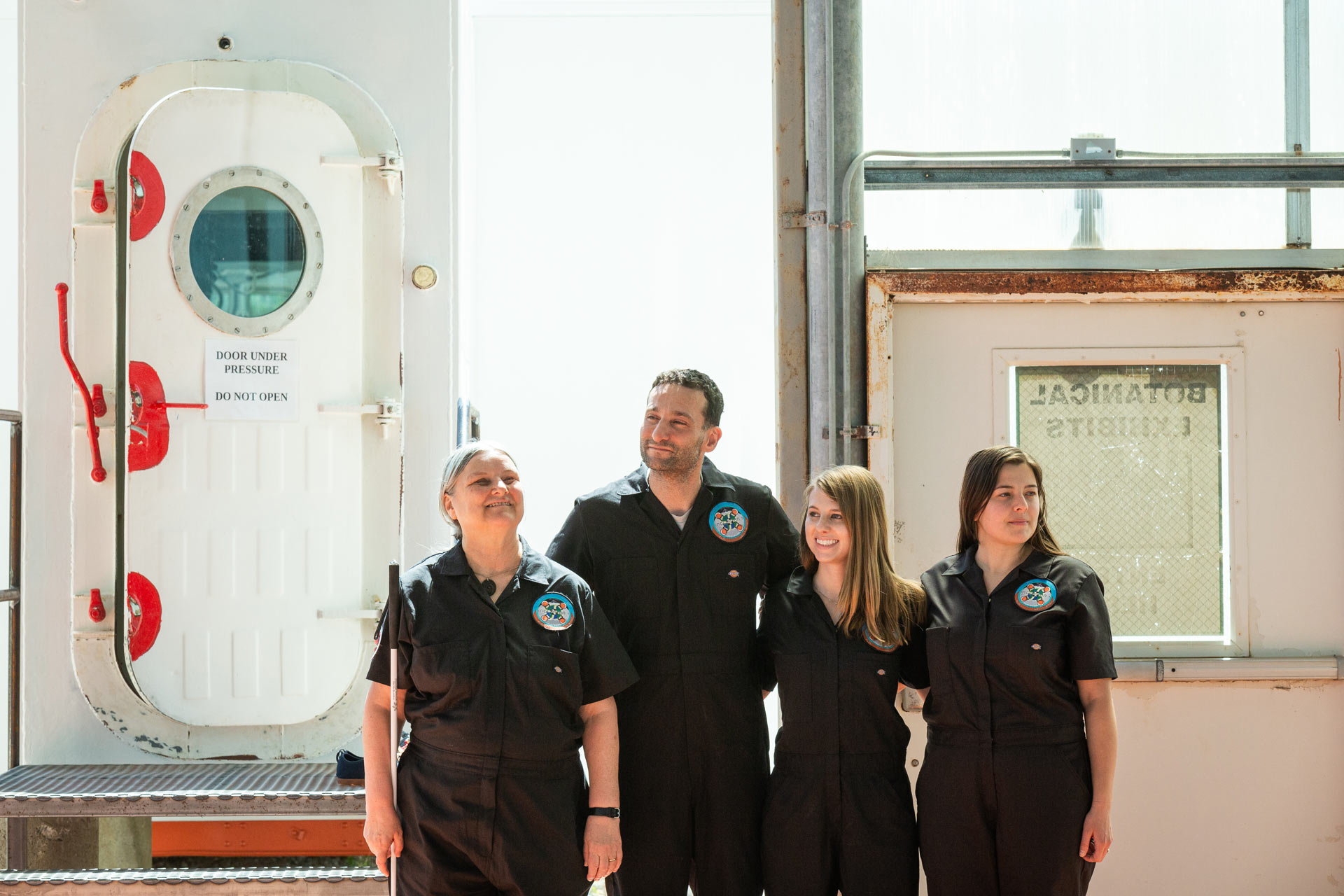 The Inclusion 1 team poses in front of the entry to the Space Analog for the Moon and Mars after emerging from the six day mission on Tuesday, May 2, 2023 at Biosphere 2 in Tucson.
Provided by the University of Arizona
For the duration of their experiment, the entire crew was limited to almost 60 gallons of water and maintained a vegetarian diet. These practices were meant to resemble the reality of limited resources beyond this world.
At the same time, mission engineer Bailey Burns tracked the carbon dioxide levels so their temporary home could remain safe and breathable. Burns and program director Kai Staats noticed trends within her data each time the team did an activity like eating, sleeping, or even laughing.
"The data points do tell a story," Burns said. "It's not science and storytelling. It's the science of storytelling or the storytelling of science."
Those levels would rise each time–something that is important to track since it would be life or death in space where there is no atmosphere outside of the habitat.
The director of the projec,t Kai Staats, said this is just the beginning.
"The structure itself is part of the experiment," Staats said. "(It) will always be changing and improving."
For the future, Biosphere 2 has invested in a new 20-foot freight farm shipping container that will add an additional hydroponics chamber to serve as a functional space that can be used to grow what members will eat while in the analog. That will come later this year.
The next mission will take place later this month.