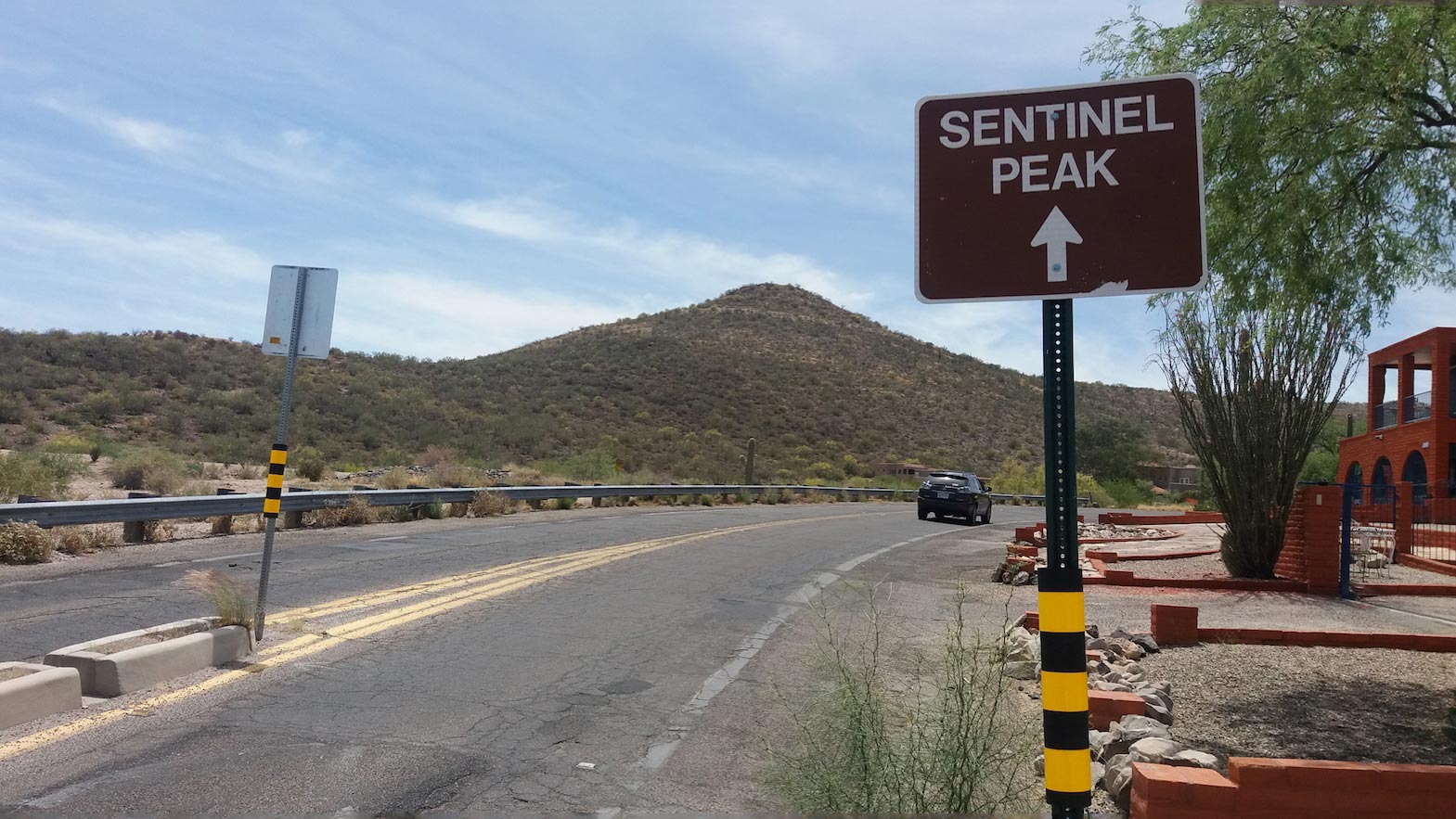 Sentinel Peak Road, accessed from West Congress Street, climbs and encircles "A" Mountain.
Michael Hernandez/AZPM
The Tucson City Council unanimously approved the process to begin returning 10.6 acres of ancestral land to the Tohono O'odham Nation.
Council Member Lane Santa Cruz headed the initiative to return land on Sentinel Peak back to the tribe.
"We don't honor and revere our indigenous people, the people who made this city possible," Santa Cruz said. "The relationship that indigenous people have with the land is what we need to pay attention to and listen to."
The foot of Sentinel Peak is widely considered to be the birthplace of Tucson. But before the city became what it is now, it was home to ancestors of the Tohono O'odham and Hohokam tribes for 4,500 years. The city's Spanish name even came from the O'odham village name S-cuk Son, meaning "at the base of the black hill."
For Santa Cruz, who has indigenous heritage, this meant a chance to work on repairing generations of indigenous erasure and reconciliation in Tucson.
"There is a reverence that is owed to this land, a reconciliatory acknowledgement of the desecration, destruction, and the erasure that was perpetrated on our O'odham relatives," Santa Cruz said. "This move by this Mayor and Council to return land back to the Tohono O'odham nation is an honoring of Tucson's indigenous legacy, that we are still here and that these lands are still sacred."
During the Tuesday study session, Chairman of the Tohono O'odham Nation of southern Arizona Ned Norris Jr. said he walks up Tumamoc Hill, which sits west of Sentinel Peak, several times a week.
"It gives me an opportunity to experience the strength of that area, to experience the strength of the ancestors, and the remnants of our ancestors that are still on that hill and… along the Santa Cruz River," Norris said. "By your actions today, our ancestors are pleased with your decision today and we look forward to continuing this relationship."
The city attorney will now prepare a plan for consideration and approval at the next council meeting which is scheduled for May 9th.