It's thundering in Corona de Tucson, and that means Greg Peters has stopped in his tracks.
He casts a wary look at the sky, which is still clear, and then toggles between radar images on the two computer monitors that crowd his desk.
"There it is," he says finally, pointing to a small mass of green—a thunderstorm.
As a SKYWARN® weather spotter, Peters' vigilance is serious business. The National Weather Service relies on the SKYWARN® network of volunteer spotters—now numbering nearly 290,000 across the country—to identify severe weather and develop weather warnings.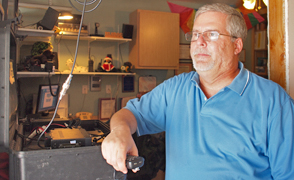 Weather spotter Greg Peters watches as a storm approaches. (PHOTO: Gisela Telis)
"Weather spotters are very important to the Weather Service," says Ken Drozd, the National Weather Service warning coordination meteorologist for Tucson. "They verify what we see on radar, and that lends credence to our reports. You always want to know what's actually happening on the ground, and the spotters know."
Peters prides himself on meticulous reports; he says spotters build reputations on their accuracy and caution, and their reputations give their reports more weight when the Weather Service considers issuing a warning.
"I like knowing the community is going to be safe on my reports," he says.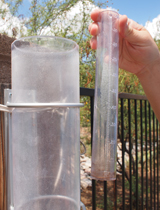 A variety of instruments, including this rain gauge, help Peters take accurate measurements during a storm. (PHOTO: Gisela Telis)
Peters caught the weather bug as a teen in Phoenix. His father, a salesman and accountant, moved the family through six states in 14 years before settling in the central Arizona city, where Peters became fascinated with the desert's dramatic monsoon thunderstorms.
But he set that aside and followed his other passion, radio, into the Air Force, where he became a ground-to-air-to-ground communicator, relaying critical information to aircraft that included Air Force One.
It wasn't until a decade later, while stationed in Abilene, Texas, that he found a way to merge the things he loved.
"I wound up in the southern fringe of Tornado Alley" with the closest weather radar two hours away, Peters recalls.
Weather spotters were critical there, and Peters was especially desirable because of his access to Dyess Air Force Base and his ham radio operator license.
Ham or amateur radio operators are highly valued as storm spotters because they can continue to communicate even when phone lines and grid power fail. In fact, ham networks were critical to rescues following Hurricane Katrina and the September 11, 2001 terrorist attacks, when traditional communications faltered.
So Peters volunteered, and SKYWARN® taught him how storms work, how to gauge their severity and how to keep himself safe while watching or chasing them.
Peters brought those skills back to Arizona in 2001. At the time, southern Arizona didn't have a spotter network. Now—thanks, in part, to his own efforts—Peters is one of about 1,000 weathers spotters, including 20 ham operator weather spotters, in the region.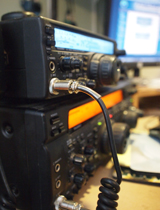 As a ham radio operator, Peters can continue to relay emergency information even when power and phone lines fail. (PHOTO: Gisela Telis)
They watch for the same cues: dime-sized hail, fierce winds, funnel clouds, heavy rain and flooding, one of Arizona's most dangerous weather hazards.
"Thunder is my fire alarm," says Peters, whose family has learned to accept that he will disappear when severe weather looms. During a bad monsoon storm, he can spend seven or more hours at a time in his garage-based weather station.
The now-retired communicator also assists emergency responders with their communications, especially when power and phone lines go down.
"My wife always knows where I am," Peters quips, because the work keeps him busy. But the rewards, he says, are boundless.
"I've always believed in community service, and this is a way that I serve my community," Peters says. "Plus, I do look to the skies a little more than I used to."