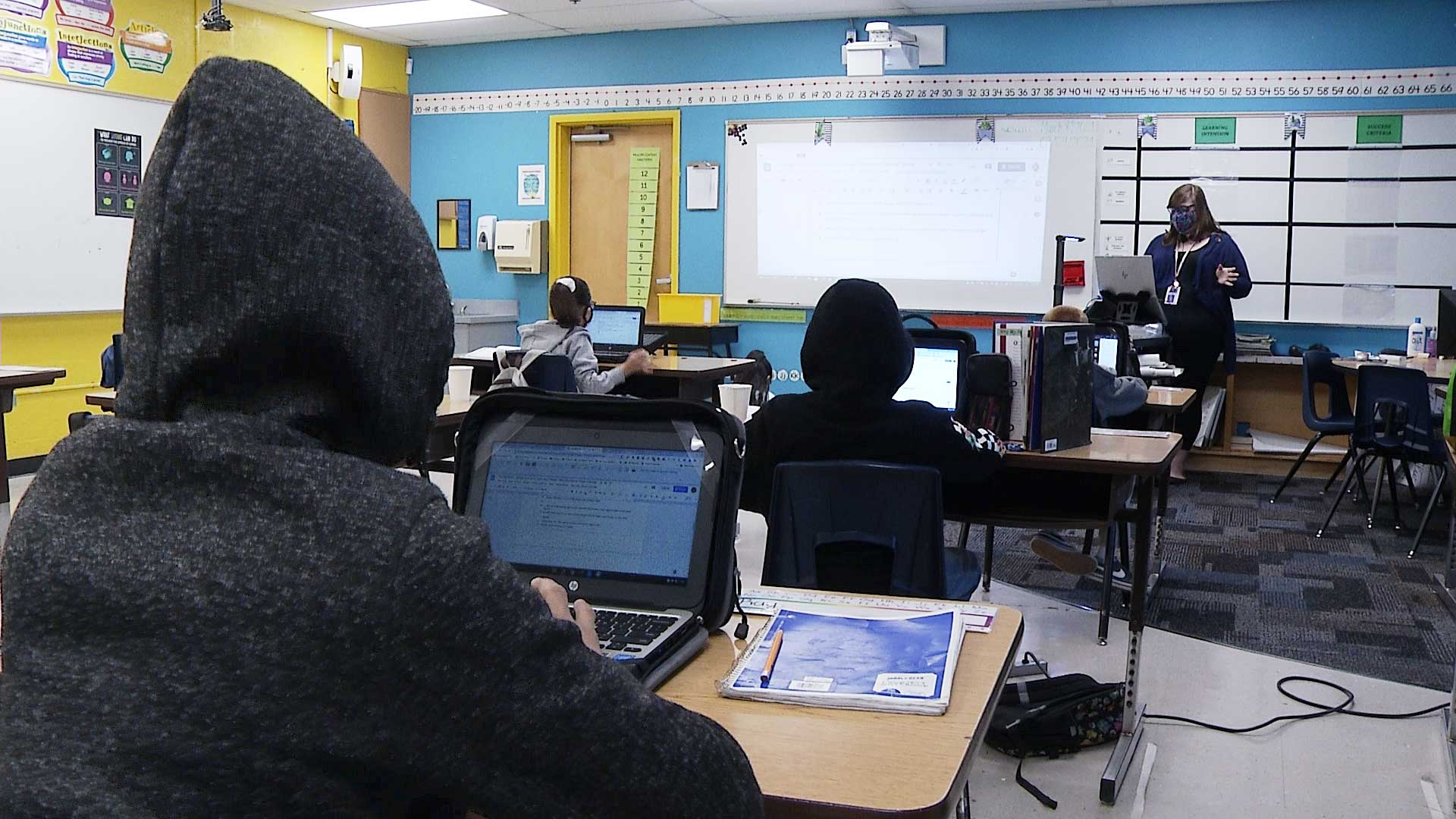 Students attend class at Los Amigos Elementary in the Sunnyside Unified School District. March 2021.
AZPM Staff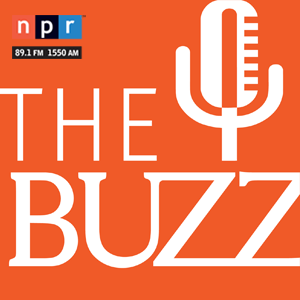 One of the most contentious issues in Arizona politics in recent years has been how to fund K-12 education. Protests, legislative deals and voter initiatives have all played a part in how Arizona's schools get their money.
This week, the legislature waived the aggregate expenditure limit, a 40 year old voter approved law that caps how much money public school districts can spend each year based on a formula.
The limit is typically waived by the legislature each session, and this year marked a change as bills went through both chambers in bipartisan votes without talk of other moves in return.
Public school officials routinely say the cuts would be catastrophic and likely mean an early end to the school year.
"As someone who, as the chairman mentioned, served 24 years on a school board, I can tell you that the great bulk of the budget of a school district is personnel," Superintendent of Public Instruction Tom Horne, a Republican, told a legislative committee at the start of the session. "So we would be talking about massive layoffs of teachers, and the one-third of teachers who are left unable to handle the number of students that parents sent to be educated. It would be an incredible disaster and make it impossible to raise academics."
Horne got what he asked for, but the support was not unanimous. 14 Arizona house members and seven state senators opposed the bill.
Rep. Consuelo Hernandez (D-21) was among the yes votes. Her district runs from Tucson south to Nogales and along the border to Bisbee. She is also a member of the Sunnyside Unified School District Board.
"I represent a majority Latino, African-American mixed population of students who, at this point, we're playing games with their lives as well as everyone in education across Arizona. I think this is a no-brainer, to be quite honest with you, and I commend Representative [David] Cook for bringing this forward. I don't think this should take that much courage, to vote to lift an artificial cap that was placed in 1980."
All three lawmakers from Legislative District 17, which spans the suburbs to Tucson's east and north, including parts of Vail, Marana, Oro Valley, and Tanque Verde, were among the votes against waiving the AEL. All three are Republicans.
In the House, Rachel Jones said she was proud of Marana Unified School District for "doing it right.
"I don't believe that that's the case with all the school districts and that's why I have hesitations. I also wanted to have a guarantee that we would be able to stop doing temporary solutions to this and kicking it down the can down the road and actually getting something permanent and fix this once and for all so that it doesn't have to put the school districts through the stress every year of wondering if they're going to have their funding or not. I do believe that this is not a funding issue for some districts. It's a mismanagement of funding issue so that's another one of my hesitations on this."
The district's senator, Justine Wadsak, noted that many of the school districts in her area do a good job, also mentioning MUSD by name. But she leveled a number of accusations at the Tucson Unified School District.
"When it comes to TUSD, it's incredibly disappointing to know that when we went through the 20 percent [by] 2020 [proposal from Gov. Doug Ducey], our teachers actually in 2020 received a four percent decrease in pay. They're actually losing money. They're getting paid less. I don't understand how that even happens. We keep giving money to the schools and the teachers are losing, and I thought all of this was supposed to be about the teachers and the classrooms and the students. We need to have systemic reforms and they need to benefit students, families and teachers. and that is not happening right now, not in most of my district."
AZPM reached out to TUSD about Wadsack's claim. We received the following statement from District Superintendent Gabriel Trujillo:
"The Senator's statement is inaccurate. In FY 2020, teachers were awarded a $1,500 increase to their base salary across the board. The normal salary step for teachers is a $500 increase each year. For school years 2019-2020 and 2020-2021 this district raised base teacher salaries by $1,500 each year, for a total of $3,000 covering the entirety of fiscal year 2020. The statement that teachers went backwards on the salary schedule, took a pay cut, or experienced a reduction in overall compensation at any percentage level in 2020 is erroneous and deceptive."
However, the district's union, the Tucson Education Association, said it agreed with the spirit of Sen. Wadsack's assessment, noting that the raise was well short of the 20 percent that was promised.
The Arizona House vote on lifting the AEL took place Tuesday, while the Senate vote happened a day later. Beth Lewis, the director of Save Our Schools Arizona, was at the state capitol for both votes.
"I think there was a tremendous amount of public pressure. We went through this last year, so the public really knows and understands the issue. We also had the business community really step up, and we had local leaders say, 'we don't want to close down schools. We need to keep them open.' And all of that created this perfect storm."
Lewis' statement about the business community stepping up on the AEL issue was in part a reference to the Arizona Chamber of Commerce and Industry's decision to speak out in favor of waiving the cap on Monday.
"In a lot of communities, especially rural communities, our local public schools are the number one employers in the area," she said. "But we're also talking about pumping $1.4 billion into the economy. This would be a huge, huge economic hit to our state if those funds were not allowed to flow to our schools."
Lewis said her group plans to now lobby legislators to refer a permanent repeal of the cap to Arizona voters in a future election.
While the aggregate expenditure limit issue for public schools has been settled, there are still other funding concerns that remain.
Last year's expansion of Empowerment Scholarship Accounts to all Arizona students has left the state with $200 million in unbudgeted costs, according to the Joint Legislative Budget Committee, with that amount possibly ballooning to $376 million by fiscal year 2024.
Governor Katie Hobbs has said she would like to see the expansion repealed.
The centrist think tank The Grand Canyon Institute recently published an analysis that showed the people who are most likely to take advantage of ESAs live in wealthier communities and represent what it calls a subsidy for private schools.
"Originally, [ESAs] were intended for quote-unquote failing schools and for kids with special needs," said GCI research director Dave Wells. "Gradually, it's been expanded and expanded. There was an effort in 2018 to expand it, and Save Our Schools was able to put that on the ballot as a referendum and the voters rejected that law. However, that didn't deter the legislature, and it passed what became the first state in the country to pass universal vouchers."
Wells said that the most likely reason for his analysis' finding is as much about geography as it is about economics.
"In the rural areas, there's very few private schools, and a lot of our lower-income ZIP codes are in rural areas. So they don't have access to programs like this because there are no private schools that they could use."
As Wells said, Arizona was the first state to expand vouchers to all students, but others are following suit.
A bill working its way through the Florida legislature would expand vouchers to nearly all students in that state.
"So our bill removes all of the income cap restrictions [for vouchers]," said Lynn Hatter, news director at NPR member station WFSU. "Here in Florida, what we're looking at is something that people have long called universal choice, and what it means is that all of our tax credit scholarships, all of our state-funded scholarship programs would be open to anybody regardless of their income."
The program would continue to prioritize those making around 185 percent of the federal poverty level for those funds. The bill would also allow the funds to go toward homeschooling supplies.
"Florida started this program by really focusing on lower-income kids. In fact, when the first tax scholarship program rolled out 25 years ago, it was supported with bipartisan support basically because it served the lowest income students who coincidentally are also either Black or Hispanic."
She said the programs have lost the support of Florida Democrats as it began to loosen restrictions, particularly around income levels.
MORE:
Arizona
,
Arizona Government
,
Education
,
Education Funding
,
Government
,
Kids
,
Legislature
,
News
,
Politics
,
The Buzz
,
U.S.