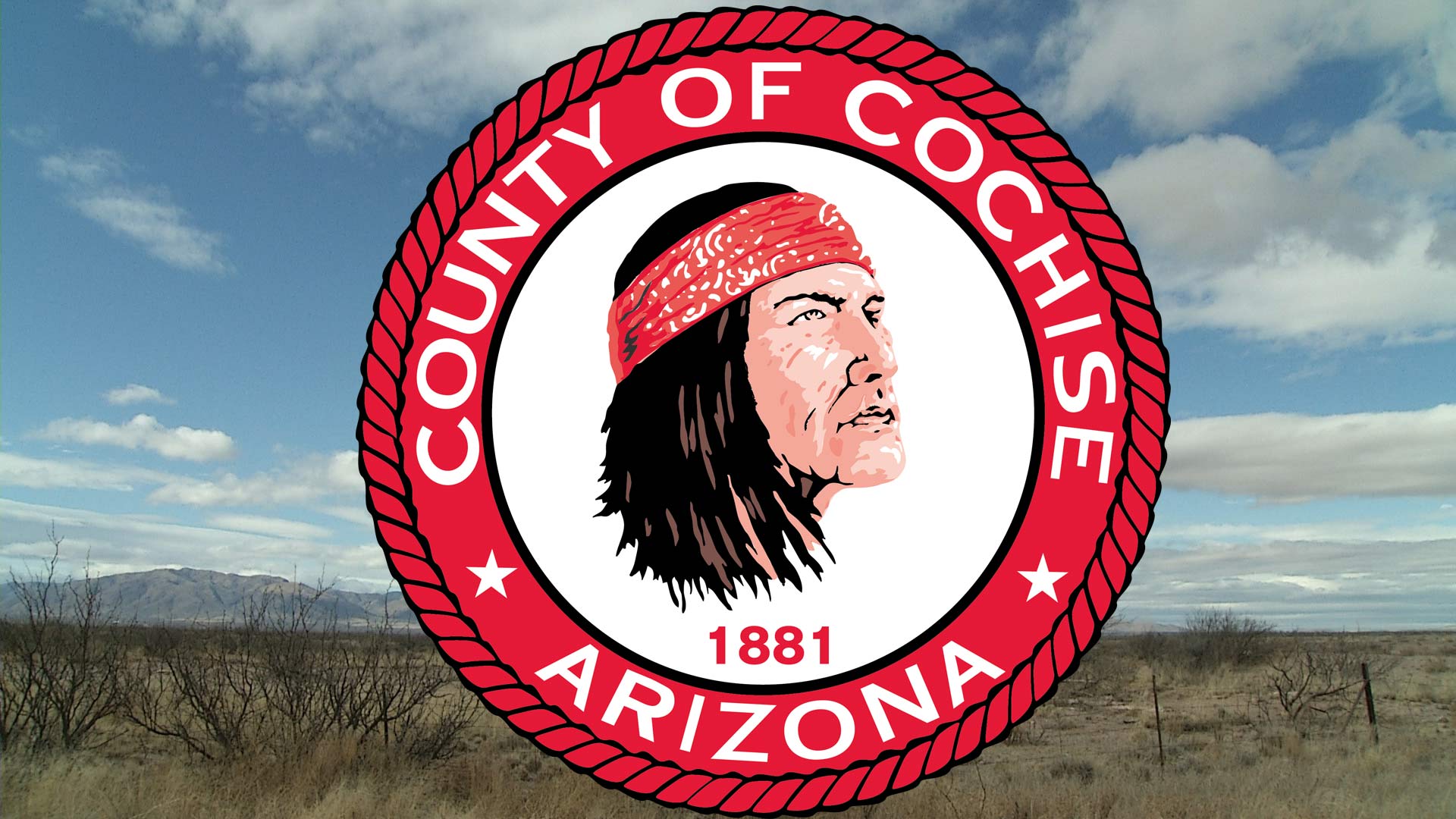 The seal of Cochise County.
Updated at 7:00 pm, November 28
The Arizona Secretary of State filed suit on Monday evening against the Cochise County Board of Supervisors to force them to certify the results.
The filing states that by failing to certify the election results during yesterday's special meeting on Nov. 28 — the last possible day for counties to certify the results — the Cochise County Board of Supervisors is in violation of state law.
The suit calls on the board to canvas the election results by December 1, 2022, as to allow the Secretary sufficient time to meet the final December 8 deadline for completing a statewide canvas.
Arizona Election's Director Kori Lorick told AZPM that if a county does not certify, the Arizona Secretary of State has until December 8 to complete the statewide canvas. If the county fails to comply, the secretary of state will be forced to certify the election on December 8 without including Cochise County votes.
"If we are missing a county canvas, we have 30-days after election day to complete the canvas requirements. So this year that 30-day mark would end on December 8," said Lorick prior to Monday's meeting. "The statute says we must canvas on December 5th, but in the event that we have not received a county canvas by December 5th, then we would have until December 8th to canvas."
12:00 pm, November 28
The Cochise County Board of Supervisors voted Monday morning to not canvas the 2022 midterm election results and instead opted to table the issue yet again with Supervisor Tom Crosby recommending the decision be pushed to a special meeting on Friday.
At the conclusion of Monday's special meeting, Republican Supervisors Crosby and Peggy Judd voted not to certify the election results with Crosby citing his frustration that the meeting agenda did not provide an opportunity for those opposed to certification to speak.
"In the politically liberal viewpoint that may prevail at Melody Lane does not prevail in this county," Crosby said. "Although Madam (Supervisor) English is well aware of that, I suspect she took bad advice to do wrong — again — from the county attorney."
Crosby said that he wants to give presentation time to those who've opposed the certification. He also invited a representative from the Arizona Secretary of State's office to also speak to supervisors at the Friday meeting.
"There will be a Board of Supervisors meeting agendized including presentation and interaction between the secretary's representative — if they so choose — up to and equal in time to that of and following these individuals that so choose for 12 minutes each: Paul Rice, Michael Schaefer, Daniel Wood, Brian Steiner, Daniel LaChance, Juan Swan — in no particular order — and able to yield time to one another," said Crosby.
That group Crosby is referring to people who previously brought their argument to the Arizona Supreme Court.

Arizona Election Services Director Kori Lorick said during the Nov. 18 meeting that the Arizona Supreme Court rejected Steiner, Wood, and Rice's arguments.
Democratic Supervisor Ann English voted against tabling the acceptance of the results.
"There is no reason for us to delay," said English. "We have heard from every person more than once how they feel about the certification of the machines. We have heard from the Secretary of State's office who is in charge of elections. We have been presented materials that was asked for at the last meeting from both sides."
"And I feel that you both have the information necessary in order to make this decision that's non-discretionary on our part to certify the election for Cochise County no matter how you feel about what happened in Maricopa or Pima or Mohave or Apache," English concluded. "We're here to talk about Cochise County and our election."
The county's vote to delay will likely lead to legal action from the Arizona Secretary of State. Lorick said if the county does not certify on Nov. 28, the last day to certify, the AZSOS is prepared to take legal action.
"In the event that they fail to canvas by the deadline, we are prepared to take legal action and ask a court to require them to carry out their statutory responsibility," said Lorick prior to Monday's meeting. "What Arizona law says is that the County Board of Supervisors has a non-discretionary duty to canvass the County's election results … So, under the law, they have this responsibility, and refusing to canvass would essentially disenfranchise all of the voters in Cochise County."
The Dec. 2 meeting will take place at 10 am.