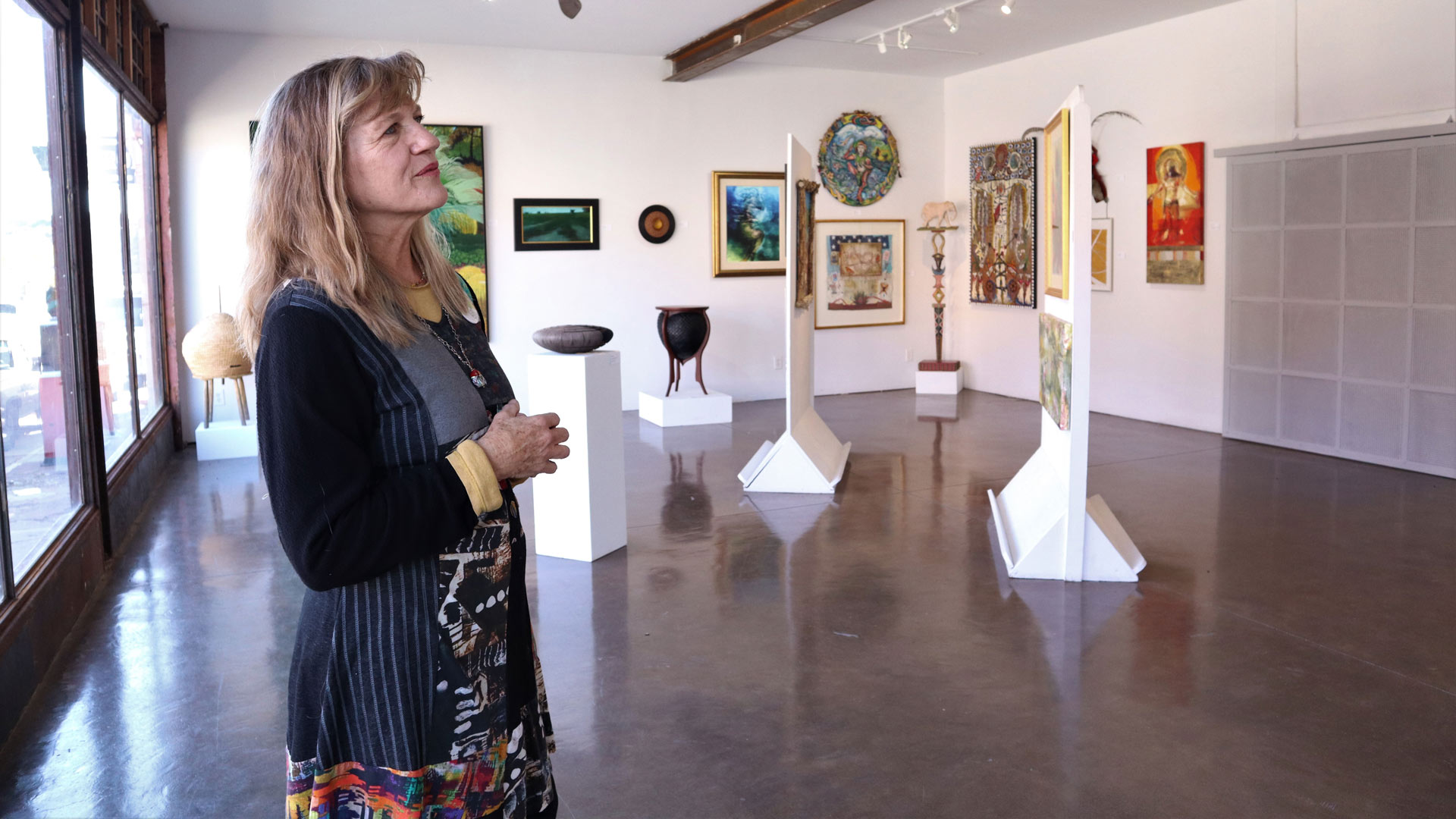 Sharon Stetter, co-chair of the Bisbee Arts Commission showcases an exhibit of 130 local artists. November 2022
It's about expressing what can't be expressed with words: the unique and diverse culture of Bisbee. The commission's exhibit features 130 local artists.
The Bisbee Arts Commission is celebrating local artists with their free, mixed media exhibit "For Art's Sake" located in the historic Lowell community.
Sharon Stetter, the co-chair of the Bisbee Arts Commission, said that the display was part of the commission's art festival.
"So this area is, this specifically is about the border issue and the women who were lost at the border," said Stetter, the exhibit's curator, discussing a collage about women crossing the border by Raechel Running. "You know, of course with water the reason why most of them passed … So, even like the ledger of the border crossings. It's just an amazing piece."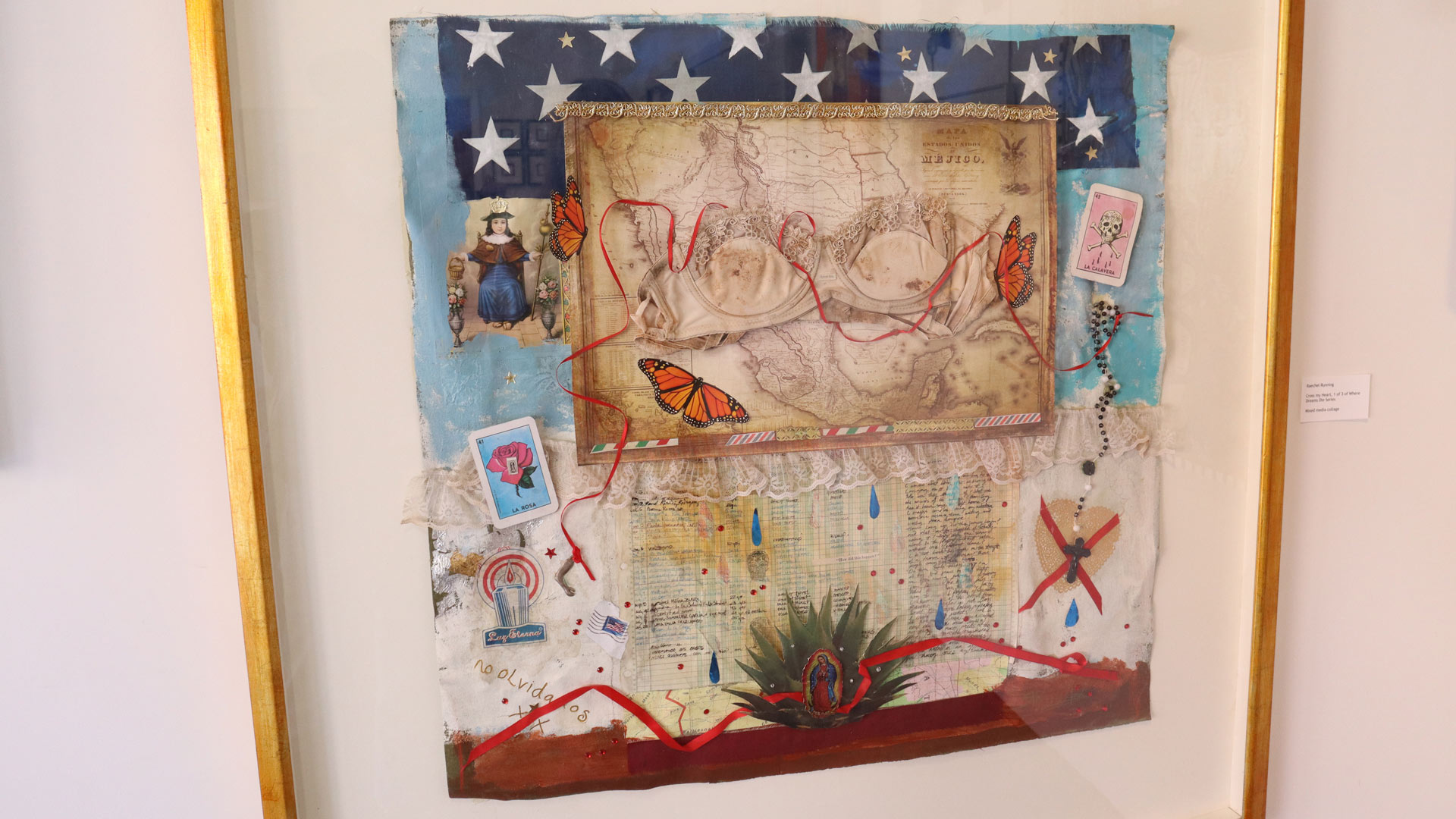 Artist Reachel Running collage piece depicts a woman's journey to cross the border.
The exhibit houses a variety of mixed media works from sculptures, collages, paintings, and drawings, to some more alternative pieces, like an alien sculpture by Jo Cunningham and a clothesline hung with abstract drawings on press badges by Laurie McKenna.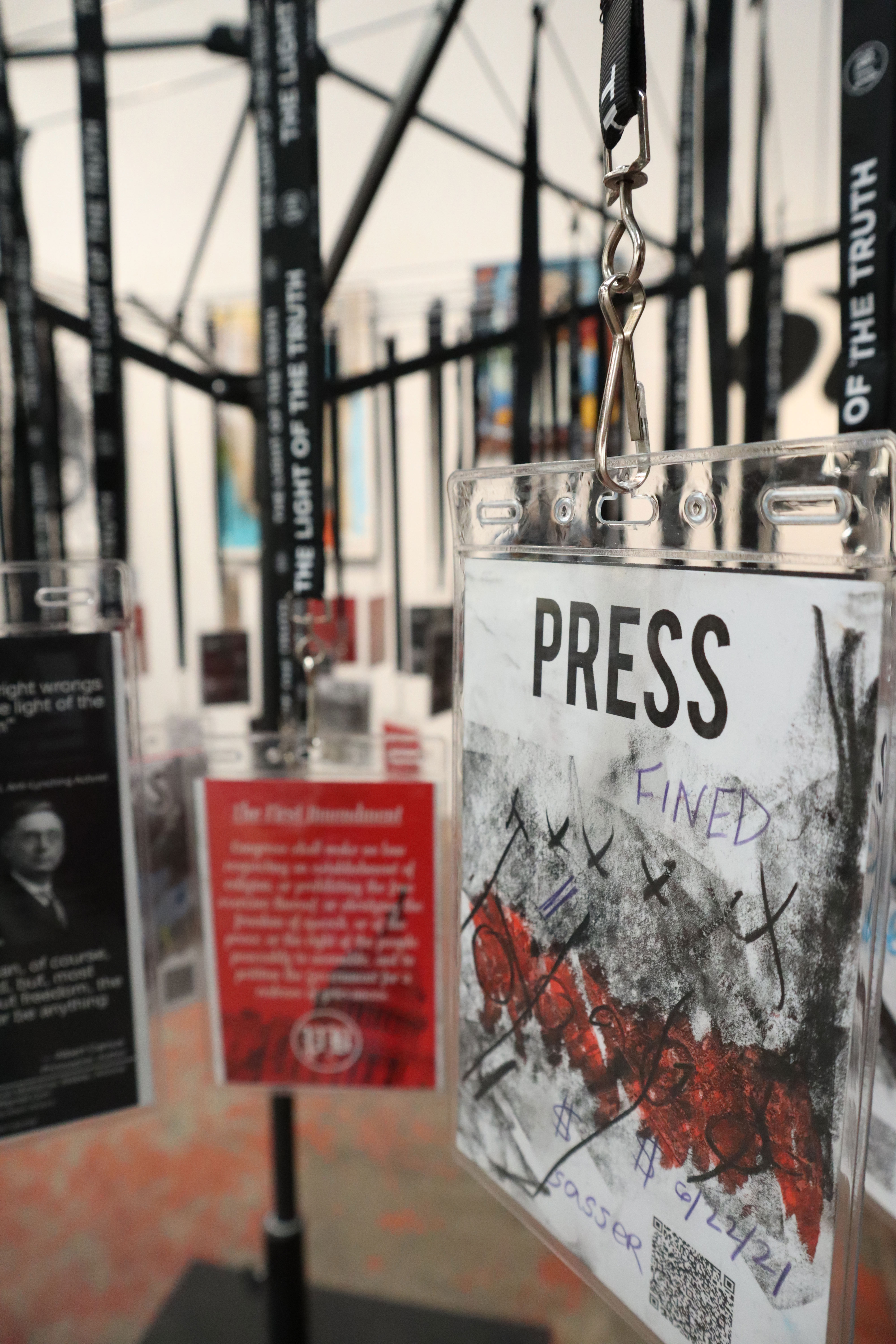 VIEW LARGER A hanging display of press badges, each drawn to portray an incident of a journalist being assaulted, is by artist Laurie McKenna. It's on display at the Bisbee Arts Commission's exhibit "For Art's Sake."
Each press badge has a QR code that takes viewers to a story about journalists who were assaulted while on the job from the beginning of the COVID-19 pandemic, through the Black Lives Matter protests to the January 6 attack on the U.S. Capital.
"It was just the perfect storm and people risked their lives to practice freedom of speech and to practice the freedom of the press," said McKenna.
Stetter said that the exhibit is only up until the end of the month of November and is open, free of charge, on Saturdays and Sundays from 10 am-5 pm. It is located at 16 Erie St. inside the Old Star Chevrolet.
"Looking at this community, it is a very diverse community," said Stetter. "I think mining towns are diverse in general. They start that way, with 16 different languages spoken in Bisbee in the turn of the last century … And I wanted to just say that this is Bisbee right now. And I know it's going to change. We're watching real estate prices change and the artists aren't going to be able to afford those prices. So, we've got to capture it now."