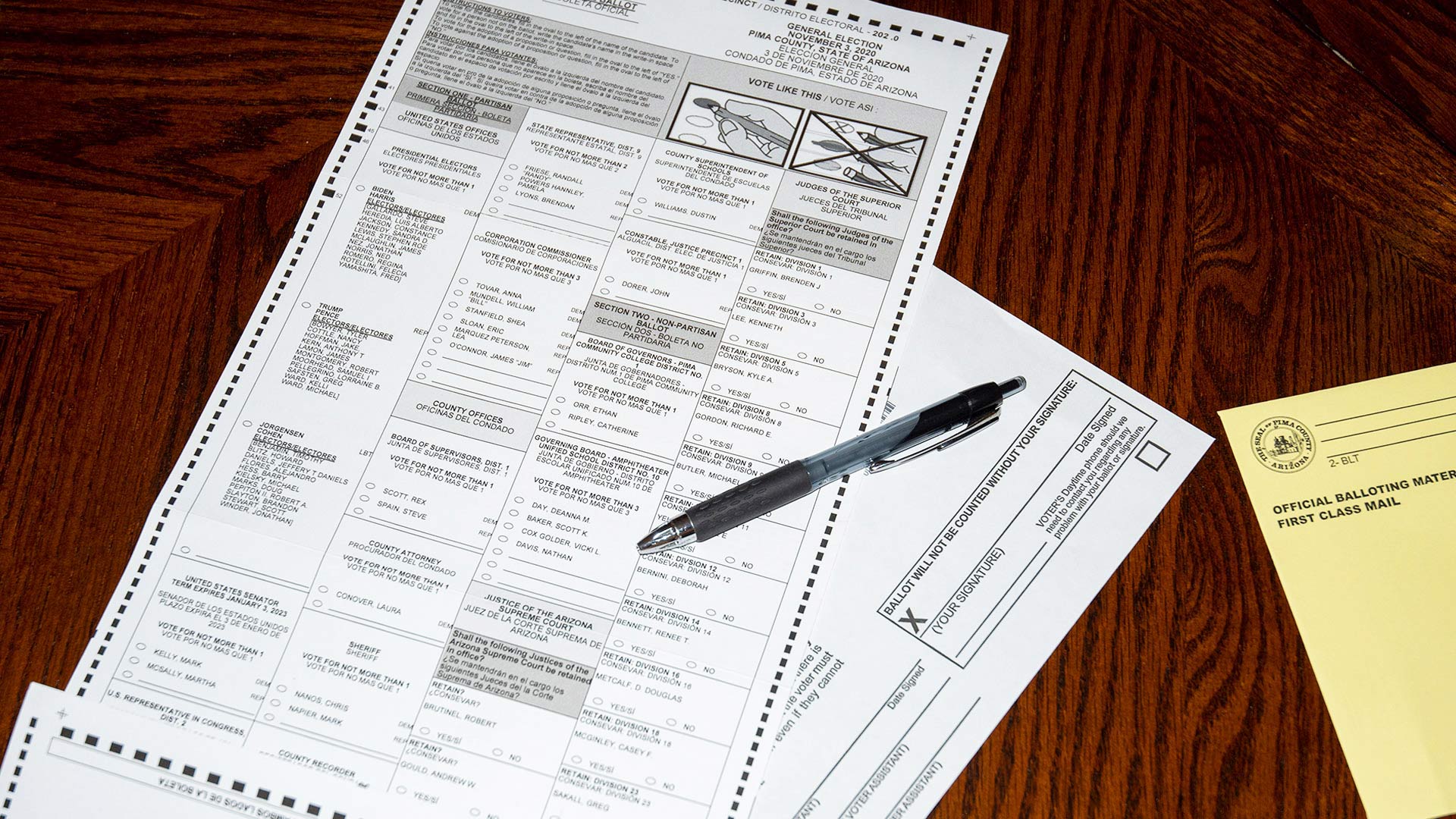 A 2020 mail-in election ballot.
CM Greer/AZPM
Political analysts say the rash of Republican party defeats in the general election show the G.O.P. has lost its grip on Arizona voters, and they place the blame squarely on former president Donald Trump.
A research group led by University of Arizona political scientist Samara Klar found Republican voting patterns that started during the summer's primary election carried strongly into last week's general election, where a list of Arizona candidates linked to Trump lost to Democrats.
Klar's team began studying Arizona Republican voters during the primary season, when Trump loyalist Kari Lake defeated rival Karen Taylor Robson in the race for the gubernatorial nomination.
"What we found was that when it was a Lake voter versus a Taylor Robson voter there was no distinction when it came to typical political variables," she said. "Their biggest distinction was how they felt about Donald Trump."
The study showed a sharp split between G.O.P. voters who liked the former President and those who didn't. Klar says the division spread to independent voters in the general election, where Lake lost to Democrat Katie Hobbs.
"So, if you can't get every single Republican on board, that's when you really need the independents," said Klar. "Unfortunately for Kari Lake most of the independents don't like Trump either."
A breakdown of 2022 election voters by the Arizona Secretary of State's office showed 33 percent of those registered identified as independent, compared to 34 percent Republicans and 30 percent Democrats.
Klar explains that before Trump's presidency, Republican politicians, including Mitt Romney and John McCain, routinely garnered 10-12 percentage point wins among Arizona voters in national elections. She says Trump gathered just 4 percent support in 2016's presidential contest and lost the state in 2020.
"Trump's influence in Arizona, if it continues, is not a good thing for the Republican party," she concluded. "It does not seem to be helping the party here."