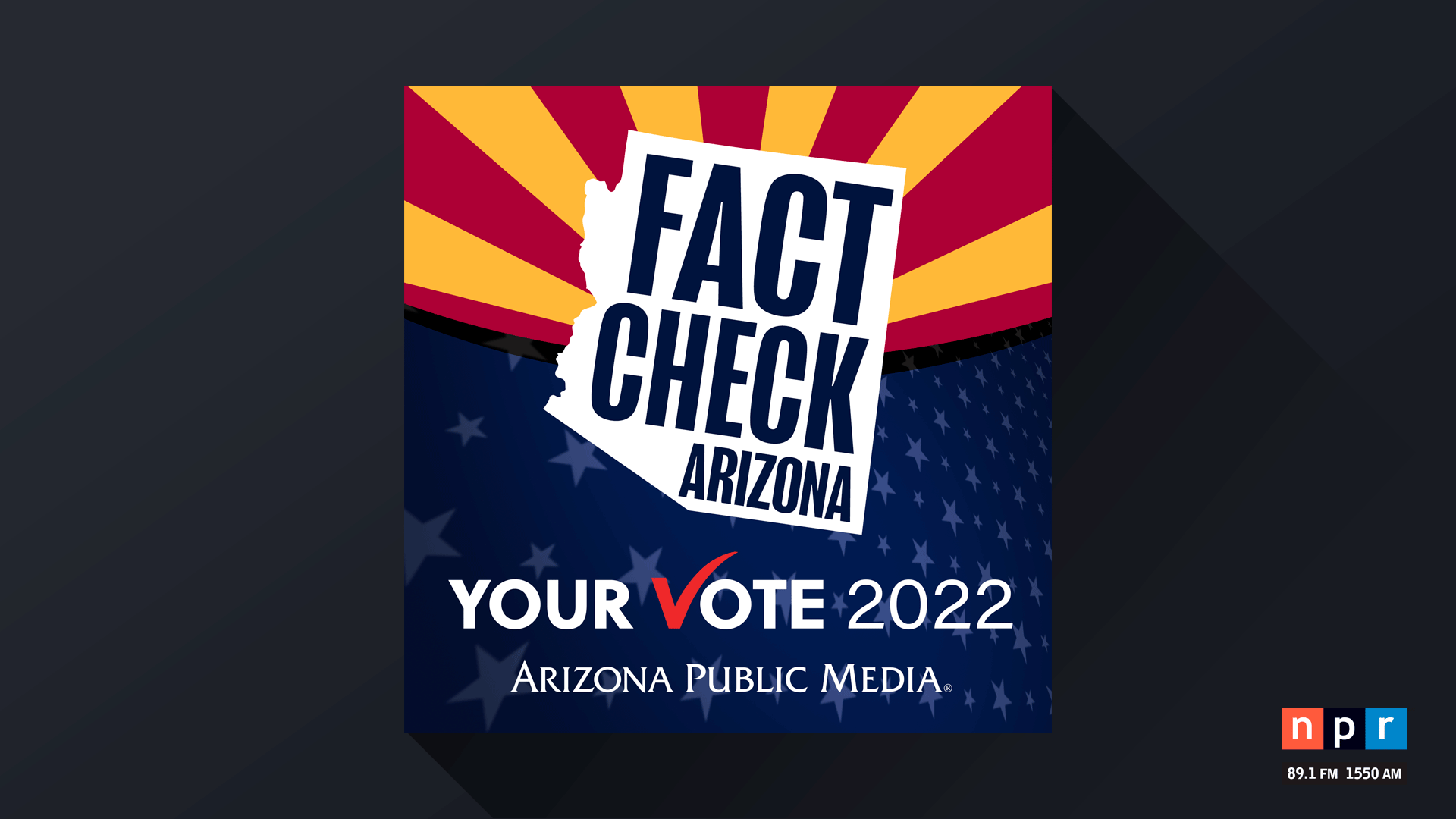 The Fact Check Arizona podcast will cover the 2022 Arizona election season.
AZPM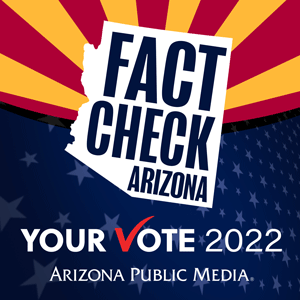 When the Supreme Court handed down its decision in Dobbs v Jackson and overturned the decades of federal precedent set by Roe v Wade, it increased the prominence of abortion in the midterm election.
With the issue returned to the state level, those seeking the offices of governor and attorney general have made it a major focus of their campaign.
The Democratic Party's nominee for governor, Katie Hobbs, has campaigned on removing the state's prohibitions on abortion, both the 15-week ban passed by the legislature in this year's session and a 1901 law that, at times, has come back into effect since June.
That law has been a part of Arizona's rules since 1864, but was codified and expanded to limit contraception in 1901, following federal legislation known as the Comstock Act.
"Abortion is a very personal decision that belongs between a woman and her doctor. The government and politicians don't belong in that decision. We need to let doctors perform the care that they are trained and take an oath to perform," Hobbs said during an appearance on CBS' Face the Nation. "I support leaving the decision between a woman and her doctor, and leaving politicians entirely out of it."
Hobbs' statement matches views expressed on her website, which has stated "the decision to have a child should rest solely between a woman and her doctor, not the government or politicians" since the early days of her campaign.
The portion of Hobbs website that states her position on abortion was edited between September 12 and September 28, according to scans by the Internet Archive.
The updates expressly mentioned her opposition to the 1901 law that would imprison any abortion provider unless the procedure is necessary to save a life.
"On day one, I will call a special session of the legislature to repeal the draconian 1901 law," Hobbs website reads.
Hobbs' opponent, Republican nominee Kari Lake, does not want this matter to stay between a woman and her doctor. "We need to draw the line somewhere," Lake said during her interview on Face the Nation. "I am going to be the executive of the state, the chief executive officer, and I will follow the law. The law right now as it stands is Governor Ducey's law of 15 weeks. I will follow the law."
So long as Lake's interview, which aired October 9, was not recorded prior to October 6, she was correct. October 6 was the day that an Arizona appeals court judge put the 1901 law on hold, which meant the more-recent 15-week ban was in effect.
Lake's website has echoed her stance since before the August primary.
"I am pro-life and believe that every life, starting at conception, is worth saving. The pro-life movement stands strongly in support of providing the resources necessary for mothers to embrace life, as do I," it reads.
Lake's website does not go as far as others, who call for strict limits on abortion. Rather, it asks that resources be in to pushes for resources that it claims would allow more people to opt to not have an abortion, including over-the-counter birth control with financial assistance for low-income people.
"In short, we must ensure that any barriers to a mother choosing life are removed. But we must also support people who choose to act responsibly when they are not ready to have a child, and that means making all common forms of birth control available over-the-counter, and providing assistance to those who are financially unable to pay for their own birth control."
The Republican running for Attorney General has a stricter stance than Lake
Abe Hamadeh espoused support for the 1901 law during the September 23 debate between himself and Democrat Kris Mayes.
""I currently agree with Gen. Brnovich's decision that the law is the law. I don't want to make the law. That's the job of the legislature. I enforce the law," he said, followed by an attack on his opponent which has been omitted from this quote. "So I understand my role as Attorney General has a limited power and limited authority."
Within a week of the Dobbs decision, Attorney General Mark Brnovich said it was his opinion that the 1901 law was enforceable, and he would prosecute abortion providers accordingly.
He won an initial court battle in a lawsuit brought by Planned Parenthood, but the law was put on hold as it awaits an appeal.
Hamadeh's view is backed by the brief statement on his website. The text has not been changed since he became a candidate, though the items on his "issues" page were reordered after the primary with "pro-life" going from first to eighth out of ten.
"I will fight to protect the rights of our children at all stages, beginning at conception, and ensure that our laws to protect life are fully implemented," it reads.
The Democratic nominee, Kris Mayes, said during the debate that Arizona's abortion laws are unenforcable because they violate the state Constitution.
"The Arizona Constitution has within it article 2 section 8, which is an express right to privacy. And when you are reading all of these laws, whether it's the 1901 law or the 15-week ban, which has no exception for rape or incest," she said, followed by an attack on his opponent which has been omitted from this quote. "But the Arizona constitution makes all of these laws unconstitutional."
Article 2 section 8 of the Arizona constitution states, "No person shall be disturbed in his private affairs, or his home invaded, without authority of law."
Mayes' website makes a similar claim, "Unlike the federal constitution, Arizona's constitution contains an express right to privacy, and I intend to fight for women and our reproductive healthcare providers."
The page was redesigned between June 14 and the primary election, adding this section.
The Private Affairs Clause, as this passage can be called, has often been construed as equivalent to the US Constitution's Fourth Amendment protection against warrantless searches.
But, a 2019 report published by both the libertarian-leaning Goldwater Institute and the Arizona Law Journal argues that is a false equivalent, and that the privacy guarantee goes further, particularly in cases of financial information.
"The historical record shows that the Private Affairs Clause was not only intended to prohibit warrantless searches or to protect homes, but was intended to bar a wide variety of intrusions into private matters," report author Timothy Sandefur wrote.
Mayes would appear to be making a similar argument for medical records.
In the race for one of Arizona's seats in the U.S. Senate, incumbent Democrat Mark Kelly is pushing to codify legal protections for abortion at the federal level.
"Well, under Roe v Wade there were protections and the restrictions that were allowed under that law," he said while defending the Women's Health Protection Act. "And late-term abortion in this country only happens when there is a serious problem, and, you know, that's what I support."
Kelly's website lists himself as a co-sponsor, and that the bill is codifying the protections that were previously granted under Roe v. Wade.
The bill prohibits limits on abortion before the point of viability unless a there is a risk to the life or health of the pregnant person.
The bill would bar practices such as requiring unnecessary tests, forcing doctors to provide information that may be inaccurate or above-necessary requirements for doctors or abortion facilities.
Some of those are protections that would limit actions states had taken that were deemed constitutional.
Kelly's opponent, Republican Blake Masters, has not been as concrete in his stance.
"I'm pro-life. I believe in limits. I think we should be more like, I don't know, how about every other civilized country in the world? Just last year, Arizona passed a law that limits abortions after 15 weeks. I support that law. That's where Arizonans find a reasonable place to draw the line. I support limits at the federal level too. Senator Lindsey Graham has proposed a 15 week bill with the common exceptions, and I support that."
According to The Center for Reproductive Rights, 60 percent of the world's nations allow abortion either on-request or for broad social or economic reasons until at least 12 weeks, including all but one European country, Canada, Australia, New Zealand, Russia, South Africa, China, India, Japan, Columbia, Argentina and others.
When it comes to abortions for any reason after 15 weeks, The New York Times reports that there are a handful of such countries, including parts of the US, Canada, China, France, Columbia, Australia, New Zealand, North Korea, Sweden, Iceland and Vietnam.
Masters has also shifted his espoused views since winning the primary. His website removed mention of support for a federal personhood law, which would recognize a fetus as a person from conception. It also removed mention of support for "Support the Pain-Capable Unborn Child Protection Act, the Born Alive Abortion Survivors Protection Act, the SAVE Moms and Babies Act, and other pro-life legislation."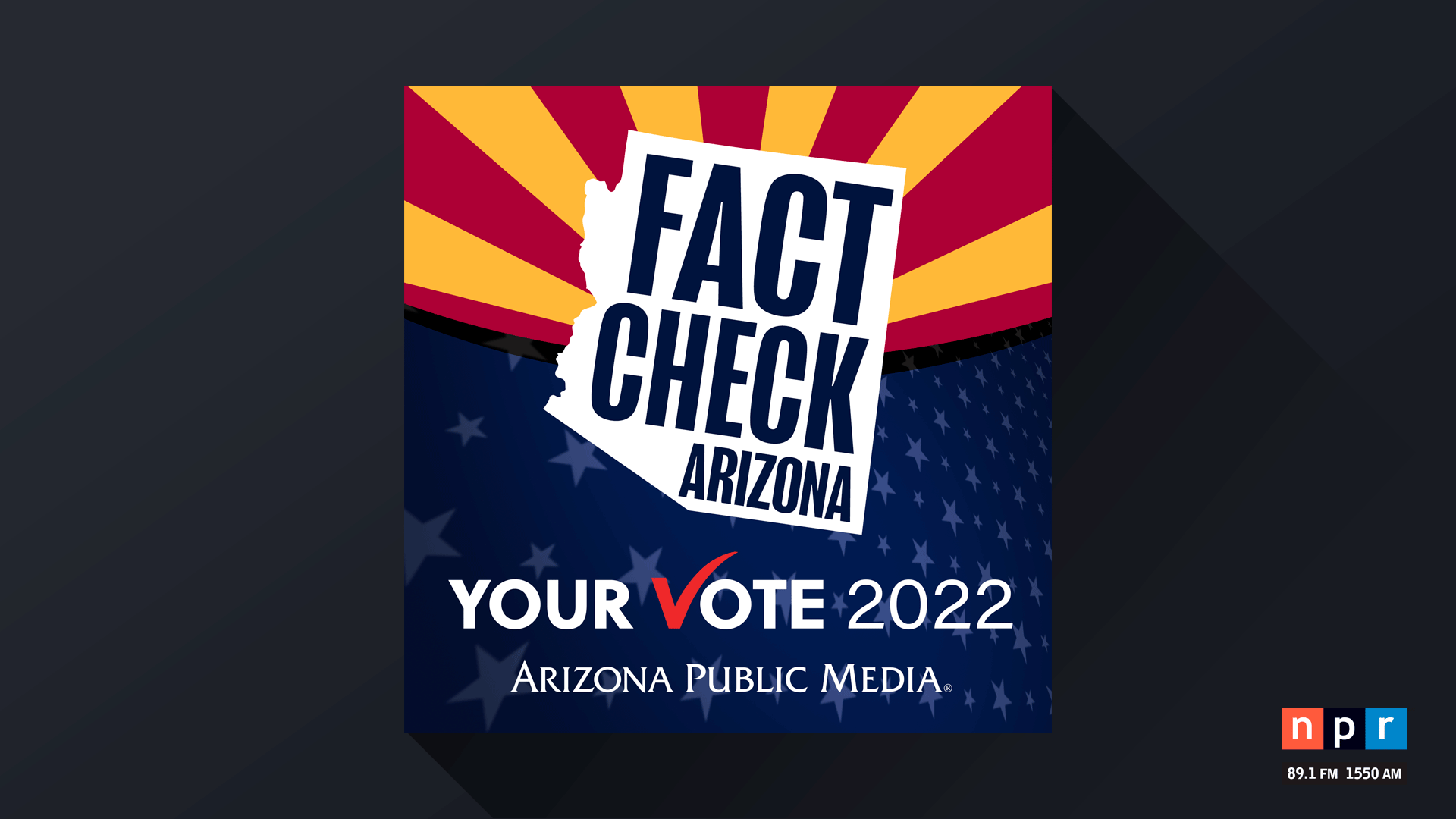 The Fact Check Arizona podcast will cover the 2022 Arizona election season.
AZPM
This was among a variety of changes that came after the primary, and changes to both Masters and Kelly's websites in the lead up to the general election will be the topic of our next episode.