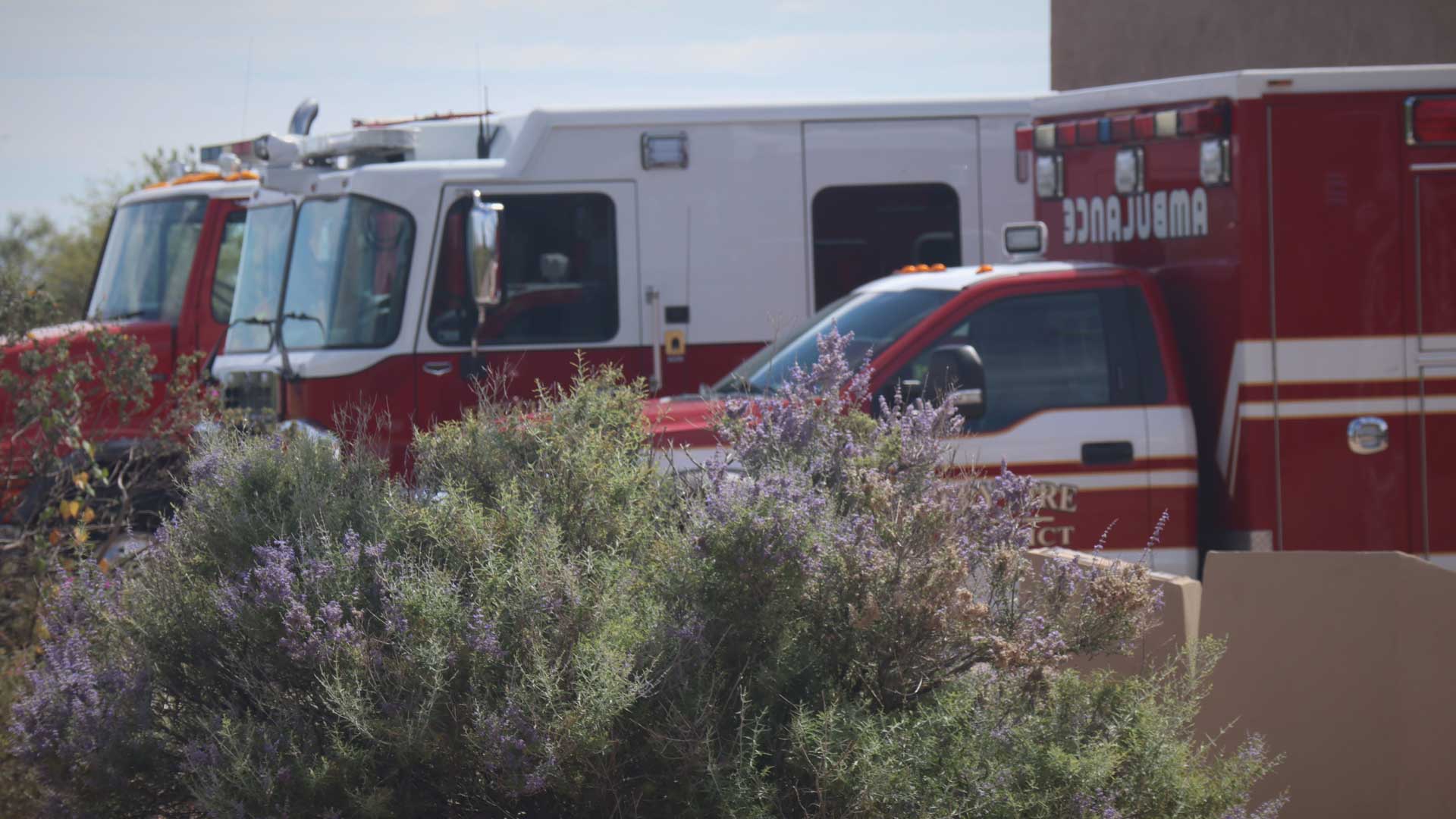 Fire trucks sit outside the Fry Fire Station in Sierra Vista, AZ. September 2022
Summer Hom, AZPM
As the economy is still licking its wounds from high inflation and the COVID-19 pandemic, so are fire stations, who are struggling to fill their trucks with qualified personnel amid a nation-wide shortage, provide their crews with up-to-date equipment and keep stations running to provide coverage to residents from the most urban to rural areas in Arizona.
That's why there's been some buzz surrounding Arizona's proposition 310, which proposes adding a 0.10% increase in sales tax for 20 years that would be funneled towards the state's fire districts. If passed by the voters in November, one penny for every $10 spent will go to the fire districts.
The proposition states that its main purpose is to help the state's 144 fire districts recover from underfunding. Considering that rural fire districts have less avenues for funding than municipal fire departments, many fire chiefs in rural Arizona have said that this proposition would bring much needed financial assistance to keep their stations open and able to serve the community.
"The problem is once they move out of a municipality, their emergency services suffer because they don't have access to the same funding streams, right?" said Fry Fire Chief Mark Savage. "Talked about the County getting Highway funding, transaction privilege tax, sales taxes, vehicle license taxes, income taxes. They have access to all of those other funding streams that fire districts are very much still in the gap on."
He said that prop. 310 will help greatly in giving his district some breathing room. Fry Fire District projects to earn about $4,571,881 from tax revenue for 2023. He said that several fire districts in Arizona are maxed out on their tax levy rates, which can't be adjusted to accommodate inflation.
"Prop. 310 would help us in a number of ways, pay down some of our debt, but also looking at finishing out our Capital Improvement Plan, making sure that the guys did need the trucks have the trucks and equipment to do the job that is still very much human-based one-on-one," said Savage.
Another avenue the proposition would assist in is staffing. Jared Haros, the president of Local 4913 representing Fry firefighters, said that it would help both in recruiting and retaining firefighters in the area.
"So, in order to maintain the people that you do have within your organization, you've got to stay competitive with your pay. With the budgets not being able to come up and it made it real hard to stay competitive and keep staffing," said Haros. "And that's a statewide wrestle and struggle that fire districts are going through. So, this prop. 310 being able to come in and allow some breathing room for not only debt reduction, Capital Improvement, keeping our trucks running appropriately, but put enough butts in those seats on the trucks for those emergencies."
It's a ripple effect across the rural fire districts. For Palominas Fire Chief Jon Buonaccorsi, the approval of prop. 310 would allow his department to replace equipment that's over its service life.
"I have a fire engine from 1996 and a 2006, and usually most fire departments try and keep him around for 10 years," said Buonaccorsi. "So I'm well over the age for some of my equipment."
It's a sentiment echoed by Bowie Fire Chief Marty Minnick.
"Our budget is not big enough for our area," said Minnick. "Right now, we're working with 1997 trucks. Our structured truck is in 1986. The newest truck we have is the 2007. But before I started with Bowie, the engine was overheated too many times, so the engine is no good. So I need to get it rebuilt and that's $20,000. We don't have that in our budget."
Buonaccorsi said that Palominas Fire District brings home about $1,071,000 in property taxes, of which, $960,000 goes to personnel costs.
"So, it doesn't leave a whole lot to be able to run the district with," he said.
However, this proposition isn't without its critics. One critic is the Arizona Free Enterprise Club, a nonprofit political think tank that prioritizes lowering taxes and limited government. On their website, they openly state that they are against Prop. 310 because it adds another sales tax; additionally, they claim fire districts have "recklessly and wastefully spent taxpayer money." Arizona Public Media reached out multiple times to Arizona Free Enterprise Club for comment, but they did not respond.
Savage says in the meantime, he has tried to make due by seeking non-tax-related revenue sources to maintain his fire district. However, he says that it's still insufficient.
"We've actually shifted the non-tax revenue portion of our budget — we've increased that from 28 percent to 35 percent, which brings a related reduction in per capita, reliance on property taxes," Savage said. "So we're trying to reduce the burden on property taxes where we can when we can, but that said it's still not enough …
"It's really, basically, unallowed increase in the private property tax to account for a rolling reduction in the corporate taxes," he continued. "So we still have to generate the same revenue to balance our budget, but over the next couple of years, that burden is going to continue to shift to property owners in our district."
For now, it's the bonds and consolation of resources across districts that are keeping districts afloat. As Bowie Fire Chief Marty Minnick describes it "We consider everybody in Arizona, as family, as firefighters. You have to understand that smaller departments need help. Bigger departments, if they can spare people, they'll send them. It's just the way, the way everything has been nowadays because everybody is so short-handed because, for some reason, nobody wants to be a firefighter or police officer or corrections officer. It's hard to find people. That's why we all have to work together. That's why we consider each other brothers. Family. Brothers and sisters."
As November comes closer, Arizona voters will have an important question to answer; to add, or not to add an additional tax to fund those who protect and respond to the flames and medical emergencies in our communities.