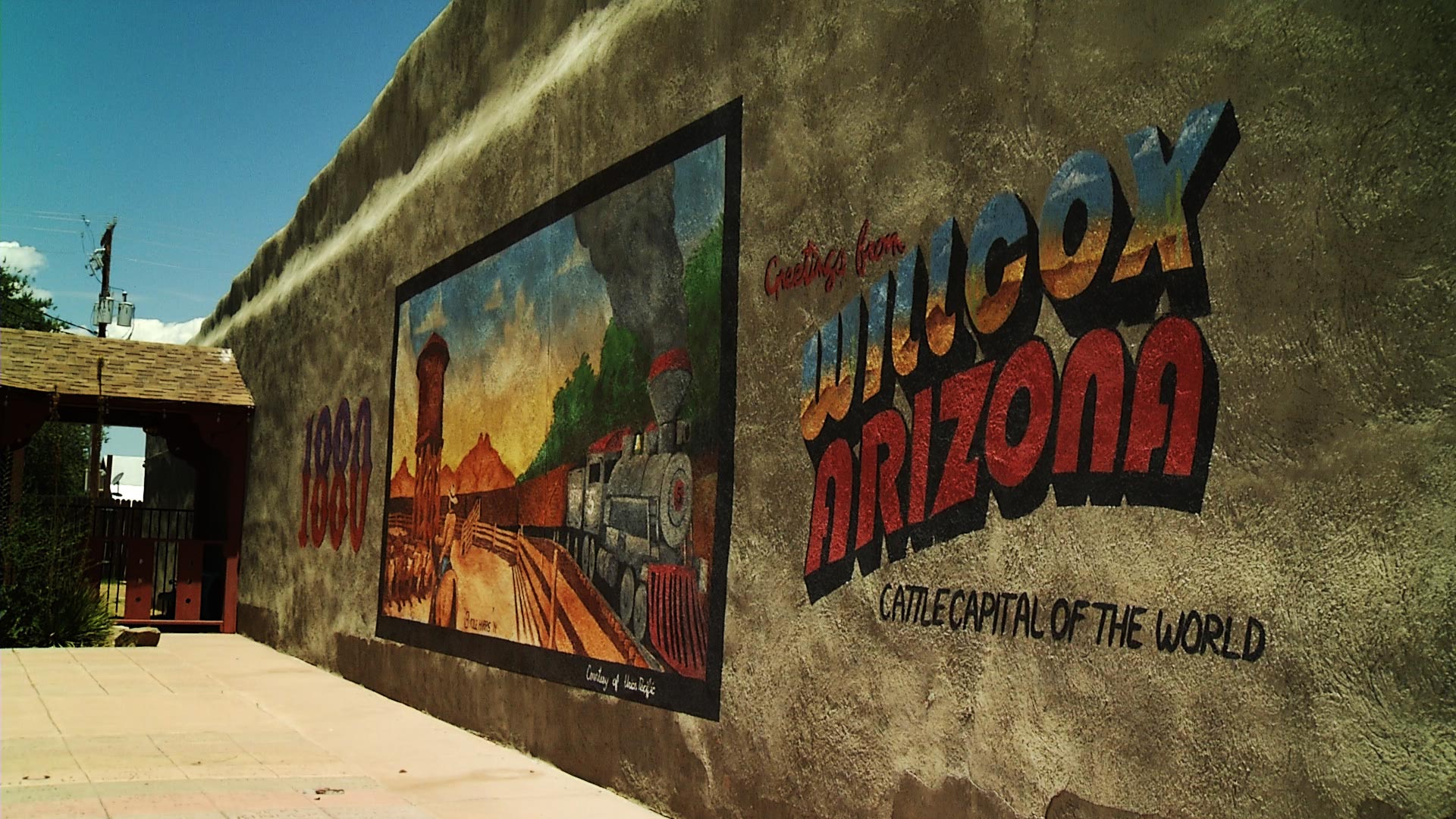 A mural welcoming visitors to Willcox is located across the street from the city's Historic Railroad Avenue Park.
AZPM Staff
"It doesn't have to be fun to be fun."
Those are the words of Willcox's Matt Peterson, a local cyclist. As described by family and riders alike, his kind soul, giving nature, and fierce determination left a significant impact on the community — a force that left this earth all too soon with his death from a bike accident at age 29 in California.
For the past 10 years, Melinda Nash — Matt's sister — and Betty Peterson — Matt's mother — have honored him with the annual Willcox Flyer Bike Ride, which is taking place on September 3 in Willcox, AZ.
The ride memorializes Matt's love for the sport and raises money for Betty Peterson's scholarship program Small Town, Big Dreams — which offers scholarships to Willcox High School students to attend university or trade schools.
"Honestly, he was like my best friend," said Nash, Matt's younger sister. "I always think of it as you go for a job interview and the first person you call when you get in the car — it would have been my brother to talk about the interview or, you know, just the person in your life who you bounce ideas off of and it helps you grow and think some new things and he was definitely a huge source of — I don't know — support, inspiration for me. And I guess he still is in a lot of ways."
Matt showed the strength of his character early on when he was hit by a car when he was in 9th grade and was left with a tumor in his neck.
"He was hit by a car and when they did x-rays on his legs, they discovered some areas that weren't quite right and then he developed a tumor in his neck when he was going into High School, 9th grade, and he was out of school most of the first semester having surgery and then, the comeback from it," said Peterson. "And so he had gained all this weight, I mean, he was on heavy doses of prednisone and he had to go through chemotherapy. So he gained maybe 50 pounds and he was so uncomfortable."
It was through seeing a local group of cyclists that Matt found respite and relief.
"They were people, [aged] 45 to 60 that were riding," said Peterson. "He says 'I'd like to ride' … He got a bike and they just loved that they had this kid riding with them and he could for their skill, he could make up with age, and he just developed a real love of riding."
"He's a big guy, but he wasn't a super athlete," Peterson continued. "He's a little uncoordinated, a little this and that. It took him a long time to become a good athlete."
Matt was a graduate of Willcox High School in 1996; he graduated from the University of Arizona with a degree in family and consumer resources in 2000.
Peterson said that Matt took a brief break from cycling throughout college, but picked it back up after graduation while working for Walmart.com in Brisbane, CA.
"He joined a club called 'The Roaring Mouse' and the mouse is the computer mouse," said Peterson with a chuckle. "It was all these desk jockeys that were riding for fun. They started out with 5 or 6 people, and Matt was a real 'Yeah. Come with us.' And he was a real includer, you know, Before long, they had 50 people in their riding club."
"And they'd go to races, but he'd never win or anything," Peterson continued. "And the week before he was killed, there was a criterium race which is where they raised on a course, usually in town and he, out of 143 people in his category, he won and he won by a 'flyer lap' — which was when you go around one extra time and it was amazing."
Hence, Matt's nickname the "Last Lap Flyer" was born.
A generous soul, Matt offered a helping hand frequently. His mother recalled a memory that his girlfriend told her of Matt giving a homeless man a blanket and a pair of shoes.
Matt also trained with fellow cyclist Kristy Gough; Gough was training for the 2008 Olympic trials. It was on that day just outside of Cupertino, California that a Santa Clara County sheriff's deputy accidentally struck Matt and Gough — killing Matt instantly and Gough died in the helicopter on the way to the hospital.
"They were in the bike lane, they were doing everything the way they needed to be doing it and the car came down the road with the driver sleeping and hit all three of them and it killed Matt instantly," said Peterson. "And the thing is it's a big bicycling community in San Francisco and this was an accident that never should have happened because it was a sheriff's officer that hit them and the sheriff's officer was asleep at the wheel."
Since then, his family has hosted the bike ride annually in his memory, with riders coming from Arizona and out of state to relish the post-monsoon scenery of the route through Dos Cabezas Mountains to the entrance of the Chiricahua National Monument. But both Nash and Peterson say that the ride and the scholarship have become bigger than Matt.
[10:33-11:00] "It has — In my opinion — it's bigger than him and bigger than Matt and it is about the community in Willcox," said Nash. "You know, it's gotten to the point where my husband and I can't do this whole thing by ourselves. I mean, we really do rely on the community. And every year I'm reminded that, you know, just how amazing it is to have people in your life who show up for you and, you know, wake up at 4:00 in the morning to come down to the park and set things up and you know, make sure that it all happens."
Peterson said that her inspiration for the scholarship was found while working as an English teacher at Willcox High School.
"There were three or four girls that were just so talented and so smart," said Peterson. "And, you know, they wanted to go to college and only one of them made it to college … The third one, she didn't go to college and because, you know, her family didn't want to send her someplace and couldn't afford to send her someplace."
"So she came back and she worked at the elementary school as an aide and then eventually got her degree when she was 35 years old," Peterson continued. "And she worked from the time she was maybe 20 to 35, at a lower paying job … So I just looked at that and I just dwelt on that idea that you know, it's too bad, she couldn't go, she knew what she wanted to do, it's too bad she couldn't do it in that little brief period of time when kids try to figure out what they're going to do."
Peterson said that the purpose of the scholarships is to supplement the costs of going to school, not fully cover the expenses.
Moving forward, both Nash and Peterson hope to continue giving back to the community, continuing Matt's legacy, generosity, and kindness.
"He knew what it was to be on the hurting end," said Peterson.
To register for the Willcox Flyer, click here. To learn more about Small Town, Big Dreams, visit www.smalltownbigdreams.org.