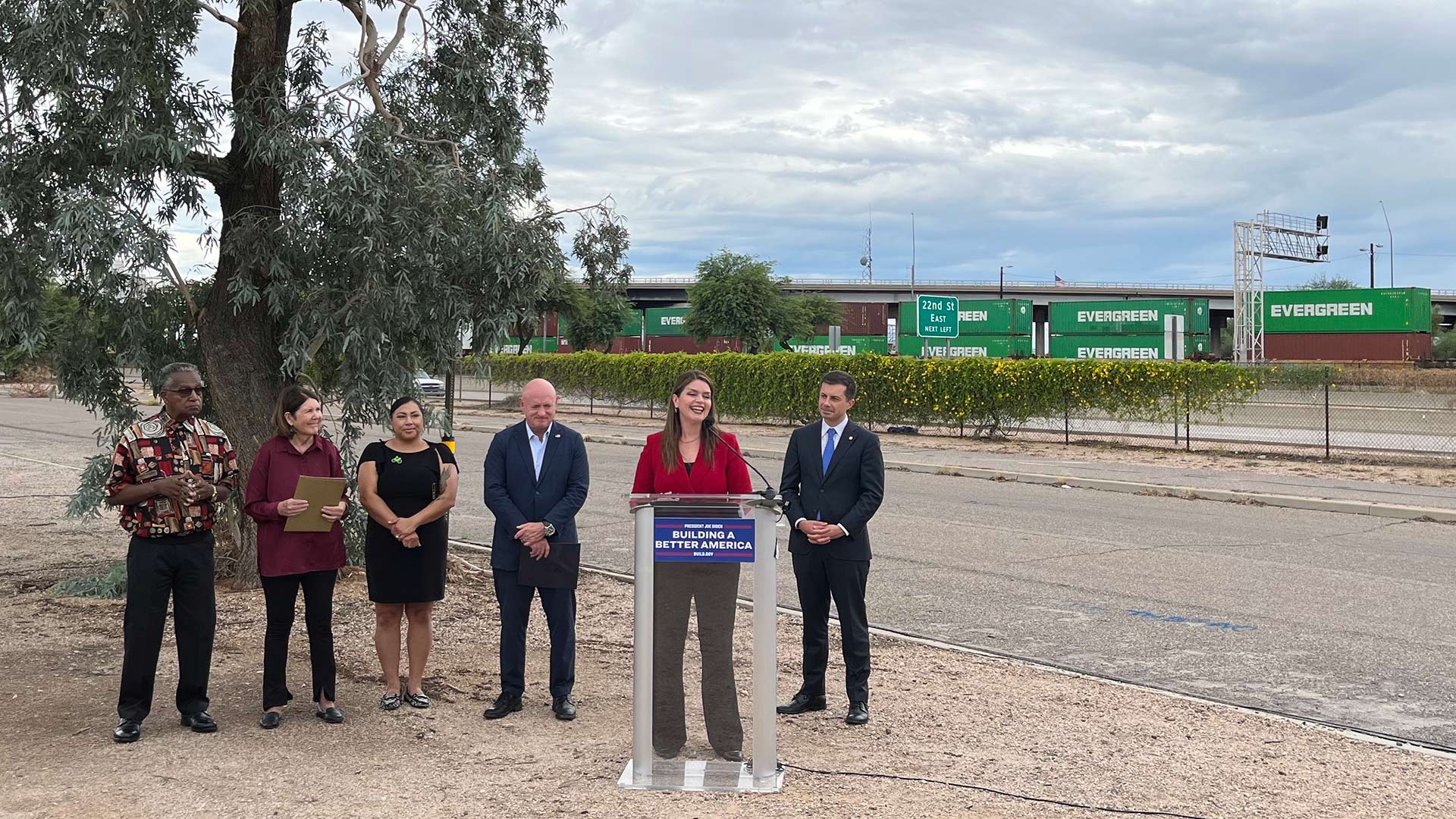 Tucson Mayor Regina Romero and Transportation Secretary Pete Buttigieg, right, discuss plans to replace the 22nd Street Bridge at a press conference August 11, 2022.
Andrew Oxford/AZPM
Transportation Secretary Pete Buttigieg announced in a visit to Tucson on Thursday that the federal government will put $25 million into rebuilding the 22nd Street Bridge.
Spanning railroad tracks between South Kino Parkway and Tucson Boulevard, the bridge does not so much connect the city as it creates a barrier for some Tucsonans.
Built in the 1960s, heavier vehicles have been barred from using it since 2005.
SunTran bus routes do not go over the bridge. School buses and larger emergency vehicles do not use it either, finding longer routes rather than traveling straight east or west along 22nd Street.
Vanessa Gallego, with the advocacy group FUGA Tucson, says the trucks from her family's business have to take a detour around it, wasting time.
And she says the bridge is not much better for pedestrians or cyclists.
"I've ridden the bridge on my bike and it's not very friendly going up. Going down, it's so scary — just the hill. But you see people using that bridge every single day because they have to," she said.
Buttigieg met with Gallegos and local leaders beside the bridge to tout the new funding for a long-discussed plan to rebuild it, with construction slated to begin in 2023.
The plan calls for widening the bridge from two lanes in each direction to three lanes.
The current limits will be scrapped, allowing buses, heavier trucks and emergency vehicles to use the bridge.
There will be a separate bridge for pedestrians and cyclists.
And Buttigieg argued all of this will improve safety on the busy street, noting there have been 114 collisions here in the last five years.
"You look at the statistics in this area leading up to now and clearly something has to be done. When you have those better design features and a better way for pedestrians and bicyclists to move across, that in my view is going to save lives," he said.
The U.S. Department of Transportation said the project could also help the nation's supply chain at a time when it is stretched.
The project will allow expanded freight railroad service under 22nd Street, removing a bottleneck and potentially reducing shipping costs, the department said.
The project is partly funded under a provision of the Infrastructure Investment and Jobs Act passed last year aimed at funding initiatives that not only improve transportation but also provide more transportation options to historically disadvantaged areas.
Mayor Regina Romero said improving the bridge will remove a barrier between neighborhoods.
"This investment will help us to improve the quality of life for Tucson residents who have lived with safety risks, heavy trucks through their neighborhoods, few options for non motorized travel and separation from them and the University of Arizona and downtown Tucson," she said.