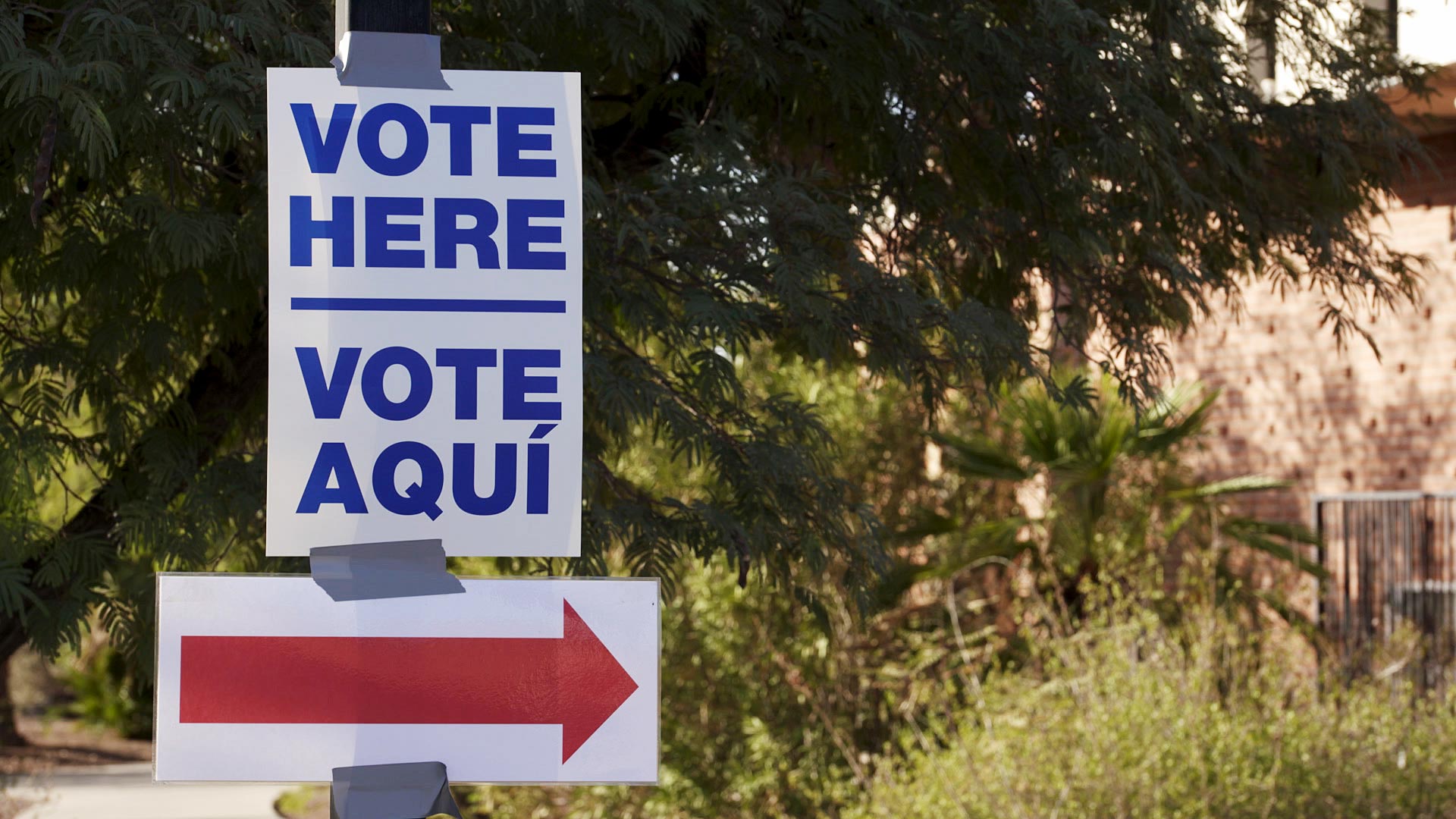 A sign directs voters to a polling site set up at Temple Emanu-El in Tucson on Nov. 3, 2020.
John DeSoto/AZPM Staff
The race for the Republican gubernatorial primary was the closest marquee race in this year's primary. On Thursday night, the race was called for Kari Lake who opened up a lead of 2.8 points over Karrin Taylor Robson.
Lake, like many of the GOP winners on Tuesday, has the backing of former President Trump. But Dan Shearer, Editor of the Green Valley News, said reading into the wins by Trump-backed candidates could be premature.
"I'm not so sure that this is a bellwether on whether this is Trump country or not. Obviously, there was some success there but we really have to wait until the general (election) to see if those candidates get all the way through," Shearer said.
When it comes to the wins by the Trump-backed candidates, Dylan Smith, Editor and Publisher of The Tucson Sentinel, said there are two ways to look at the wins. First, is that Trump still has a hold on a large portion of the Republican base.
But Smith said there were also non-MAGA candidates who did well in the Republican primary.
"So, there are Republicans out there who are not completely bought into Trumpism right now. Which maybe gives us something to think about how well Trump and his candidates, his movement you could say, will play in the general election," Smith said.
Trump will be an issue in the November election, but candidates will also try to put at least some of the focus on other topics.
AZPM's Summer Hom spoke with the chair of the Cochise County Democratic Party who said education is at the top of the list.
"Making sure that our schools are funded, making sure that our schools have the resources that they need to be able to educate our students is one of the major concerns across the board in our county," said Elisabeth Tyndall, chair of the Cochise County Democratic Party.
The Cochise County Republican Party turned down our interview requests.
Election watchers will tell you that primary voters tend to favor more extreme candidates. Chuck Coughlin, a longtime Republican strategist in Arizona said on Arizona Horizon that means the Republicans will have to use a different tactic for the general election.
"The Republicans are going to tie everybody to Joe Biden, tie everybody to the recession, and tie everybody to the inflationary factor and try and make that ticket so unappealing that they will get a chance to win through negativity drive turnout down and make them an unattractive choice," said Coughlin, President and CEO of Highground Consulting.
Leading up to Tuesday's primary, Dr. Samara Klar and a team of researchers surveyed 1,000 primary voters in Arizona.
The Associate Professor in the University of Arizona's School of Government and Public Policy found that primary voters don't like where their parties are going, despite usually electing the more extreme candidates.
"Almost a third of Arizona Republicans, who participated in the primary, say that the state Republican party is too conservative. And that is of course a minority, it is only a third, but to see that among primary voters is pretty striking to us since one can pretty safely assume that they would be more conservative than the general electorate. Now, Democrats as well show a little bit of that but what's interesting is that Arizona Democrats also say that their own party is too conservative," Klar said.
For full results from the primary election, visit AZPM's election page.