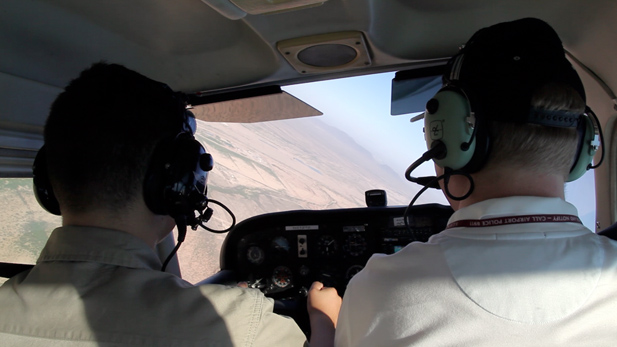 Noah Smith, 14, flying for the second time during AeroCamp with Tim Swindle, pilot instructor as co-pilot.
A small group of middle-schoolers in Tucson is learning how to fly planes this summer as part of a summer flight camp at Double Eagle Aviation.
Tim Amalong, owner and CEO of Double Eagle Aviation has been training private and commercial pilots for years. This summer, he's training teens and pre-teens instead.

"There's a real shortage of pilots out there in the industry," Amalong says. Not because there's a lack of interest in the profession but because airlines are now using more efficient planes instead of larger planes, "so there are more planes flying now which requires more pilots, more crew members, more mechanics, and more air traffic controllers. So I want to show these kids what opportunities are out there."
Noah Smith, 14, flew a plane for the first time at Aero Camp and says he wants to get his pilot's license so he can fly private planes when he gets older.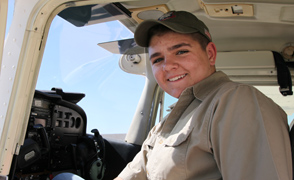 Noah Smith, 14, on his last day at Aero Camp. (PHOTO: Fernanda Echavarri)
Mckenzie Harrison, 13, was also at the camp and says she wants to be a cardiologist, "so I'm not sure how I'll use this, but I want to learn how to fly a plane."
During the week-long camp, Smith has learned about what it takes to fly a plane.
"You have to be alert to fly," he said. "You're looking at all the controls, you're talking to the control tower, you're flying the plane, you're looking out for other planes--it's a very complex thing."