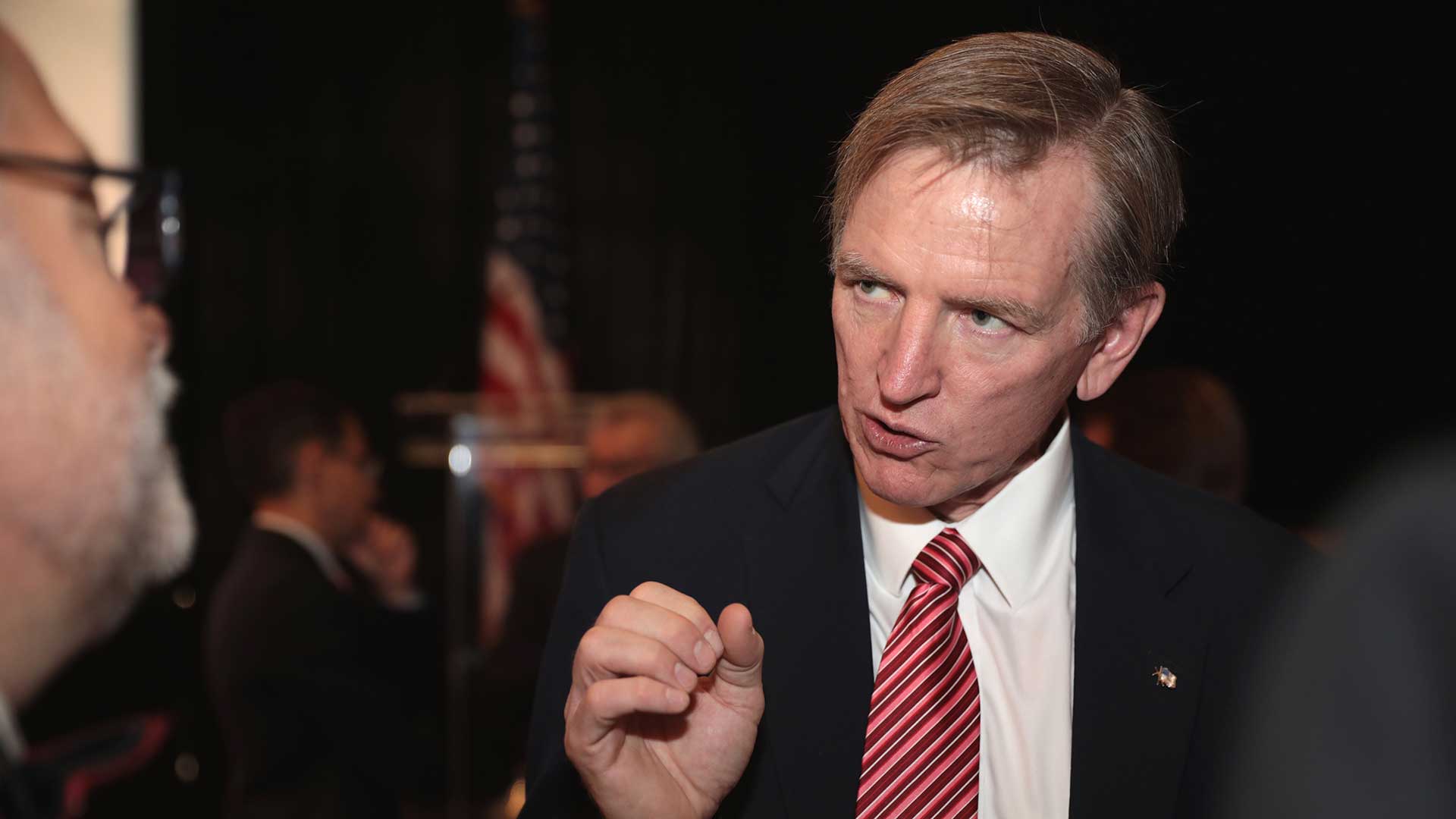 U.S. Congressman Paul Gosar in Phoenix, Arizona, Oct. 3, 2019.
Gage Skidmore/Flickr (CC BY-SA 2.0)
The Arizona Supreme Court will allow three Republican lawmakers to stay on the ballot after opponents argued they should be disqualified because they participated in or helped organize the January 6, 2021 rally in Washington, D.C. that ended with an attack on the U.S. Capitol.
The group Free Speech for People argued Congressmen Paul Gosar and Andy Biggs as well as state Rep. Mark Finchem should be barred from the ballot under a Civil War-era provision of the U.S. Constitution that says any public official who participates in an insurrection cannot hold office.
But the court said that while the lawsuits were filed under a state law for challenging candidates' qualifications, that law does not allow challenges under Section 3 of the 14th Amendment. Instead, the court said the Constitution appears to give Congress the exclusive authority to enforce that provision.
The lawsuits claim Gosar, Biggs and Finchem either helped plan the attack or helped to plan the rally and march before the attack on the Capitol with knowledge that it was likely to lead to violence.
The three lawmakers have denied wrongdoing and Maricopa County Superior Court Judge Christopher Coury threw out the lawsuits last month, writing that he did not have the authority in these circumstances to enforce the 19th century constitutional provision that was originally designed to keep Confederate leaders out of government.
Free Speech for People appealed but the court's decision Monday upholds Coury's ruling.
The court did not address the allegations about the lawmakers' actions on January 6, 2021.
The decision was signed by Chief Justice Robert Brutinel, who was appointed by former Republican Gov. Jan Brewer. He wrote that Justice Clint Bolick did not participate in determining the outcome of the case. Bolick's wife, state Rep. Shawnna Bolick, is also running for secretary of state.
Free Speech for People has pursued similar cases against other prominent Republicans around the country, including U.S. Reps. Madison Cawthorn and Marjorie Taylor Greene.
An administrative law judge in Georgia rejected the group's challenge against Taylor Greene's candidacy on Friday.

Meanwhile, the Select Committee to Investigate the January 6th Attack on the U.S. Capitol has demanded information from Biggs and Finchem in recent months.
The committee said far-right activist Ali Alexander credits Biggs and two other members of Congress with the idea to bring protestors to Washington, D.C. on January 6, 2021 for the count of electoral votes.
Finchem was in direct contact with Alexander that day. And the committee said Finchem claimed to have evidence to deliver to then-Vice President Mike Pence in an effort to postpone the awarding of presidential electors.
Decision order in Hansen v Finchem

View at Google Docs
|

Download File