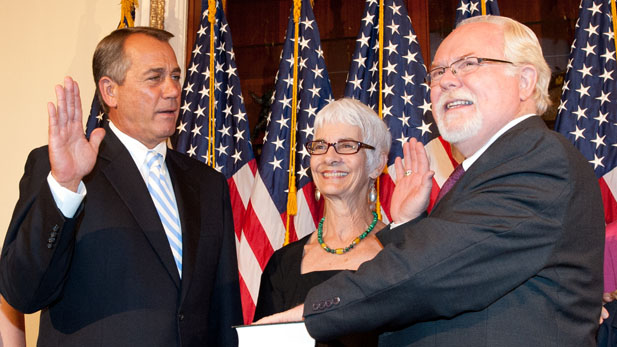 House Speaker John Boehner (R-Ohio) swears in Ron Barber (D-Arizona) June 19, 2012. Barber's wife, Nancy, joined them for the ceremony. (PHOTO: Office of Congressman Ron Barber)
Ron Barber was sworn in as the newest member of Congress this morning.
The swearing-in took place at the U.S. Capitol just before 11 a.m. Tucson time. It was broadcast on C-SPAN, available on most cable television systems.
Barber's family attended the swearing-in, and his grandchildren sat alongside him on the House floor. Barber spoke briefly, thanking them, his fellow legislators, House Speaker John Boehner, and his former boss, Gabrielle Giffords.
"Gabby, Southern Arizona misses you, and we can't wait for you to come home," he said to Giffords, whose district office he directed throughout her time in Congress.
Barber was elected last week in a special ballot to fill the Congressional District 8 seat vacated in January by Giffords, who resigned to continue her recovery from a gunshot wound to the head sustained during the Tucson shooting rampage on January 8, 2011.
Barber was wounded in the shooting, too.
He won last week's special election with 52 percent of the vote to slightly more than 45 percent for Republican Jesse Kelly.
The term runs until January 2013. Barber has announced he will seek a full term in this fall's election for the reconfigured district, which will be known as Congressional District 2. Republican Martha McSally and Democratic state Rep. Matt Heinz also have filed their candidacies for the seat.