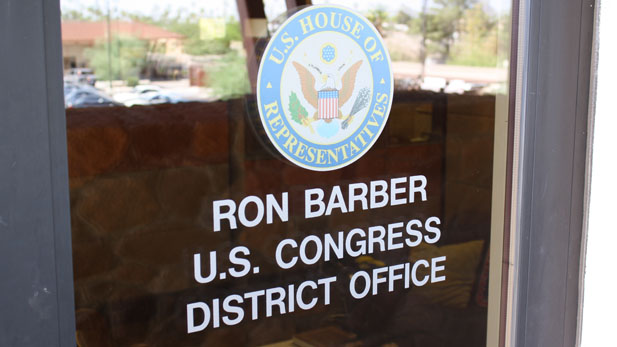 The front door to the Congressional District 8 office in Tucson reflects Democrat Ron Barber's victory two days after the special election to fill the vacant seat in Congress. (PHOTO: Office of Congressman Ron Barber)
Just two days after winning the race to represent Congressional District 8 through the end of the year, Democrat Ron Barber is opening his congressional offices.
His former boss, Gabrielle Giffords, had two district offices, one in Sierra Vista and one in Tucson, and Barber is doing the same. In fact, he's even operating out of the same office locations that district constituents may be used to.
The Tucson office is near the corner of North Alvernon Way and East Fort Lowell Road, at 3945 E. Fort Lowell Road. The Sierra Vista office is at 77 Calle Portal.
Barber hired Jennifer Cox as his chief of staff. That position is based in Washington, D.C. Cox formerly served as deputy district director for Congresswoman Gabrielle Giffords. Barber says he plans to interview and hire a district director soon. That's the position he held for five years in Giffords' office. The job is to run the local offices.
Barber is up for reelection Aug. 28 and will face a primary with Democratic state Rep. Matt Heinz. Heinz dropped out of the race for Congressional District 8 this spring after Barber announced his candidacy, but Heinz said he still plans to run for a two-year term this fall.
On the Republican side, Martha McSally is running in the fall race to represent the district. The new district is called Congressional District 2, and is similar to Congressional District 8 but more competitive in voter registration. Congressional District 8 had a slight advantage for Republican candidates, based on voter registration.
Barber beat Republican Jesse Kelly in the Tuesday election to fill the vacancy in CD8. Kelly announced today he will not seek election in CD2 this fall.