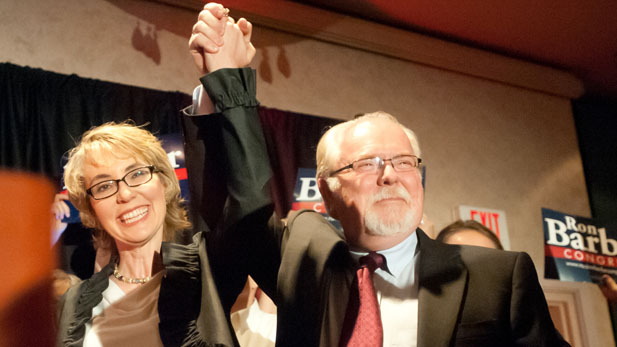 Democrat Ron Barber celebrates his win in Congressional District 8 with his former boss, Gabrielle Giffords. (PHOTO: Will Seberger/pool/ZUMA)
Democrat Ron Barber won the special election to replace his former boss, Gabrielle Giffords, in Congressional District 8 Tuesday, cruising to a 7-point margin over Republican and Tea Party favorite Jesse Kelly.
Kelly called Barber to concede shortly after 9 p.m. At that stage, Barber held a 14,000-vote lead, with 86 percent of precincts and most early votes counted.
"I never thought I would run for office," Barber told cheering supporters at the Marriott University Park. "We will begin work Wednesday morning to create an economy where our kids and grandkids can thrive."
He made reference to the tone of the campaign, saying, "I say and we say no to extreme politics and yes to working across party lines."
Then he turned to Giffords, who gave him a kiss.
"Gabby is my friend and an inspiration to all of us," he said as the crowd began chanting, "Gabby! Gabby!"
Christopher Conover gives us a story from the field about the competitive and high-profile race in Congressional District 8 to replace former representative Gabrielle Giffords. (VIDEO: AZPM)
Barber was district office director for Giffords during her entire five years in Congress. He was with her when she was shot through the head Jan. 8, 2011 as she conducted a meeting with constituents. Barber was hit, too, suffering life-threatening bullet wounds. Six were killed and 11 others wounded.
Giffords resigned from Congress in January, saying she had to focus full-time on her recovery. She urged Barber to run as her replacement.
The Arizona Republican Party picked up on the emotional connection in Kelly's defeat, issuing a statement shortly after Barber was declared the victor.
"Tonight's result in Southern Arizona's CD-8 Special Election unnervingly proves that some political races are less about issues and leadership and more about emotions and personalities," the statement said. It came from Shane Wikfors, communications director for the state GOP.
Early voting was decisive in the race, with more than 130,000 voters turning in their ballots before Tuesday's polling. On that basis, Barber took a lead that he never relinquished during the evening's vote count.
Turnout was unusually heavy for a special election and was expected to finish near 50 percent of the district's 414,000 registered voters. Republicans held a slight edge in voter registration.
The campaign saw both major candidates stake out ground on what to do about the nation's beleaguered economy and the government entitlements of Social Security and Medicare as they sought to take over for Giffords.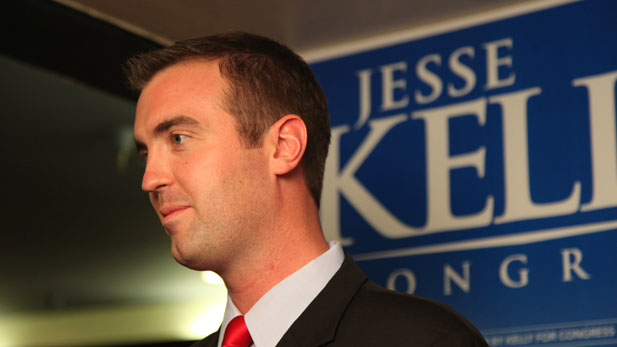 After conceding the special election in Congressional District 8 to Democrat Ron Barber, Republican Jesse Kelly thanks God, his family and his supporters. (PHOTO: Andrea Kelly)
Kelly, who lost the CD8 race to Giffords by 4,000 votes in 2010, said he wants to see current retirees continue on their Social Security and Medicare benefits as now designated but prefers seeing future generations be given choices, including going private with their retirement nest eggs and health care.
Barber said he will protect retirement benefits.
Kelly said he was happy with his campaign, and wouldn't have changed anything.
"I wouldn't have done a thing differently, obviously perfection is something that escapes us all, definitely me. But we came into this race with a plan, we executed the plan," Kelly said. "We are blessed to live in a country where voters get exactly what they want."
He said he called Barber to concede when it became clear he would not make up the votes.
The two clashed on what both had said about such benefits in the past, with Barber at one point accusing Kelly of flipping his position from one of eliminating or totally privatizing the programs, and Kelly at one point in an Arizona Public Media forum calling Barber a liar.
Kelly also pounded away at President Obama's economic record and tried to tie Barber to it by saying he would be a rubber stamp for the president and for House Minority Leader Nancy Pelosi. The Republican also said he wanted to see job growth in the country through energy independence by tapping U.S. oil reserves, which he claimed surpass those in the Middle East.
Barber continuously called for policies that will strengthen the middle class through job creation and the development of alternative energy sources.
Both claimed the argument that the U.S.-Mexican border needs to be made secure for those living along it. The district borders Mexico from eastern Santa Cruz County to the New Mexico line, a mostly rural stretch that has seen illegal immigrant and drug smuggling and violence, including the shooting death of a Cochise County rancher whose killing has been blamed on an as-yet unidentified illegal immigrant.
CD8 covers the eastern half of Tucson and eastern Pima County, part of southern Pinal County, the eastern part of Santa Cruz County and all of Cochise County.
Green Party candidate Charlie Manolakis was also on the ballot, receiving 4,385 votes, or 2.3 percent.