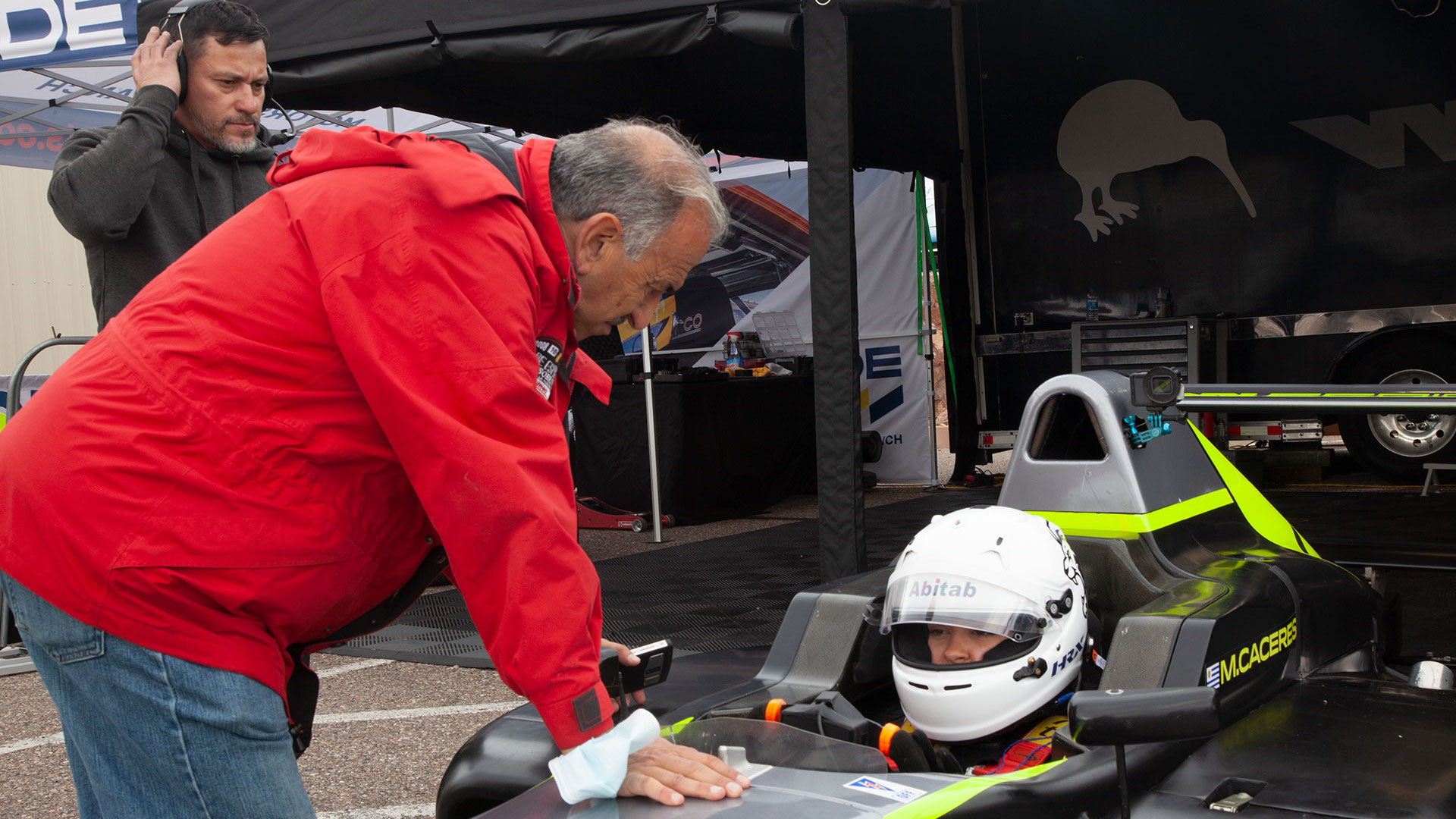 Driver Maite Caceres, of Uruguay, receives instructions.
Tony Perkins/AZPM
It's at the end a long drive to the Inde Motorsports Ranch, about 12 miles beyond I-10, and you can see the traffic on the interstate in the distance. That's when you realize the journey has been a bit further for 19-year-old Hannah Greenmeier.
Greenmeier is a Colorado native taking part in a motorsports test session along with more than a dozen other professional racing hopefuls, all young women, on a twisting 21-turn road course.
"My goal for this test is to just gain some more experience," she said. "Hopefully I'm quick but I think the progression is what is going to bring me success."
This will be a rare chance for Greenmeier to drive a single-seat formula racing car. It's a $60,000 machine that looks like a fighter jet, but one designed to stick to the ground instead of taking flight.
Success in this case is driving the car at a consistent average speed of almost 100 miles per hour.
The ambition for Greenmeier and the others is to win a starting spot in the W Series, a competitive racing circuit that is making history worldwide with an all-female lineup.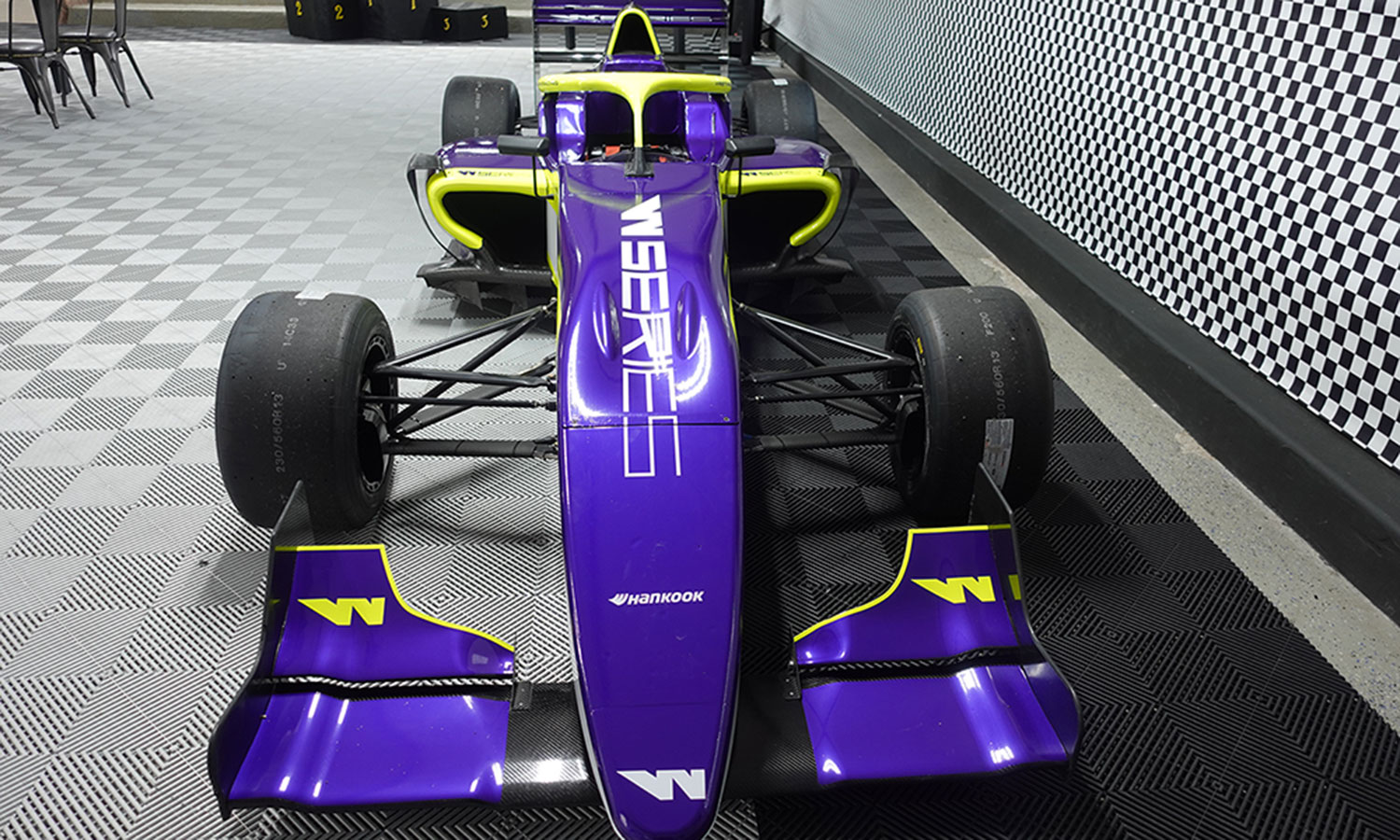 VIEW LARGER W Series Tatuus T-318 racing car.

Tony Perkins
The European-based series ran its first race in the United States last summer, and plans for two events in the USA in 2022, on courses in Miami and in Texas.
Series CEO Catherine Bond-Muir helped create the exclusive opportunity for women racers with a deal that included an international television contract.
"In our first race in Hockenheim, Germany in 2019, we put 18 drivers racing each other on a track," said Bond-Muir. "No one had ever seen anything like that before."
She noted the series chose southern Arizona for its first American test session because the evaluation team needed dependable dry weather.
Each driver must match the speed set by veteran W series racers like Belen Garcia, another 19 year old from Spain.
"I have to be consistent," said Garcia. "I am the one who sets the benchmark for the other drivers so my job is to be at the same level for the series crew to select people or not."
Garcia's time in the series has seen its ups and downs, including a spectacular crash in Belgium last season. None of the drivers suffered serious injuries, but the incident left a trail of broken cars and a rash of unkind messages on social media rekindling old stereotypes about women behind the wheel.
W Series officials say they have already put those notions behind them. This season, the series will stage some of its events on the same weekends and at the same venues as Formula 1, the world's leading racing series.
W Series CEO Catherine Bond-Muir.
Tony Perkins/AZPM
That's the ultimate goal for Garcia and other women who know the odds are still stacked against them in a male-dominated sport.
"I have to say I never wondered," notes Garcia. "I was always sure we could and I didn't understand why we weren't as equal as men. There's no explanation just we can be there, we are there and we will be there forever."
The last woman to race in a Formula 1 grand prix was Italy's Lella Lombardi, 45 years ago.
There's a chance the next one will have started her road to the sport's highest level on a wind-swept desert track in Arizona.