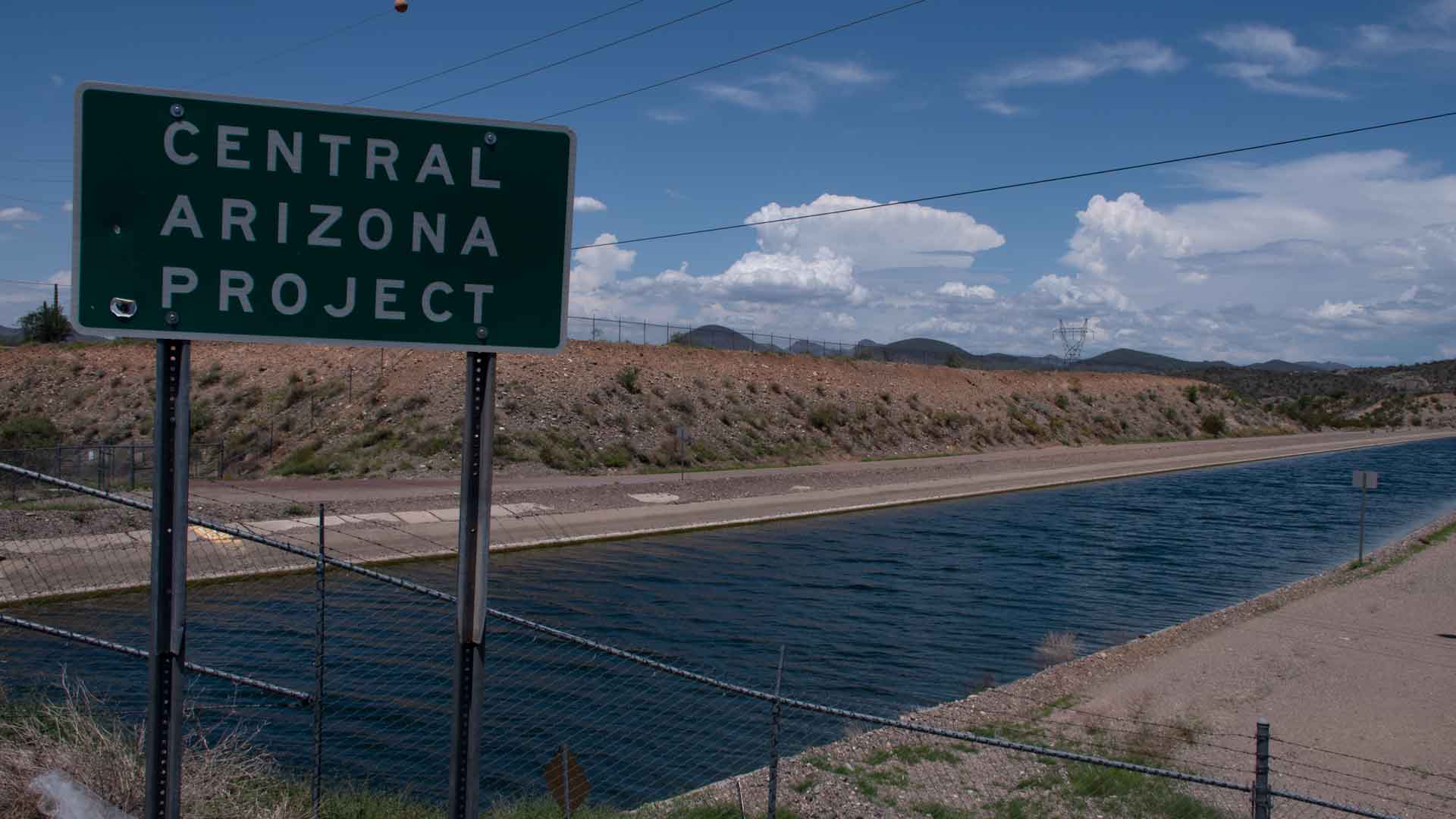 The Central Arizona Project moves water from the Colorado River to southern Arizona. July 2021
Christopher Conover/AZPM
The "bathtub ring" at Lake Mead has become a familiar sight. This year, the water level in the lake reached the lowest it has been since the Hoover Dam, which created the lake, was built in the 1930s. Those low levels have been decades in the making.
"Back in around 2000, Lake Mead was pretty close to being full, but over the last 20 years-plus now we've just not had good hydrologic conditions. It will take years to recover from that, years of good conditions and unfortunately the climate models and projections don't predict us getting cooler and they don't predict us, let's say, getting wetter," said Dr. Sharon Megdal, University of Arizona professor and former board member for the Central Arizona Project.
The record low levels led the federal government in August to declare an official water shortage on the Colorado River which feeds Lake Powell.
---
Listen again
This story first aired in August 2021. Listen again.
---
That shortage declaration will mean a 20% cut in Arizona's allotment of Colorado River water.
"This is a real shortage with real implications, but it will be felt unevenly by different users of water," said Megdal.
Farmers will bear the brunt of the cuts in Arizona so other users won't see much of a difference.
Lake Mead is the top of the system that moves Colorado River water to Arizona. Closer to home is Lake Pleasant, just north of Phoenix.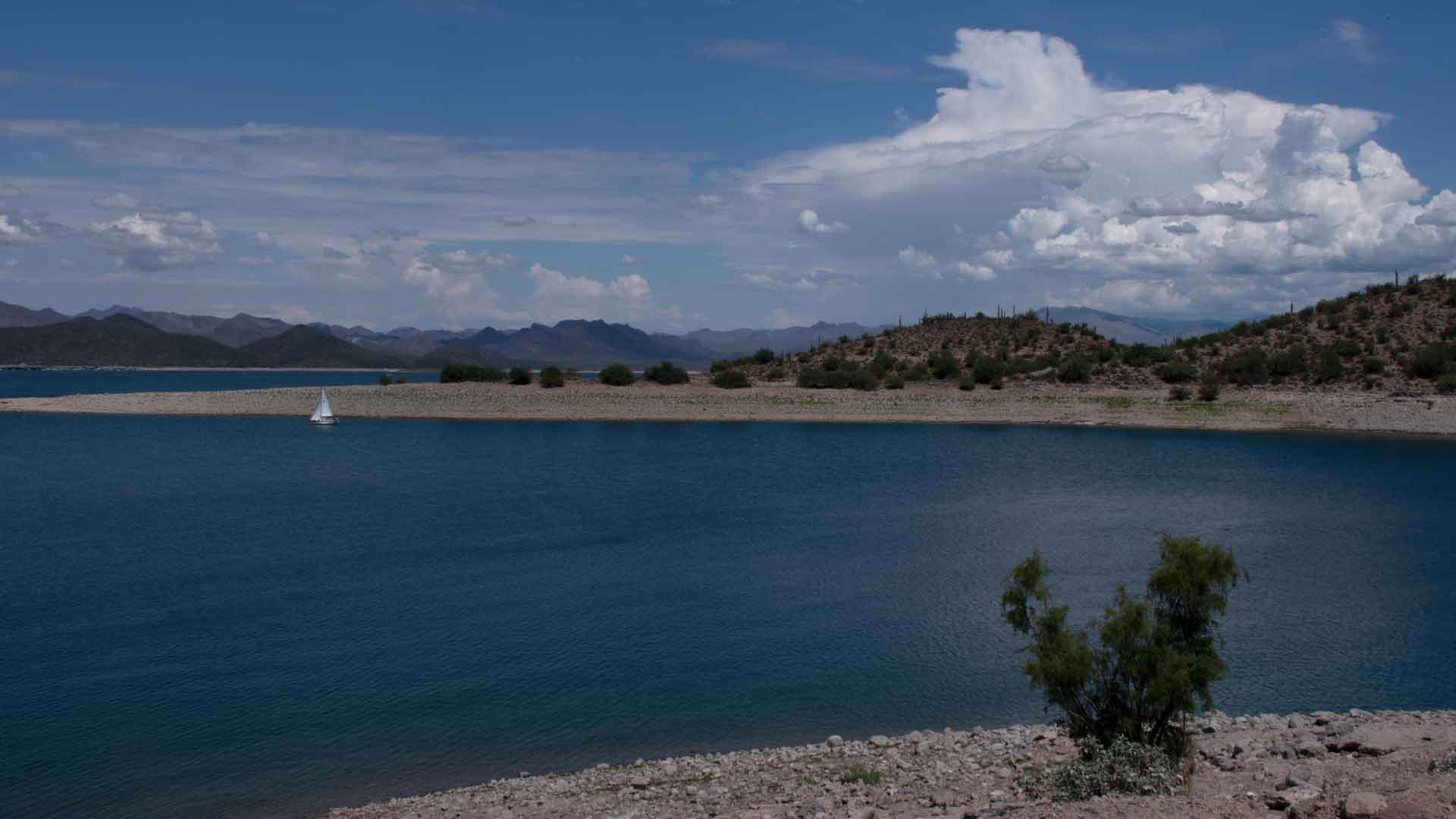 Lake Pleasant, north of Phoenix, is a major reservoir for Colorado River water. Each summer the lake is pumped down to send water to Maricopa, Pinal, and Pima counties. July 2021
Christopher Conover/AZPM
To many people, Lake Pleasant is a place to take a boat or scuba dive but its main purpose it also serves as the reservoir for Phoenix and Tucson.
"What it allows us to do is pump water in the early part of the year when our usage is low and energy prices are low and we can take advantage of those low energy prices and pump more water than we use and store it in the lake. And then the lake increases in elevation," said Darrin Francom, Central Arizona Project Assistant General Manager for Operations, Maintenance, and Engineering.
In the summer, water is released from the lake which not only brings water to southern Arizona but also generates electricity.
The cuts to Arizona's Colorado River allotment will mean a loss of water in Lake Pleasant.
"Some of the water that we release to offset the cuts that are being taken in our agriculture and that's about 50,000 acre feet in 2022 and another five in 2023 for a total of about 55,000 acre feet. So that equates to the lake being down a little over five and a half feet," Francom said.
An acre-foot of water serves about three Arizona families for a year.
When it comes to water conservation, Tucson is considered a leader. The head of Tucson Water's water conservation program, Candice Rupprecht, said that is due to the "conservation culture" in Tucson.
"Total water usage has stayed flat. We have 40% more people than we did three decades ago but we're not using any more water. So of course, that means we're each using less water," said Rupprecht.
In 2020, Tucson Water customers used about 16 billion gallons of water. In the metro Tucson area, the 85718 zip code had the highest per customer water usage last year. That zip code includes parts of the Catalina Foothills area.
"It's not always a correlation that higher socio-economic areas use more water, but I think certainly the tendency to have more lush landscapes and have things like pools, that certainly drives up water use. But on the other side, households that have a large number of family members can also be big water users, so it really does go both ways," Rupprecht said.
Tucson Water has a number of programs for residential and business customers to help them conserve water. The programs range from rebates on low flow fixtures, to help with rainwater harvesting, and water audits.
The cuts to Arizona's water supply due to a shortage on the Colorado River will not hit Tucson Water's customers due to the amount of water the utility has stored over the years. Officials said they will not cut water sent to customers.