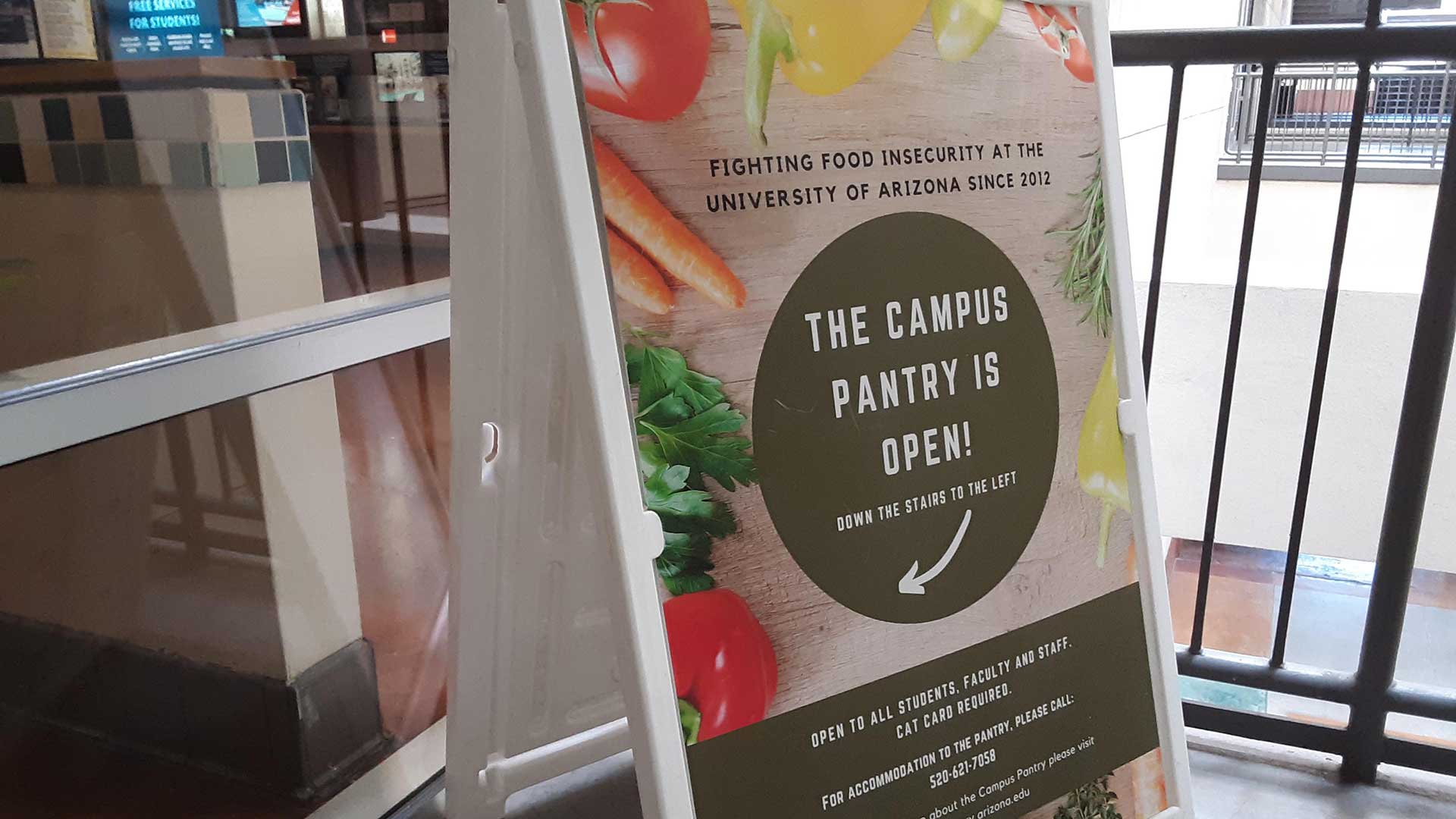 A sign points to the new UA Campus Pantry location at the Student Union Memorial Center
Tony Perkins/AZPM
Conversations across the United States right now are rotating around food. Where to get it, how to cook it and if it's affordable are a part of the Thanksgiving preparations, especially with inflation impacting prices at the market.
How available that food is or how easy it is to access it is on a spectrum of food security, and food insecurity can look differently for every person. For some it's a lack of money to buy food or transportation to get to the grocery store or maybe there isn't a store in the neighborhood.
According to the State of the Tucson Food System Report from the University of Arizona, found that 32% of households in the state were food insecure, as of August 2020. Of those surveyed, 20% of people who identify as non-Hispanic white felt some insecurity, while 57% of Hispanics and 25% of what the report referred to as "others" experienced food insecurity.
Bridgette Nobbe at the UA's Campus Pantry said it serves about 3,000 people a year but that about 13,000 students could be considered food insecure.
"We're not even touching what we could be, and we have the money, and we have the ability to support you, so just come," said Nobbe.
She said since the pantry is open to the entire campus community, about a third of those coming in are staff members.
When someone comes in, they swipe their university ID and shop using the pantry's point system — and everyone with a CatCard has points. Some items, like eggs or pasta are one point, while cans of black beans and corn are half a point. During the school year, she said people have 4 points to mix and match with.
Nobbe said unlike some community or federally funded food banks, the campus pantry doesn't require users to be a U.S. citizen. It's open to international and Deferred Action for Childhood Arrivals, or DACA students.
"We see folks come three times a week, and get all of their points," said Nobbe. "We also see some folks come just on Tuesdays and they get a half-gallon of milk and a box of cereal because that might be all that they need for the week."
---
This story first aired on The Buzz, an interview-focused show to give listeners in Southern Arizona a deeper understanding of news, politics, science, current events and more.
---
She said hunger impacts academic performance and behavior, and that applies to K-12 students, too. Nobbe said people who experience food insecurity as kids are more likely to experience it again compared to those who didn't experience it in their childhoods.
Jill Wells works for the Vail School School District as the family resource and community coordinator, and her job is to connect families to community resources, like food pantries.
She said food insecure kids sometimes come to school just to eat via the free or reduced meals funded by the state or federal government.
"So a lot of kids get their two meals — breakfast and lunch — at the school, and then go home to very little," Wells said.
Within the school district located east of Tucson she estimates 30% of students qualify for free or reduced lunch.
Wells said the local food bank and St. Rita in the Desert Catholic Church have developed a program called the Weekend Backpack Program. After the district identifies which families need the extra food, the kids are given enough to cover six meals, plus snacks and milk.
"So right now we have 110 students that will receive a bag on Friday, and when you look at our numbers, that is nowhere near 30%," Wells said.
The kids will also be getting extra food for Thanksgiving next week with an option to go to the Resources Vail Food Bank for a holiday food basket.
Schools and traditional food banks are not the only groups working to end food insecurity in southern Arizona. Adair "Egg" Steig is with Tucson Food Share. It's a mutual aid group that's purpose is to share food with the community.
It sprung out of the needs of the 2020 pandemic lockdowns, and Steig said it gave groceries and other supplies to 7,136 from September 2020 to September 2021, in addition to meal deliveries.
"For us mutual aid means that we're working as neighbors, we're working as people to help people in similar circumstances or in circumstances that we can understand and imagine experiencing ourselves," said Steig.
Food Bank of Southern Arizona estimates that about 153,150 people in Pima County are food insecure.
Steig said government has failed these Arizonans, and the only option left is to care for each other.