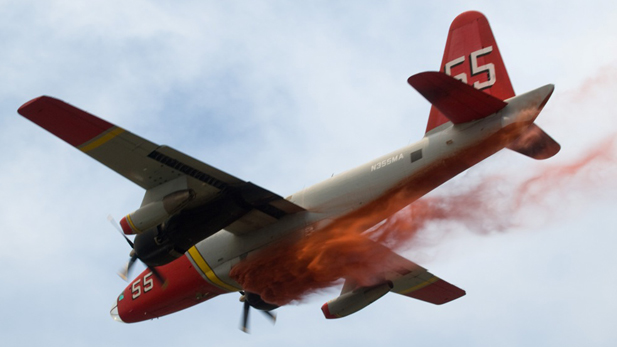 An aerial tanker over ther Gladiator Fire in northern Arizona begins dropping its fire retardant. (PHOTO: www.inciweb.org)
Firefighters were able to increase containment of the wildfire burning near Crown King north of Phoenix, limiting its growth in the face of adsverse weather conditions, federal officials reported Wednesday
"Forecasted red flag warnings for stronger winds and low humidity proved accurate Tuesday," the federal Incident Information System website reported. "In spite of the conditions, firefighters were able to hold constructed fire lines."
The Gladiator Fire, which started May 13 and has caused hundreds to be evacuated from Crown King and surrounding areas, had covered an estimated 15,622 acres by Wednesday morning, the website reported.
More than 1,100 ground crew members remained on the lines, which were reported at 26 percent containment of the fire.
The Gladiator Fire started from a house fire in Crown King and spread to surrounding dense and dry vegetation.
Federal officials reported that Arizona's other large active fire, the Sunflower Fire in the Tonto National Forest 20 miles south of Payson, remained at 16,115 acres Wednesday morning. The federal Incident Information System website reported the fire at 43 percent containment with a "medium" potential for growth.
Two small fires burning in the Coronado National Forest southeast of Sierra Vista along the Mexican border were both 50 percent contained, officials reported. Although the fires led to closure of roads to Parker Canyon Lake, no structures were threatened.
Both fires started on Monday, with the Campini Fire starting south of the Mexican border. It had burned 50 acres, while the Collins Fire to its east had burned 60 acres, officials reported.