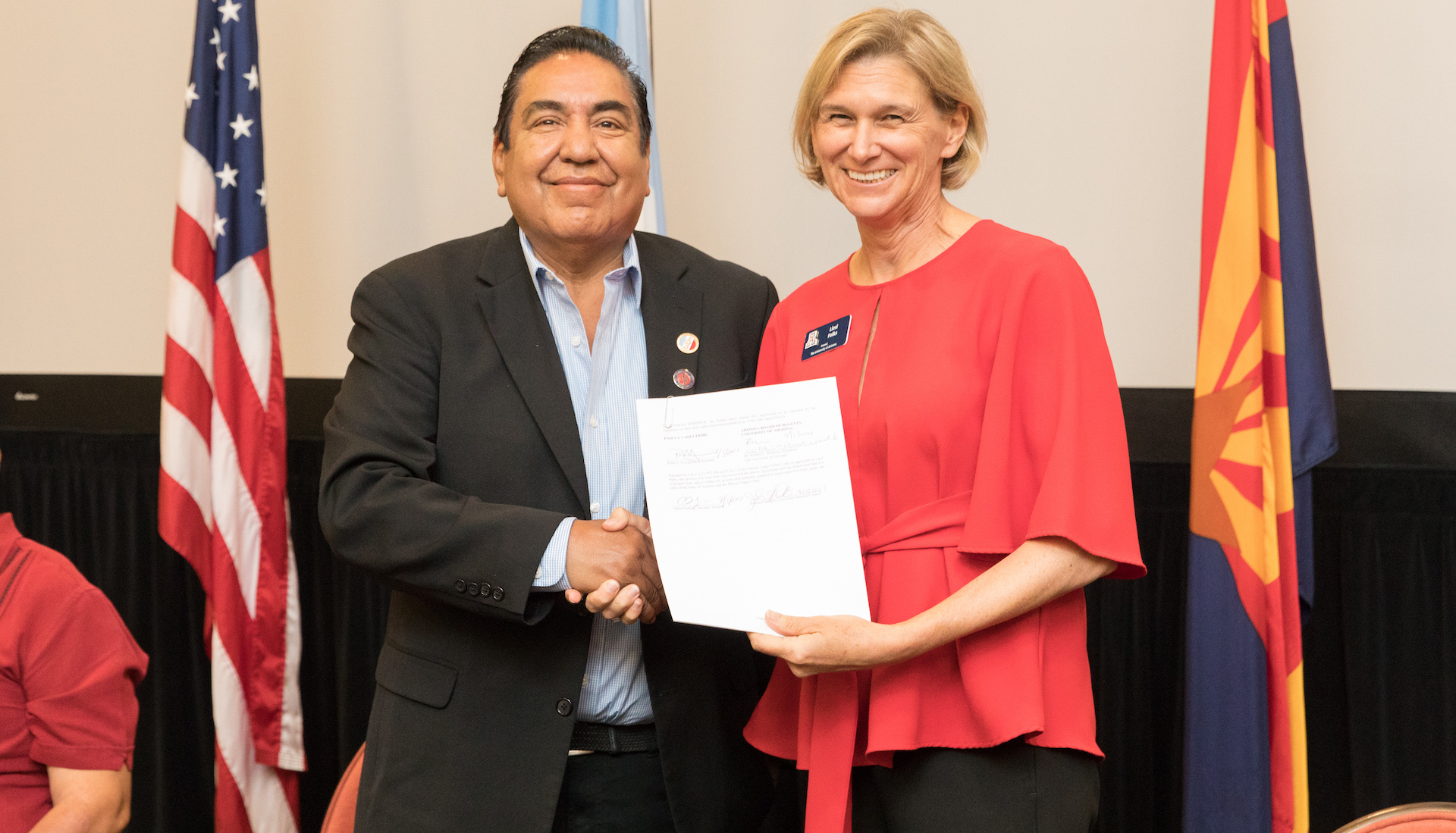 Pascua Yaqui Chairman Peter Yucupicio and Senior Vice President for Academic Affairs and Provost Liesl Folks at the signing of the intergovernmental agreement in August.
Chris Richards/University of Arizona.
The University of Arizona and the Pascua Yaqui Tribe have made a tangible commitment to Yaqui education by recently signing an intergovernmental agreement. They'll will soon be looking at how best to put it into practice.
Serina Preciado is the education director for the tribe. They've been a part of the intergovernmental agreement — which is basically a contract between governmental bodies — since being hired in the fall of 2019.
"It's kind of a difficult thing to name when you understand that your purpose is so much higher than yourself, and I feel that way about this agreement — its purpose is so much higher than itself," Preciado said.
They've committed to use the University of Arizona's expertise and resources to educate generations of Pascua Yaqui tribal members on and off the tribe's lands
Some of the dreams imbued in the agreement focus on leadership opportunities for Yaqui youth, like keeping kids engaged and interested in science, technology, engineering and math, or STEM fields. Other goals include establishing a UA micro-campus within the Pascua Yaqui reservation southwest of Tucson, but Preciado said the priority right now is collecting information to better understand the barriers involved in student recruitment and retention.
Another undertaking in the IGA is the development of an independent Pascua Yaqui K-12 school system. Preciado said they needed the UA to make "a firm commitment" to make this a reality. According to the IGA the UA's involvement will be technical, in curriculum development assistance and teacher training.
With a large population of college-age member, this commitment is critical to students in the region, Pascua Yaqui Councilwoman Andrea Gonzales said in a press release from the University of Arizona.
Pascua Yaqui Chairman Peter S. Yucupicio said the average tribal member is around 20 years old right now and the average family has four or five kids, well above the U.S. averages of 2 per family
"When you look at the growth of this tribe — Pascua Yaqui — we certainly will probably multiply and that's what our concern is — how are we going to educate? How are we going to make sure that they have housing?" Yucupicio said. "Might not be now, but in the future, we're going to need all the tools."
He said he's excited that the UA as a prominent university has made a commitment to the tribe and respect it enough it negotiate the goals of the agreement. He said he thinks the UA should always have been opening doors or "courting" Yaqui students, and he said he hopes things are changing with the current administration.
"We've addressed this to other presidents, and they always say 'yes, yes, yes,' but I think saying 'yes' is one thing, but having it formally in some kind of IGA or agreement then it's a little bit more bonding," Yucupicio said.
The UA Senior Vice President of Native American Advancement and Tribal Engagement, N. Levi Esquerra, said the university's job is first to listen.
"What are the tribe's priorities and then what are our resources, so I think what kept us at the table and what will continue to keep us at the table moving forward with Pascua Yaqui and other tribal nations is just that simple thing that that President Robbins always stresses to me, 'how do we get our resources, how do we provide better service, how do we collaborate, how do we partner with the tribes?'' Esquerra said.
Preciado, the Pascua Yaqui education director, said the whole process took about two years.
"We kind of pushed the document back and forth — us asking for things and them saying, 'We don't think we can do that right now,' and us saying 'but it's really important. We really need you to,' Preciado said. "But ultimately the university understands their commitment to Native peoples is a priority for them, and that priority needed to translate into a document." "
They say the biggest challenge they have is how aspirational the agreement is, but it's that vision that's driving them all.
For the moment, how the tribe and university will implement these goals is still up for discussion, and the funding for the different projects will be sorted out in separate agreements.
It'll be in effect for next five years and will automatically renew for two more five year terms, unless terminated.
IGA Pascua Yaqui Tribe and UA - fully executed

View at Google Docs
|

Download File