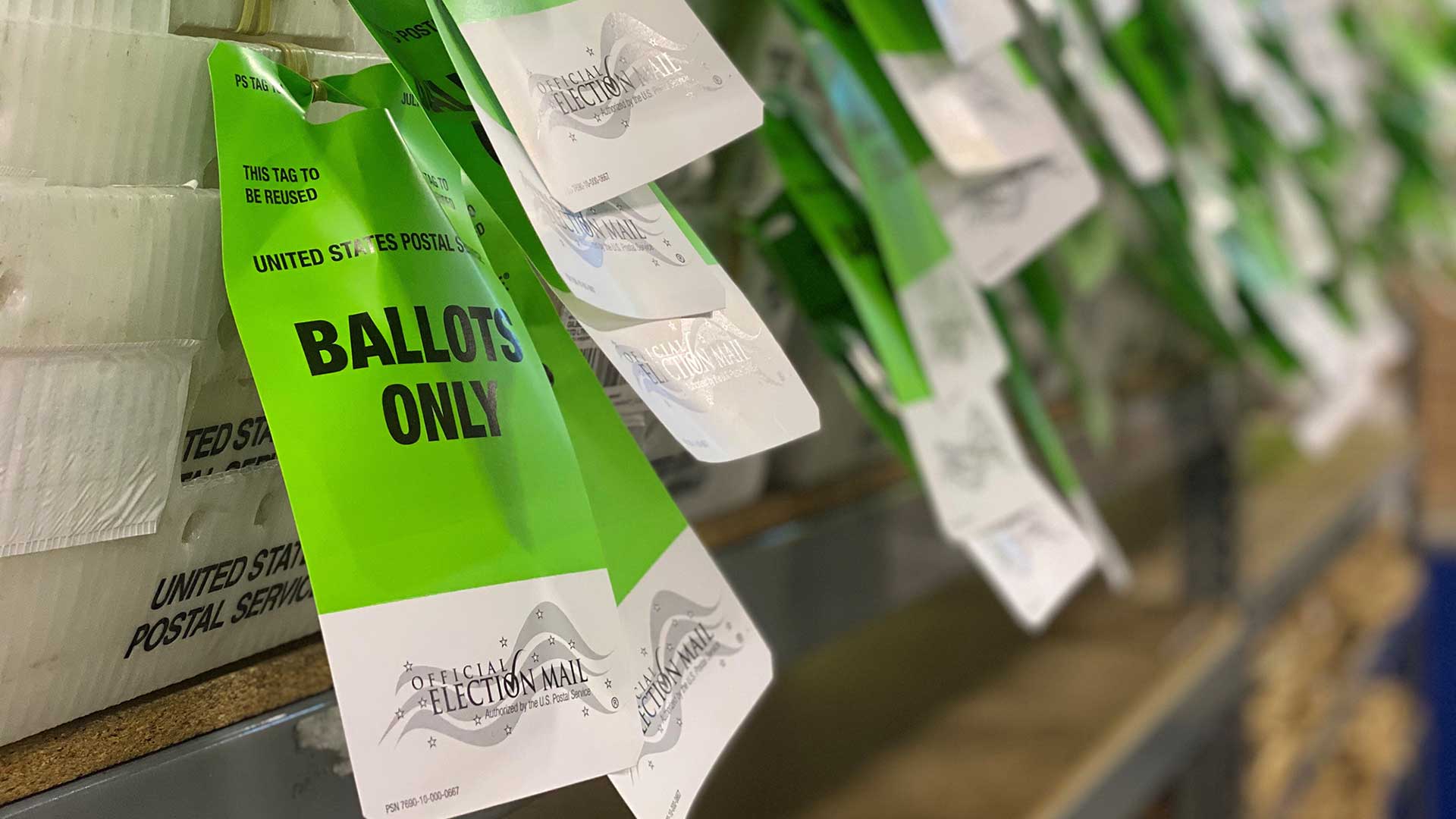 Postal bins with tags for ballots in the 2020 general election.
Courtesy Maricopa County Elections Department
Tucson voters will get ballots in the mail starting in early October to fill three seats on the city council, decide on raising the minimum wage and choose whether or not to give a pay raise to city councilors as well as the mayor.
If voters approve Proposition 206, the minimum wage in Tucson will increase each year from the current level of $12.15 an hour to $15 an hour in 2025.
Backers argue it would help workers keep up with a rising cost of living in the city.
"I would have to work 50 hours a week just to meet my basic living expenses," said Daniela, 23, describing her finances under the current minimum wage. "That isn't super feasible."
But Mat Cable, owner of Fresco Pizzeria and an investor in other restaurants, said the higher minimum wage would be a hit to his business.
"It's bad timing because, right now, our food costs are just at record levels," he said. "Getting anything from our vendors — anything at a reasonable price — is just out the window."
The proposition does not just raise the minimum wage. It also requires larger employers to pay a minimum of three hours of wages when cutting or canceling an employee's shift with less than 24 hours notice. The proposition would prohibit employers, owners, supervisors or managers from taking money in a tip pool arrangement, such as at a restaurant. And the proposition also creates a new Department of Labor Standards to enforce the wage laws.
Pay raise for city officials
The city councilors' yearly salary comes in below that of someone making $15 an hour.
Proposition 410 would give the city council and mayor a pay raise of their own -- but only after they complete their current terms.
The city council put the proposal on the ballot and the measure would raise the annual salary of council members from $24,000 to $36,000. The mayor's salary would also be increased from $42,000 to $54,000.
The raises would not take effect until December 2023, after the next city election.
The salaries would subsequently increase annually based on the consumer price index.
Tucson voters have rejected similar proposals raises in the past, however, and the council has not gotten a raise since 1999.
Sarah Garrecht Gassen, editorial page editor at The Arizona Daily Star, said Proposition 410 may stand a better chance than previous such measures because it does not increase the pay of the current council.
But she acknowledged it is still a hard sell.
"You could be Superman on the city council now, and you would not get a voter to give you a raise," Garrecht Gassen said.
Voters choose councilors for three wards
Dylan Smith, publisher of The Tucson Sentinel, said the low pay is one reason the rest of the ballot is relatively sparse.
"That's partially why we always have these elections where almost no one is running," Smith said.
Voters will choose council members from wards 3, 5 and 6. But Republicans are fielding a candidate in only one of the three wards.
Republican Alan Harwell is running in Ward 3, which Democrat Karen Uhlich is vacating.
Harwell has run on such ideas as opposing "critical race theory," even though the city council does not set education policy, Smith said.
The Democratic nominee, Kevin Dahl, is a longtime environmental advocate in Southern Arizona.
Lucy LiBosha, a local educator, is running as an independent on Dahl's left.
Elsewhere, Democratic city councilor Steve Kozachik is running for re-election. He faces independent and local restaurant owner Val Romero.
And Democratic council member Richard Fimbres is running for re-election unopposed.
Important dates for Tucson's 2021 municipal election.
October 4: Voter registration deadline.
October 6: Ballots are mailed.
October 11: One voting location will open at 800 E. 12th St. from 8 a.m. to 5 p.m. through Election Day. At this location, voters may drop off a ballot, vote their ballot, request a replacement ballot or request assistance.
October 22: Last day the city clerk can mail replacement ballots.
October 27: Last day for voters to mail back their ballots. Ballots may be dropped off at a voting location on Election Day.
November 2: Election Day.