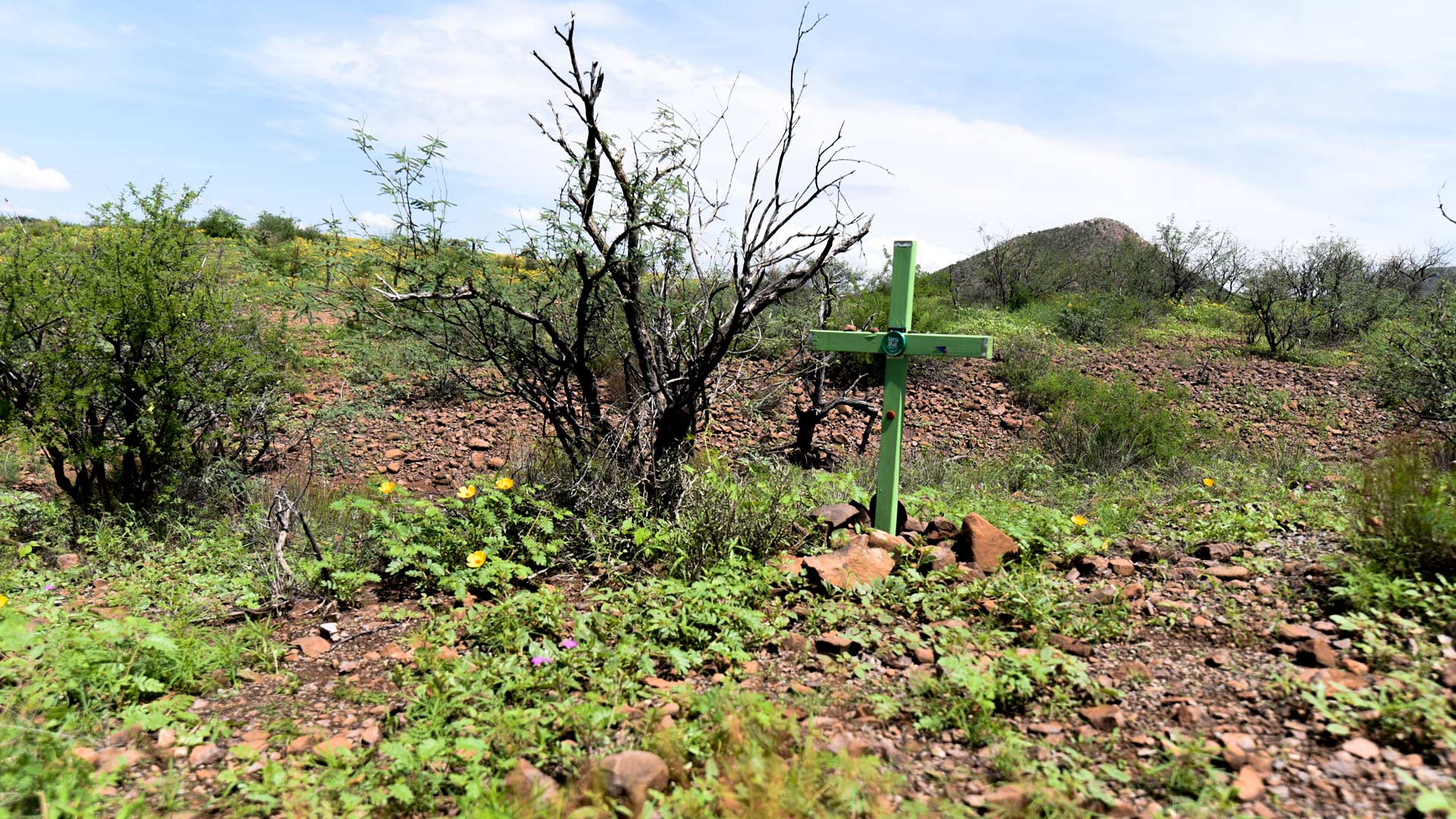 A cross marking the place where a man in his 30s died in 2009 lays a few hundred yards from one of the water stations Humane Borders sets out for migrants crossing the desert.
Alisa Reznick/AZPM
A documentary film about death and disappearance along the U.S.-Mexico border in South Texas is debuting at the Loft Cinema in Tucson tonight.
The film, Missing in Brooks County, takes place largely in Falfurrias, Texas, a small city in Brooks County surrounded by sprawling ranches about 70 miles from the border.
Co-director and University of Arizona professor Lisa Molomot said the film follows two families who came looking for missing loved ones. She and co-director Jeff Bemiss spent found years following families, coroners and Border Patrol agents handling disappearances in Brooks County.
"They had a loved one who crossed the border in Texas, and so what happens is migrants have to circumvent the checkpoint on these private ranches in Texas, and that's what happened to these two family members, and they were never heard from again," she said.
Molomot said unlike southern Arizona, where most of the roughly 400 mile border boundary with Mexico is public land, much of the borderland in South Texas is privately-owned ranch land. That changes how, and if, those who go missing there are found.
A study at the University of Texas last year found more than 3200 people have died trying to cross the border in South Texas in the last 22 years. The area saw a sharp rise in migrant deaths in 2012 and has been on the rise since.
The 80-minute documentary airs at the Loft tonight at 7:30 and features a Q&A with Molomot and the film's editor and producer, Jacob Bricca. Showings continue through Thursday.