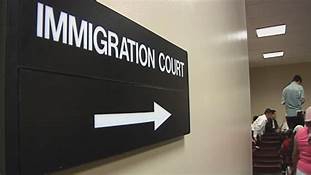 VIEW LARGER Entering Immigration Court in Tucson, 2016.

Nancy Montoya/AZPM
A new policy issued by Immigration and Customs Enforcement discontinues the arrest or detainment of pregnant women and new mothers.
Pregnant women were usually exempt from ICE detention under former President Barack Obama. Donald Trump reversed that policy in 2017 and ICE detained more than 2,000 pregnant women the following year, according to a watchdog report published last year.
Mayra Alvarado worked with some of them as a social worker with the legal aid group Florence Immigrant and Refugee Rights Project. She said women who are pregnant in detention face different risks to mental and physical health, and many are scared to come forward.
"Sometimes we may miss women who are pregnant or nursing just because of their fear of sharing information, could be because of misinformation in there or just because they're afraid of what might happen to their child," she said.
The new directive expands upon the Obama-era restriction to include those who are nursing and postpartum.
The watchdog report found most pregnant women are first arrested by Customs and Border Protection. Though the new directive limits ICE detention, it does not do the same for CBP.
The Washington Post reported there are 13 pregnant women currently detained in ICE facilities nationwide who could be released under the new order.