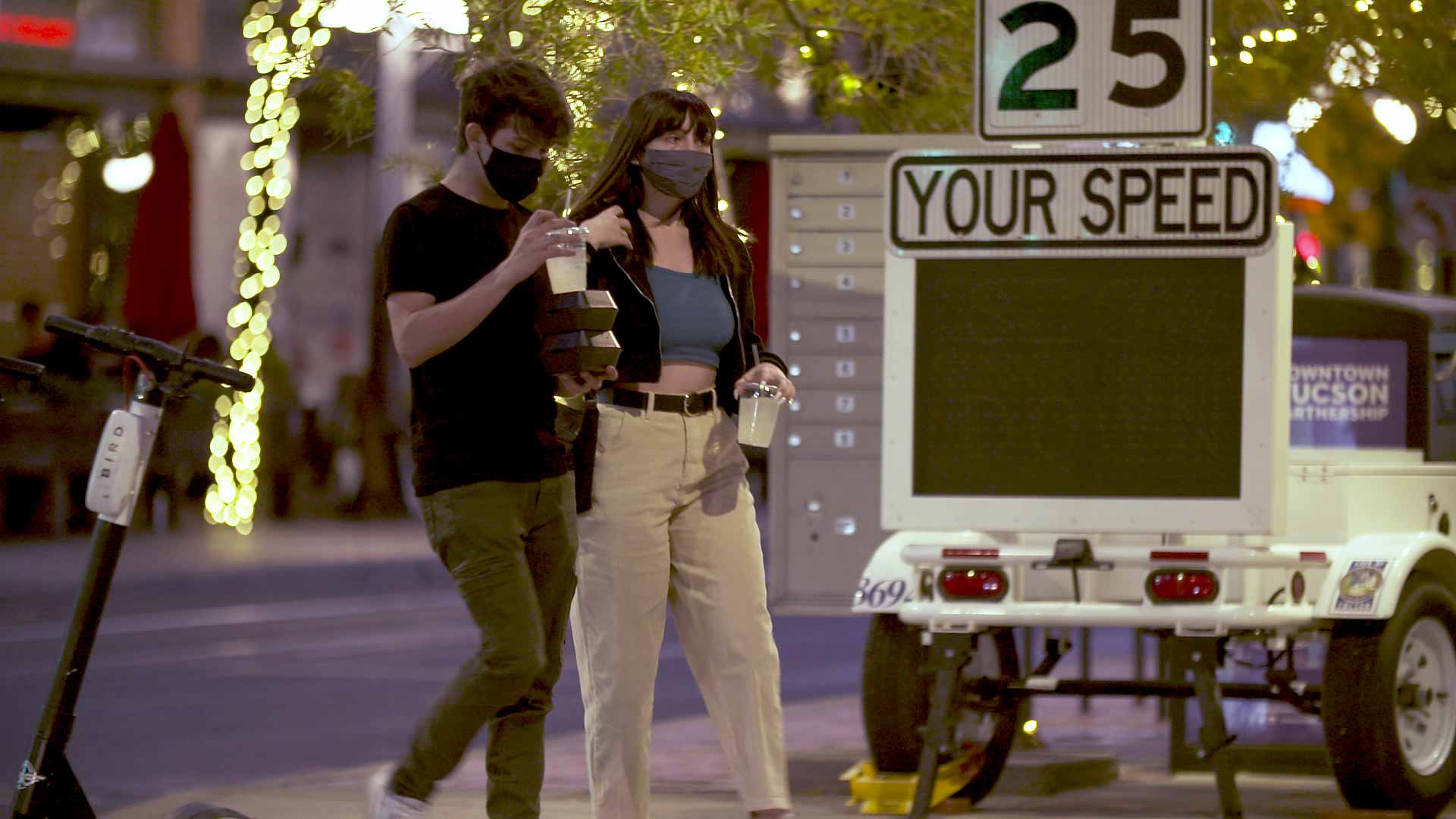 A man and woman wear masks as they walk in downtown Tucson. November 2020.
Andrea Corona/AZPM Staff
The Pima County Board of Supervisors on Tuesday rescinded last year's emergency declaration for the coronavirus pandemic.

The declaration was passed in March 2020 as COVID-19 infections were starting to skyrocket, and the county needed to take urgent action to slow the spread of the virus. Now, as county health director Dr. Theresa Cullen sees it, those emergency powers are no longer needed. "What you are hearing I think in this recommendation is we believe we are doing everything we can do at this point," Cullen told the board.
Republican Supervisor Steve Christy, who has tried multiple times to convince the board to loosen its pandemic restrictions, said the pandemic is no longer the crisis it was a year ago. "We have treatments, vaccines, and a robust education campaign. There's no emergency. We can handle this, and this proclamation should be rescinded and lifted," he said.
But Supervisor Matt Heinz, who still encounters COVID patients about every other day as an emergency room physician, doesn't want people to hear the message that the crisis is over. "We do see a recent uptick in cases statewide and in the county. Maybe that's the Delta Variant. We don't know yet, but we really aren't out of the woods," Heinz said.
While the case count has dropped, Heinz says people are still getting seriously ill with COVID-19. "It's not happening every night, five six times a night like it used to be for me a few months back, but every day or two I'm admitting a very seriously ill patient to the hospital," he said.
Heinz was in the minority as the board voted 3-2 to cancel the emergency, effective immediately. The vote is mostly symbolic, though. Many of the county's pandemic measures had already been voided by Governor Doug Ducey and the state legislature.