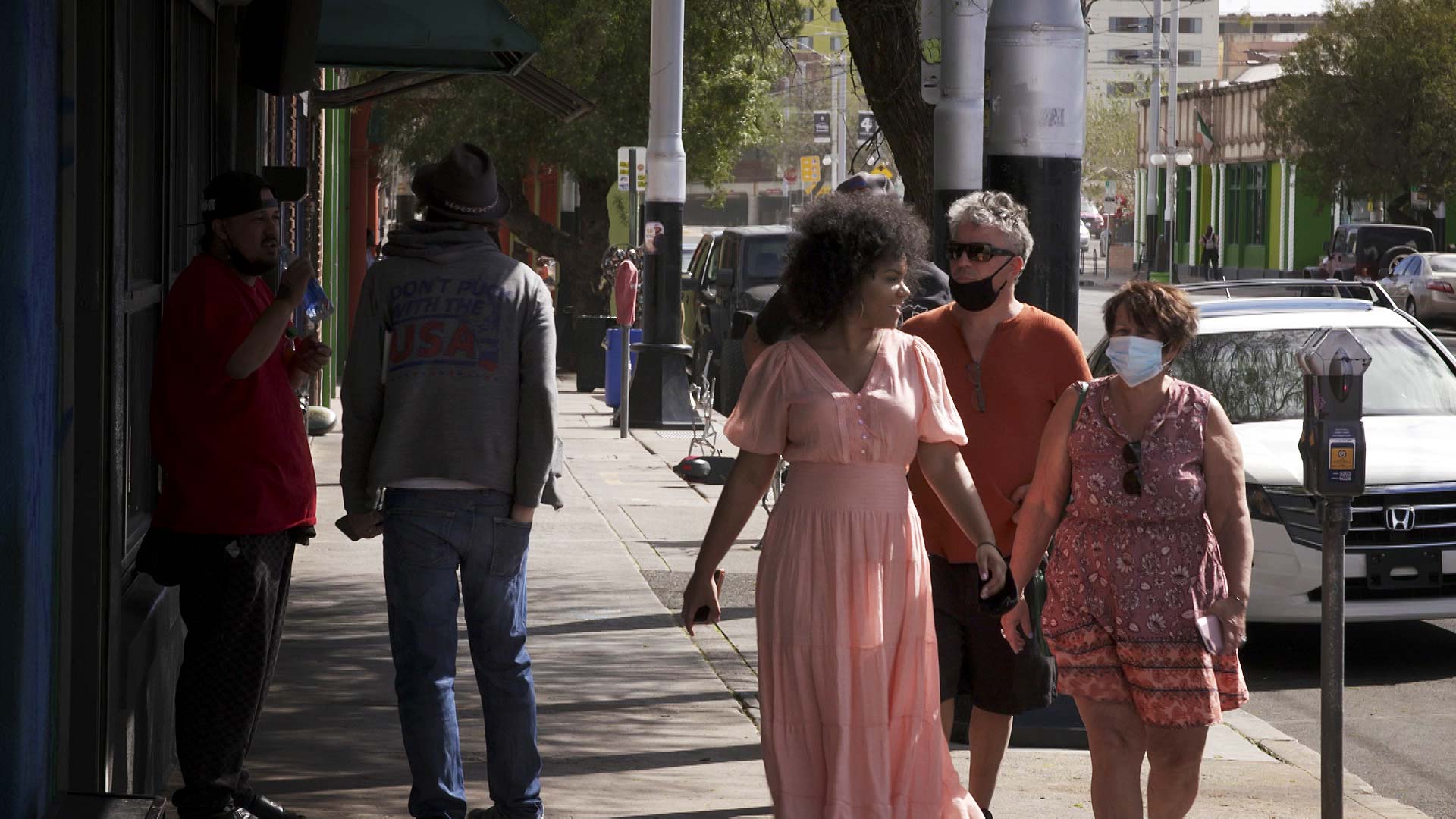 A woman walks down 4th Avenue maskless. Others around her are wearing face coverings. March 2021.
John DeSoto/AZPM Staff
The highly-contagious COVID-19 Delta variant is not widespread in Pima County yet. As of Wednesday afternoon, the county has reported just two confirmed cases of the Delta variant, while it made up about 15% of all cases reported in the state in June, according to tGen variant dashboard.
County Health Director Theresa Cullen said she's not sure why the Delta variant isn't as widespread in Pima County, but that its appearance may "just a matter of time."
"I don't know what it is," Cullen said about the delayed appearance of the variant. "And I don't want to falsely reassure people because we don't have an invisible moat around us. We're not cloaked."
It could be that Pima County's vaccination rate is acting as that cloak for some, but she said it could be that testing is low, the county had higher mask compliance, the winter spike provided some natural immunity, the county doesn't have a robust international airport like Maricopa County, or it could be that the Delta cases aren't among the random samples selected to have their variants identified.
"We want to rely on the data, and the data would indicate that right now we are not seeing an increasing surge of delta in Pima County," Cullen said. "We are seeing an increase throughout the rest of the state."
She said the variants of those who are hospitalized with COVID-19 are sequenced at a higher rate, those samples haven't shown an increase in the Delta variant either, mirroring the results of the random sampling.
She said at this point, there isn't enough data to indicate a trend either way.
The county has a team of about 26 people acting as contact tracers and case investigators.
Cullen said it can also rely at times on the state, the University of Arizona, and an outside company to contact those exposed to COVID-19. She said the flexible contract with that company allows them to easily increase or decrease their efforts.

"And I feel comfortable that we have enough safety net, and enough ability to flex a contract to do that," Cullen said. "It's actually one reason we kept the contract, as opposed to pulling all the case investigation in-house
Cullen said those contracts allow them to pivot quickly, since the health department is a part of local government and hiring can be a slow process.
For Los Angeles County the number of Delta variant cases is increasing, so it recommended Monday that everyone, vaccinated or not, wear a mask indoors.
"I think that right now from a public health perspective we're not going to modify what we're recommending about masks, but I think we need to be realistic that things can change quite rapidly, Cullen said.
The Pima County Health Department is still encouraging people who have not received a full COVID-19 vaccine dose to wear a mask.