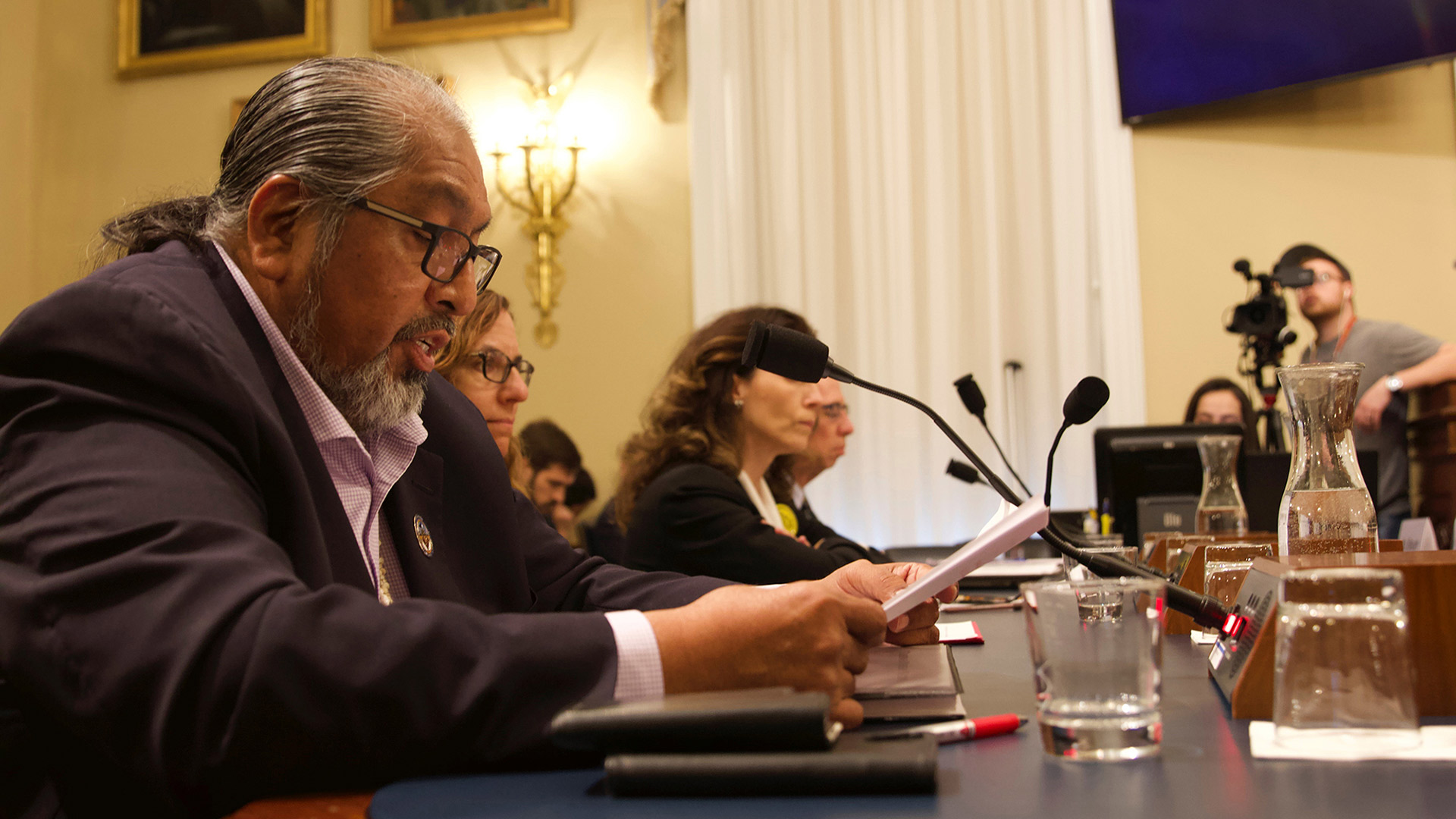 Tohono O'odham Chairman Ned Norris Jr. during congressional testimony in February 2020.
File photo by Jessica Myers/Cronkite News
Tribal leaders testified in the House Committee of Natural Resources subcommittee meeting Thursday to draw attention to the desperate need for investment in a variety of federally funded services across tribal lands.
The chairman of the Tohono O'odham Nation, Ned Norris Jr., highlighted the consequences of underfunded health care systems across tribal lands.
He said the Southern Arizona tribe has been on the waitlist for a replacement Indian Health Services hospital for more than two decades.
"The nation's members have waited for more than 25 years for a decent, accessible health care facility, and they are still waiting. The nation's children have been put at risk in an unfair, disadvantaged [situation] by attending unsafe schools," Norris said. "Our situation illustrates the dismal condition of federally funded facilities in Indian Country."
He said one of the limitations at the hospital in Sells, Ariz., is that it can't admit patients with respiratory issues because it doesn't have ventilators, a tool necessary to save some patients during the COVID-19 pandemic.
He also said the Santa Rosa Ranch School was one of 86 Bureau of Indian Education schools listed in a 2020 BIE report as in poor condition. He said the school has everything from heating and cooling issues to asbestos and structural cracks.
Though this has been common knowledge for years, he says it's only now up for renovation.
"The fact that our children attended school for years in an unsafe, unhealthy facility is not acceptable, nor is the fact that so little progress has been made to permanently address those conditions," Norris said.
Since March 2019, the students have attended in modular units with expectations for the permanent building's renovations to be done in 2023.
"There are processes that are in place that make in much more challenging and difficult for tribes to access funding and access our ability to move forward and address these issues in a timely manner," Norris said.