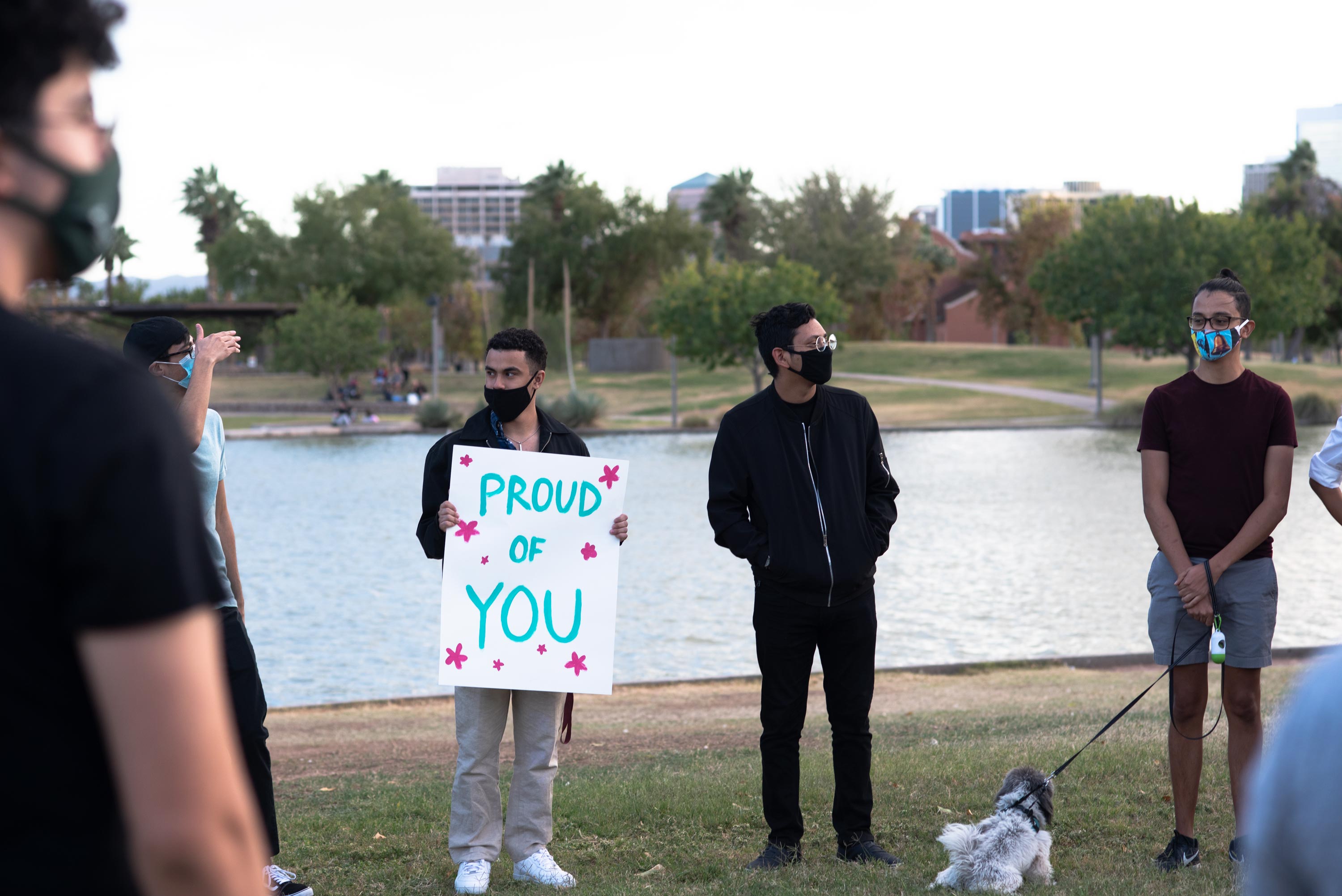 VIEW LARGER Mixed immigration status students gather in downtown Phoenix for a celebration of Joe Biden's presidential victory on Nov. 7, 2020.

Alisa Reznick/AZPM
Tuesday marched the 9-year anniversary of the Deferred Action for Childhood Arrivals program, or DACA, the Obama-era program gives some undocumented people brought to the U.S. as children protection from deportation and a work permit. But recipients say although DACA was a lifeline, it hasn't been the permanent solution they need.
Reyna Montoya was 13 when her family left Mexico and settled in Mesa. Today, she runs Aliento, a Mesa-based advocacy group that supports DACA recipients and undocumented students and families. She had just graduated college when she got DACA status in 2012. But a year before the program existed, she was awaiting the results of the first-ever Senate hearing on the Dream Act, a piece of legislation that would give undocumented students like her a pathway to citizenship.
"I remember flying to Washington, DC. to be part of that historic moment,I was so hopeful, I thought that we were going to be able to get something done," she said.
The bill failed in the Senate that year, and different versions of it have been shot down almost a dozen times since. DACA was supposed to be a temporary solution.
But in 2017, former President Donald Trump moved to cancel the program and, despite a Supreme Court ruling to uphold it last year, continued to block first-time applicants and limit protection for current recipients. President Joe Biden has pledged to protect the program, but a separate legal challenge still looms at a federal court in Texas.
Montoya said after a decade of failed legislation, she still feels stuck in limbo.
"We have DACA, and yet we don't have any permanency," she said. "At the end of the day, people like me are paying the price, and it's heartbreaking to constantly see that our lives continue to be used by politicians."
In a lengthy session Tuesday morning, Senators held a judiciary hearing on the American Dream and Promise Act, a revamped version of the Dream Act that could provide a pathway to citizenship for some 2.5 million immigrants. The bill passed in House earlier this year.